The Big Book of Homeschool Ideas: 55 Moms Share Their Expertise on 103 Topics
What can you do when you have a homeschool related question?
You could "phone a friend"
You could search your favorite homeschool blog
You could contact members of your homeschool co-op or support group
Although these are GREAT ideas, what do you do if you still can't find any someone familiar with the situation you are facing?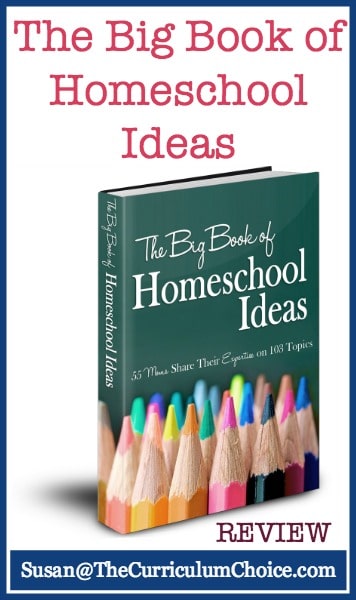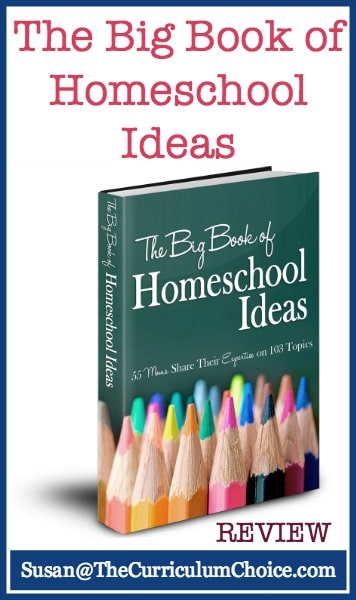 This post contains affiliate links.
Happily, 55 homeschool moms (myself included) have come together to share their tips, tricks, and hearts about 103 topics that impact every homeschool mom.
Whether you:
Are just starting out or have been homeschooling for 10+ years
Have a preschooler or a high schooler (or many kids in between)
Are looking for encouragement or specific "how-to" ideas
The Big Book of Homeschool Ideas has something for you!
What Is Included?
Here is just a sample of the topics covered in this eBook:
Preschool
Keeping babies and toddlers occupied while homeschooling
Literacy for preschoolers
Fine motor activities for preschoolers
Elementary to Middle
Transitioning from elementary to middle
Homeschooling elementary boys
 Teen & Beyond
Making tweens and teens more independent learners
What college professors wish freshman knew
History & Geography
Genealogy for kids
Learning with maps
Teaching history with American Girl dolls
 Home Economics
Teaching sewing in you homeschool
Handicrafts
Language Arts and Literature
Tips for teaching handwriting
How to start a homeschool book club
Free eBooks and audiobooks
Special Needs
How to find resources for gifted child homeschooling
Making learning fun for the struggling learner
Homeschooling a child with sensory issues
STEM
Easy ways to keep science hands-on and fun
Homeschool nature studies
Engaged Ideas
Learning from video games
How to teach with LEGO bricks
You can teach art
How to make the most of a field trip
Enrichment
How to add PE to your day
The benefits of homeschool yearbooks
How to create a co-op to make learning fun
For Mom
Where to buy and sell used curriculum
Creating an annual portfolio
Teaching a subject you don't love
Get started with unit studies
Understanding your child's personality type
Training Hearts
Setting up memory work routines
Tips for character development
Budgetary Concerns
Homeschooling during unemployment
How to make a homeschool budget and stick to it
Maintaining Your Home
Being a healthy homeschool mom
Easy dinner options for the busy homeschooling mother
Unique Homeschool Situations
Homeschooling through a move
Homeschooling in a large family
Homeschooling while pregnant
How to effectively homeschool during a deployment
Parenting and homeschooling an only child
Single-parent homeschooling
 That is not even half of the amazing topics included in this book!
What is the book's format?
Another great benefit is this book's format.
This is a digital product in pdf, mobi and epub formats. When you purchase the Big Book you will automatically receive all formats in a zipped file.
This means you have immediate access to the information and you can read it on your tablet, computer, smart phone, etc.
Why do I think this is such a great resource?
I am not only a contributing author but I am also a homeschool mom who has used this book many times!
What I like most about this book is that I can refer back to it time and time again. Although some may read it cover-to-cover, it is designed to be a reference book when you need a little help.
As we are starting our late middle school and high school years I used this book for helpful tips about learning from video games, making tweens and teens more independent learners, and teaching a subject you don't love (I was dreading teaching Chemistry this year and this chapter gave the motivation I needed to get started!!).
I look forward to using this book throughout the rest of our homeschool journey and I hope you find it useful too.
You can find more information, including a link to purchase this eBook  The Big Book of Homeschool Ideas webpage.
As a veteran educator, Susan is always looking for new ways to bring learning to life for her family.  Her family's favorite subjects to study together are history, geography, and literature.  Susan shares her family's educational adventures at Education Possible.