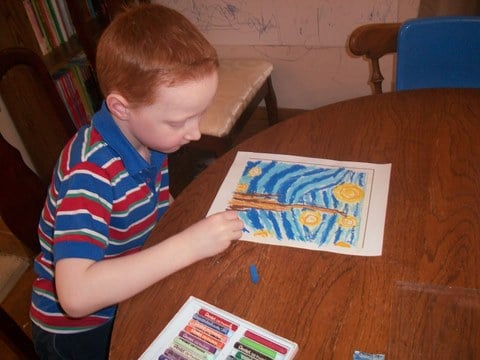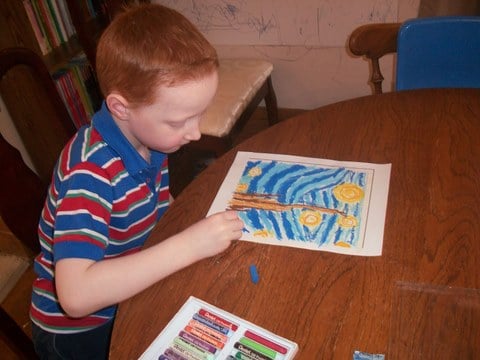 Last February my family spent several days creating murals to hang in their bedrooms.  Coordinating several children to produce something beautiful to hang on the wall can be challenging.  We used inexpensive downloads from Art Murals for Kids as our guide for several reasons:
They're easy – even my 2 year old can color.
They're printable – which meant if a piece got messed up and bothered the children they could just print again and redo it.
They make beautiful final products.
My sons chose to use Oil Pastels to color their version of Van Gogh's Starry Night.  They decided to try following the original for their colors.  This came from the Mini Impressionist Mural Set, which is only $5.00.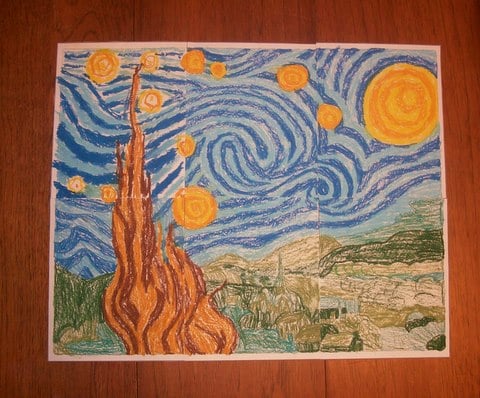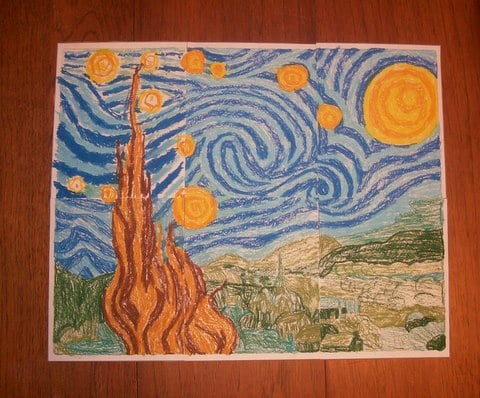 In this set the murals are small – our Starry Night printout was 6 pages, measuring 23″x 19″.  It was just right for a family to do together instead of a classroom.  There is a larger version of Starry Night available for download that is 24 pages and measures 48″x 36″.  I really like how the colors of the oil pastels are bold.  The only drawback to oil pastels is they are a bit smudgy – mostly on children's hands!
My daughters used crayons with this mural for their bedroom.  They chose this one for the animals.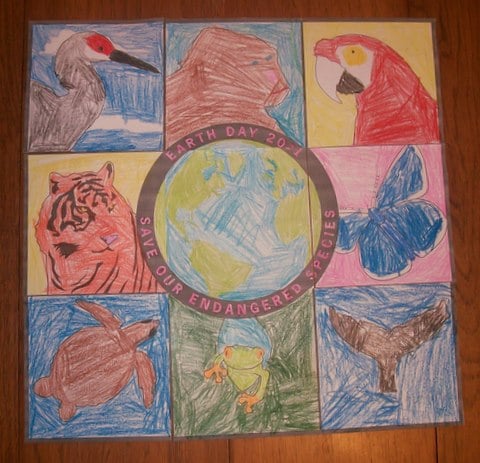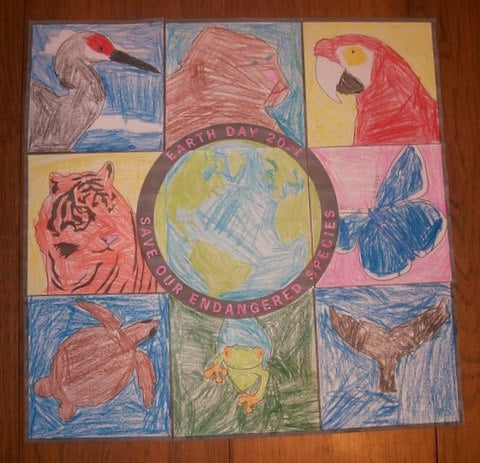 Their file was also $5.00and included two sizes to use: a 36-page version measuring 45″x 45″ and a 9-page mini version measuring 22.5″ x 22.5″.  I think the crayons looks all right, it just does not stand out as much as the oil pastels.  We may try painting a mural sometime for a change.
There are quite a few other mural possibilities to choose from at Art Murals for Kids.  She even offers coloring books of famous paintings that would be a fun addition to an artist study.  Be sure to check out her companion site, Art Projects for Kids for tons of art project ideas to use with your children.  I've found some real gems as I've explored the archives!
Tristan is a happily homeschooling LDS mother to 6 blessings age 9, 6, 5, 3, 2, and 5 months old.  You can drop in and visit anytime over at her blog, Our Busy Homeschool.  Read her other Curriculum Choice posts here.
{Disclaimer: I purchased these products on my own.  This is not a sponsored post in any way.  And yes, we hope to purchase more murals in the future!}