At a Glance:
Product:  Daily Word Problems Grade 1 and Daily Word Problems Grade 5
Publisher:  Evan Moor
Grade Level:  1 and 5
Teacher Prep:  Minimal
Uses:  Math Supplement
Rating: 4 out of 4 golden apples
Workbooks are something I never have a shortage of in my home. However, I do not use them nearly as much as the space on my bookshelf warrants. However, one company always comes to mind when I think of the workbooks which get time in little hands and that company is Evan Moor. I am never disappointed when I purchase an Evan Moor product. So when given the opportunity to review Evan Moor's Daily Word Problems from Timberdoodle I happily accepted.
Many kids dislike word problems. They think of math as simple black and white numbers on a page they must solve to get more black and white numbers on a page. This is a serious flaw in the teaching of math. Math is life. We use math everyday and that isn't some math geek slogan. Word problems are essential to relating the equation to life to make it relevant to the child. If you can make math relevant you will have greater success with understanding. Evan Moor provides a few minutes a day of connecting the black and white numbers on a page with real life with Daily Word Problems.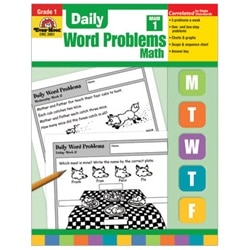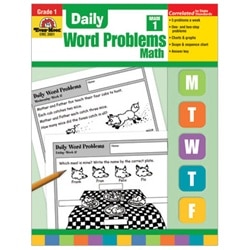 What I liked:
I liked the set up of having daily word problems.  My daughter loves this book and wanted to do a full week in one day.  She asks daily to use this workbook.  I was quite surprised how well she began to learn concepts beyond her and put together how math is used in real life.  I attribute that to having a brilliant daughter.  Now, my unbiased nature also attributes that to how nicely Even Moor sets up word problems and keeps to a weekly theme.  This truly helps the child visualize and conceptualize math in a real scenario.  The weekly build up of skills finally ending in a more advanced problem is a nice way to reinforce the lessons while showing what the student knows and building on what the student knows.
My son would rather play Xbox than solve equations but he claimed to have "liked" this workbook.  He did not complain about doing the problems and it did help him understand math better in the real word.
What I disliked:
For the fifth grade, I would have liked to seen more daily problems. I think three a day would have been better.  With only one problem and a host of other school work this book was easily pushed aside for a day.  However, that is hardly a complaint.
For the first grade, there was nothing to dislike.  I thought one problem a day was perfect for this age.
Overall, it is a nice supplement to your daily math routine.  It reinforces what the child learns and draws a concrete line from math on paper to math in real life.
If you want see more just go to the Timberdoodle site and you will have the option of seeing pages from each book.
Written by Richele, mother of four, homeschooler for 9 years and has over 100 loads of laundry under her belt.  Find her blogging at Under the Golden Apple Tree.
Disclosure: As a member of Timberdoodle's Blogger Review Team I received a free copy of this book in exchange for a frank and unbiased review.