My seventh grader is gaining a fantastic overview of science from Apologia General Science. "… Be prepared to be awed and amazed with what the Creator has made for you!"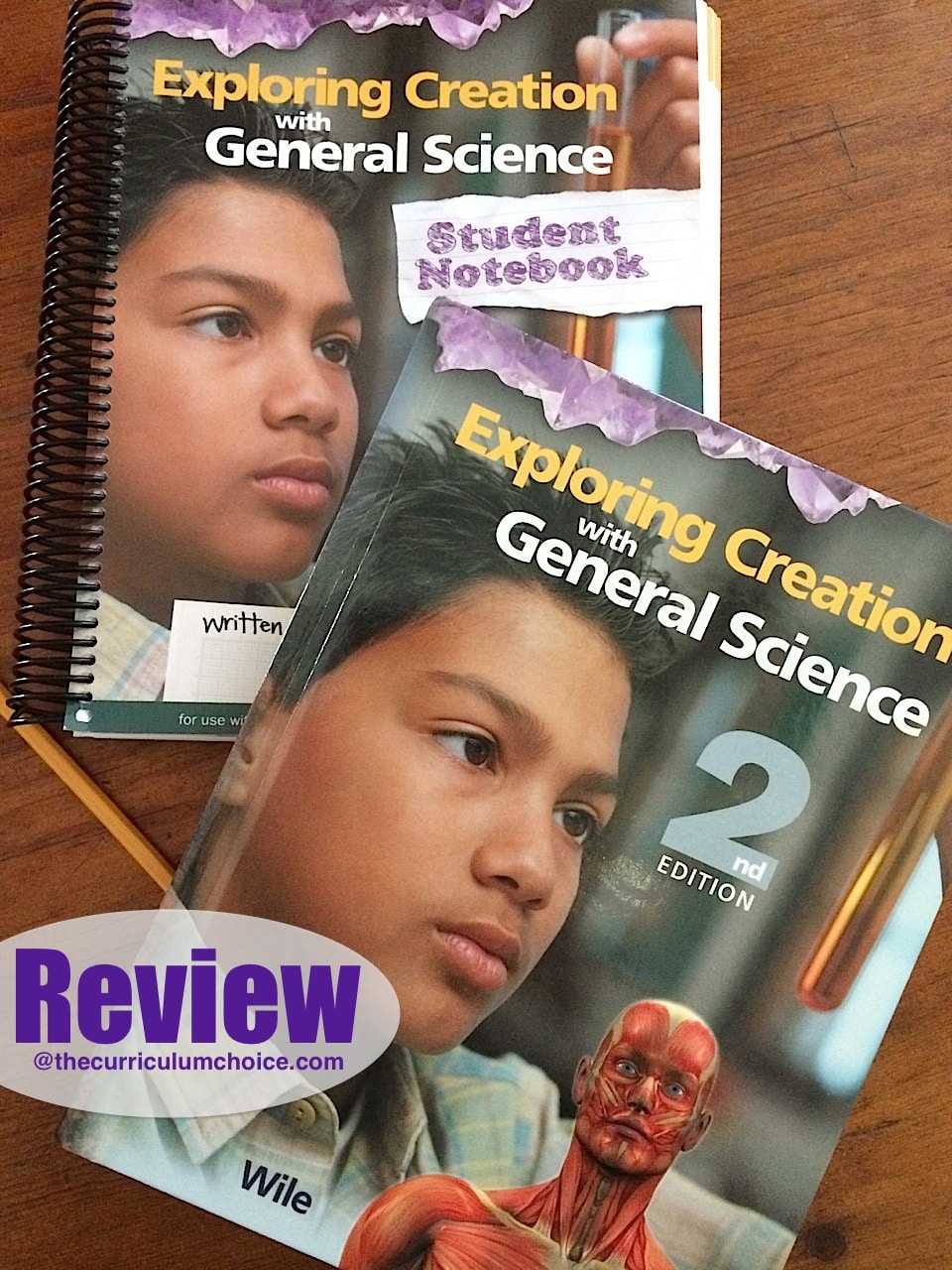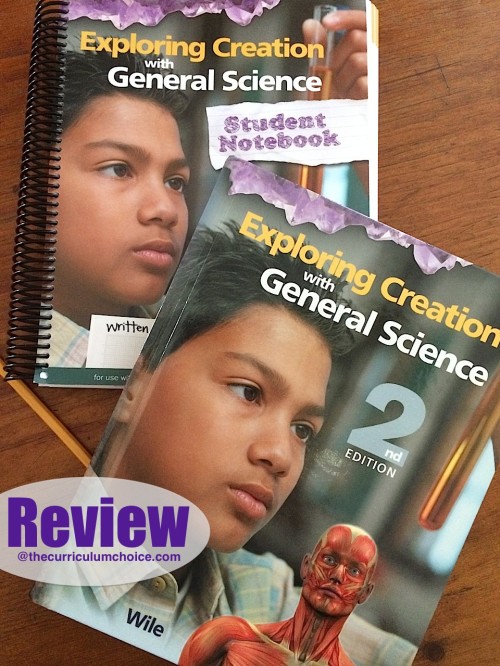 We received these Apologia General Science resources in exchange for an honest review. All opinions are our own and we love the benefits and blessings we are continuing to see from middle school science study. Please see our disclosure policy.

Middle school is the time to practice building independent learning. Plus school subjects and assignments grow in length. Middle schoolers grow in their thinking abilities and at the same time, accountability. Apologia's General Science text – paired with the companion Notebooking Journal is a perfect combination of tools for learning a general overview of science. But also for practicing note taking, recording observations and following directions.
If that sounds complicated, it's not. The Notebooking Journal is step-by-step and makes it so easy for the student to follow – and that, my friends, is a blessing for homeschool parents!
Our General Science Homeschool Studies Include These Apologia Resources
"This course is designed to be a student's first systematic introduction to the sciences."
Apologia General Science Text
The General Science text has 16 modules – each taking about two weeks to complete. Each module contains:
Introduction
Topic(s)
Own Your Own Questions
Several Experiments
The topics include:
Module #1: A Brief History of Science
Module #2: Scientific Inquiry
Module #3: How to Analyze and Interpret Experiments
Module #4: Science, Applied Science and Technology
Module #5: The History of Life – Archaeology, Geology, and Paleontology
Module #6: Foundations of Geology
Module #7: The Fossil Record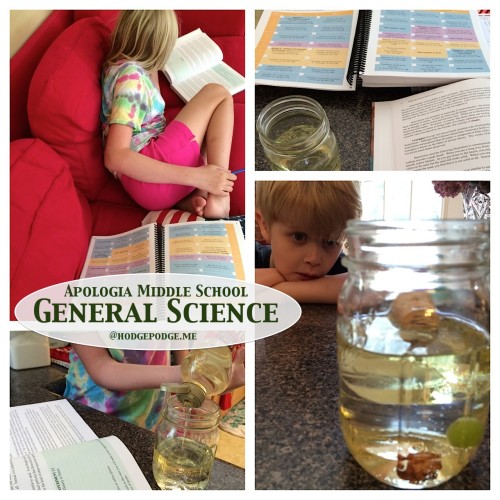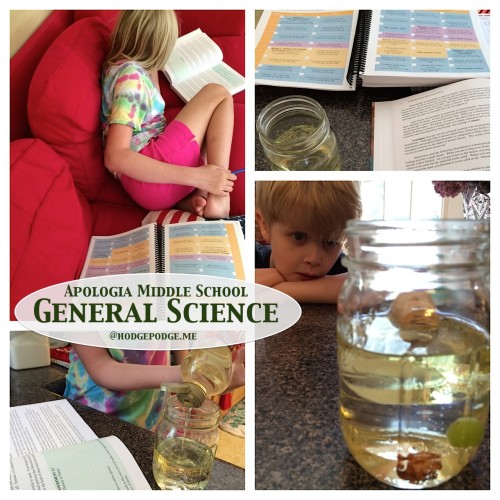 Our middle schooler's General Science experiments usually draw a crowd of siblings!
Module #8: Uniformitarianism and Catastrophism
Module #9: What is Life?
Module #10: Classifying Life
Module #11: The Human Body: Fearfully and Wonderfully Made
Module #12: Energy and Life
Module #13: The Human Digestive System
Module #14: The Human Respiratory and Circulatory System
Module #15: The Human Lymphatic, Endocrine and Urinary Systems
Module #16: The Human Nervous System
General Science Notebooking Journal – The Very Best Part? The Schedule!
My daughter and I LOVE this resource!
Do you know what is the very best for the teacher? The schedule. The sample schedule gives the student the chance to practice working through the text at a steady pace.
All the pages are in one spot. This is a spiral bound notebooking journal. Take it with you in the car, pull it out at the kitchen table. Have it right next to you during an experiment.
The contents follow along the studies of the textbook with plenty of opportunity for further, in depth study.
Also available:
The full course as an audio version. Perfect for your auditory learners!
Multi-media companion CD-ROM
Full course CD-ROM
Course website with links to web-based materials
What Age is General Science For?
"Although it can be used for eighth grade (especially if the student has recently left the public schools), it is typically used best in the seventh grade."
How We Use General Science in our Homeschool
I have found that my daughter and I can be very flexible with these resources. She reads her lesson independently and answers the questions. She has even done several of the experiments on her own, following the directions. The experiments include many regular household items. "I LOVE the notebook – it is the best!" ~7th grader
But, as I mentioned, her studies and experiments tend to draw a crowd of siblings in our household. You might be interested in all the resources we are using for science with multiple ages at Hodgepodge.
Where can you find Apologia General Science?
Find General Science and more middle and high school science curriculum at the Apologia website. There you can view experiment materials, lab list, FAQs, sample notebooking pages and more.

You might also like:
Homeschooling for over a dozen years now, Tricia faces a daily dose of chaos with five children. She shares a mixture of art lessons, recipes and helpful homeschool habits at Hodgepodge. She and her husband, Steve, are owners of Curriculum Choice.