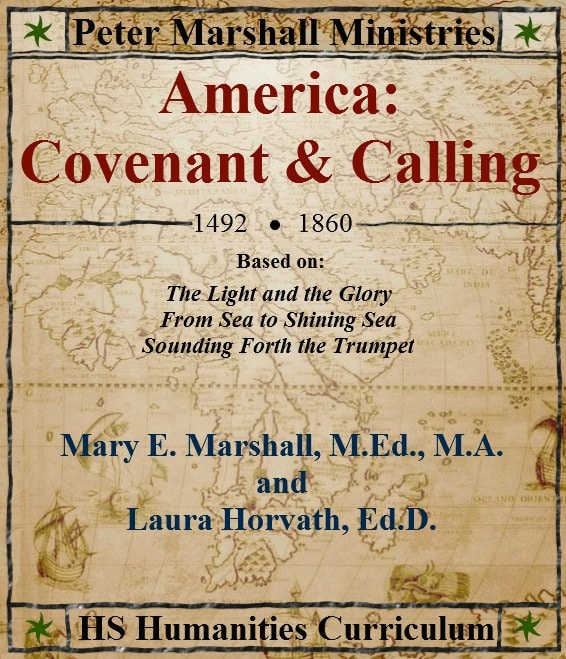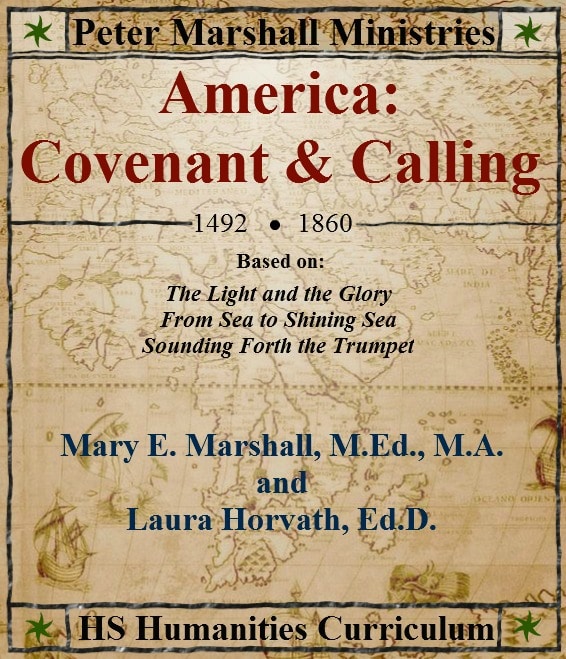 Need an in depth American  history curriculum for your high schoolers that teaches biblical principles?
Search no more!
America:  Covenant & Calling will teach the truth behind our American History which is so often difficult to find in most American history curricula today.  It covers the years 1492-1860 based on the popular books, The Light and the Glory, From Sea to Shining Sea, and Sounding Forth the Trumpet written by Peter Marshall and David Manuel.  The key principle included in these spine books is simply that God indeed had a plan for America.
Your students will examine God's plan for America throughout history while concurrently exploring what it means to live in covenant with God and each other as Americans in today's world.
Unfortunately, this is lacking in Americans today.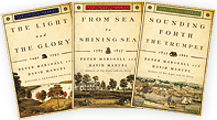 America:  Covenant & Calling goes into great details the once strong commitment and principles that our Founding Fathers instilled in our nation in the beginning.  The nation was called by God for His purposed.
America:  Covenant & Calling is divided up by each of the the three core texts.  For each text the assignments are divided into parts. For each part there are the following:
Introduction – gives an overview of the texts
Objectives – explains learning objectives and supplemental suggestions
Continuing Themes – basic ideas and thoughts interchanged within the chapters
Key Words and Concepts – words, phrases and concepts that focus on the crucial elements in the part
Key People and Places – people and places that focus on the crucial elements in the part
View – suggested films, YouTube videos, and artwork titles with links
Listen – suggested recordings or music related to texts
Read – suggested literature, poetry, or non-fiction related to text selections
Writing/Socratic Seminar Topics – oral or written topic suggestions
Research Ideas – some topics to spark the interest
(Please note that every part does not contain all of the above, but most supplemental material)
How it Works for Us
There is a suggested syllabus, but we adapted it to fit our needs.  The boys usually complete a part a week while making this curriculum a year long study rather than a semester course. Some weeks they complete more than one part depending on the length of the specific part. There are plenty of reading and suggested assignments making this curriculum qualify for a full credit US History course in my opinion.
It is imperative for they boys to keep up with the suggested notebook ideas because I will be reviewing it at the end of the school year.  This is part of their final grade.  We are notebook people, so this approach is quite simple for the boys.  I do require the boys to know the key words, people, concepts, and places within each part.
For your younger children, you can read the children versions of the three texts and following along with your high schoolers.  It is very adaptable for younger children with your assistance.  We already owned these books, so I took advantage of the situation.
Buy It
Win It