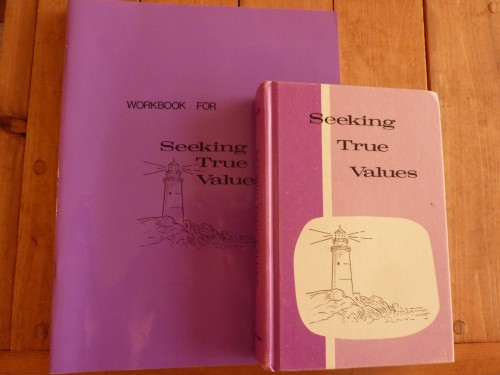 Over the years, we have used a variety of programs for reading comprehension. By far, my favorite has been the Pathway Publisher's reading series. We began with their book, Busy Times, for grade two. It helped so much with my daughter's reading comprehension that we continued with the series. Then, a few years later, she asked to do the series again, and we ordered the book/workbook set, Seeking True Values-7th grade. Like their other books, it was full of colorful and wholesome stories and some poetry.
This book is written and published by Pathway Publishers, an Amish company. You can see their character building values throughout their stories and poetry! Some of the authors include Louisa May Alcott, Henry Van Dyke, Francis of Assisi, and Longfellow, although many are unknown authors. All the stories involve problem solving in realistic situations, choices and values – within very wholesome settings.
Their 7th grade book, Seeking True Values, consists of nine units, with approximately ten stories and poems in each unit. My daughter's favorite unit was Unit Six – Broadening Our Horizons, which included:
1. Who Hath a Book
2. Four Things
3. Region of the Gentiles
4. Great Plague of London
5. The Flickering Lantern
6. The Unbarred Door
7. The Johnstown Flood
8. The Forest Fire
9. The Village Blacksmith
10. Anna and the Turkey Red
11. Twisters on Palm Sunday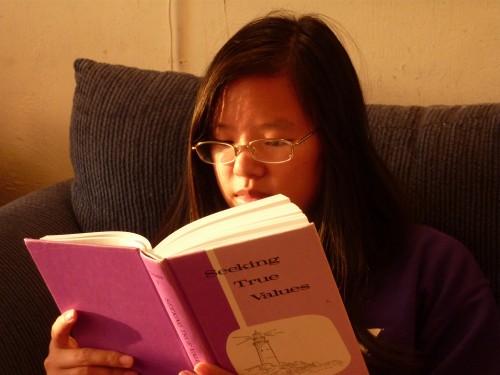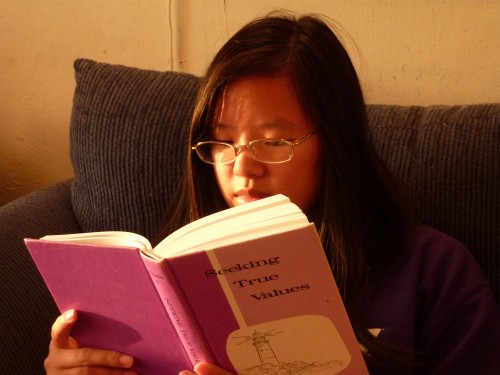 After each story there is a list of "Thinking It Over" questions, which looks at the morals or values involved in the story. This is followed by a word study. More comprehension and values clarification questions are found in the accompanying workbook.
Seeking True Values Workbook includes the following for each story:
1. The reading assignment
2. Comprehension questions re characterization, plot, and moral of the story
3. Question for discussion
4. Some stories included further questions re character development, such as analyzing the motives of each character, etc.
Each Unit in Seeking True Values ends with a Review, consisting of a quiz that covers all the stories within that Unit.
Each of the quizzes typically cover:
1. comprehension
2. vocabulary
3. problem solving
4. some questions on theme and values
We also ordered the Teacher's Manual for Seeking True Values, which included all the answers for each lesson.
Through this program, my daughter not only improved her reading comprehension skills, but also began to refine and clarify her own set of values. With all the problem solving questions, the discussions were priceless! These questions, for example…. "What is Success?" or "Why was there no peace in Gossip Town?" They were great starting points for our discussions!
The Seeking True Values set also offers two more Workbooks, please see below:
1. Working With Words – vocabulary and word usage
2. Climbing to Good English –for:
a. Writing skills
b. Paragraphs and Sentences
c. Parts of speech
Both of the these Workbooks come with a Teacher's Manual, and together with the hardback Seeking True Values, they make quite a comprehensive Language Arts program for your seventh grader!
If you are looking for character building stories, with practice in reading comprehension /grammar, my family recommends the reading series by Pathway Publishers. They offer reading series for grades 1 to 8. For more information, please go to www.PathwayReaders.com and watch for future reviews of this series by this author.
Betsy is mom to her now college junior, whom she homeschooled from day one. She blogs at BJ's Homeschool, about the early years, high school & college and wrote the book – Homeschooling High School with College in Mind.   She offers free homeschool help through messages at BJ's Consulting.