There is a resource that is essential to our homeschool. We each refer to this resource daily and it is there in the background all the time. That resource is our homeschool planners. Our homeschool planners help organize and structure our days, keep us accountable and they also track all we have learned and accomplished! Sometimes it helps me to see just how something works in a homeschool. So, I thought of you and I am sharing snippets of a week in the life of a homeschool planner. We have the student, high school and homeschool teacher editions from A Plan in Place.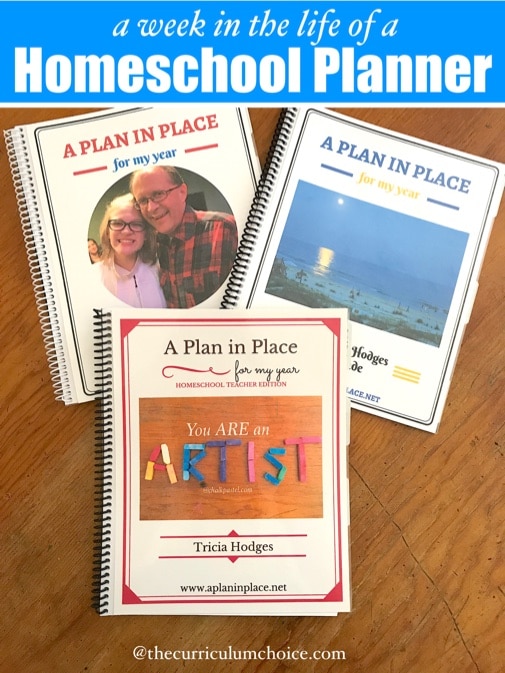 Don't miss the new custom cover options, the discount code and the giveaway at the end!
Life of a Homeschool Planner
We are a homeschooling family of seven. Our eldest two have now graduated and we are homeschooling three. We have a long-standing habit of presenting a child with a homeschool planner in 5th grade. I have seen the results of building the habit of using a planner and I highly recommend it! To begin, we start on the weekend. Yes, the weekend!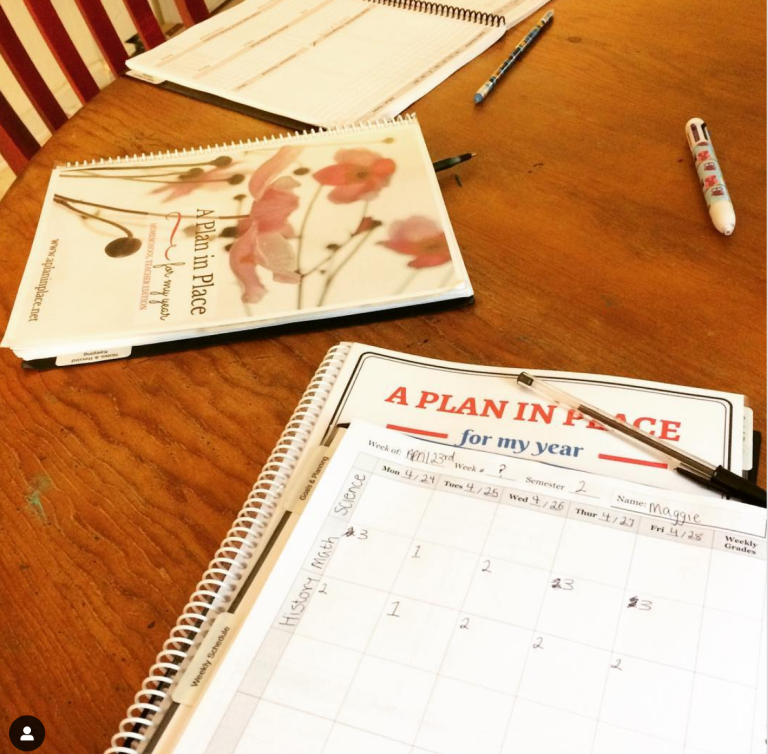 Weekly Homeschool Planning Meeting
Depending on how busy our weekend is, we hold a weekly homeschool planning meeting on either Saturday or Sunday afternoon. All gather their planners and we talk through the week. It helps to have Dad there. Plus snacks really help! You can find more detailed information here on how we do our planning meetings. Everyone (including me – with my homeschool teacher edition) fills out their planner for the week. We can coordinate all the family schedules. Or at least make a really good attempt.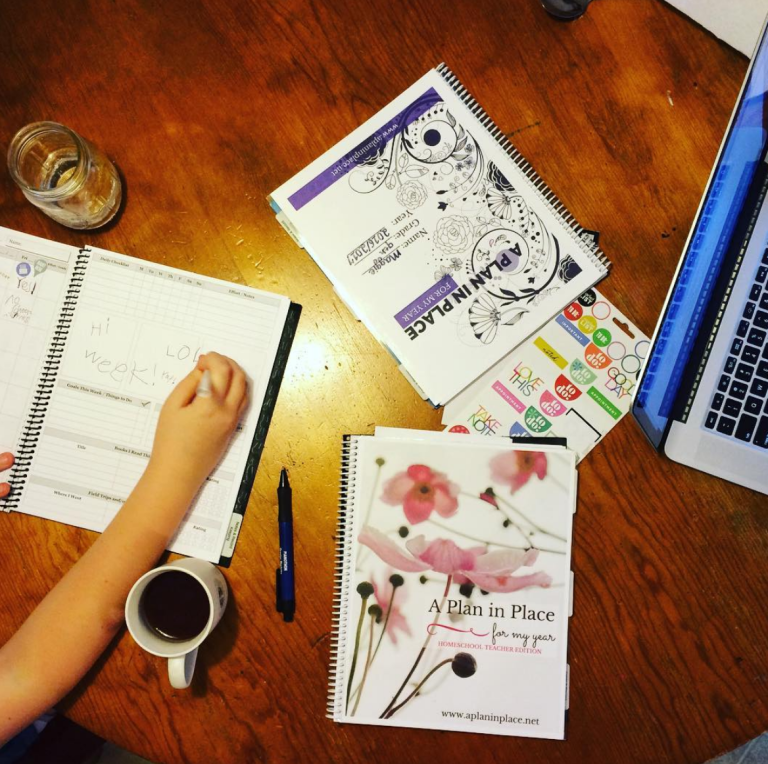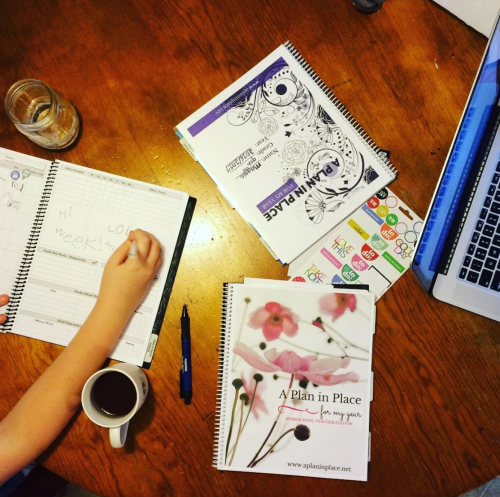 Student Homeschool Planners Within Sight
Throughout the week, each of the children's homeschool planners stay in our handy magazine rack above the family room couch. That way each child has easy access and can simply look in their planner for "what is next?"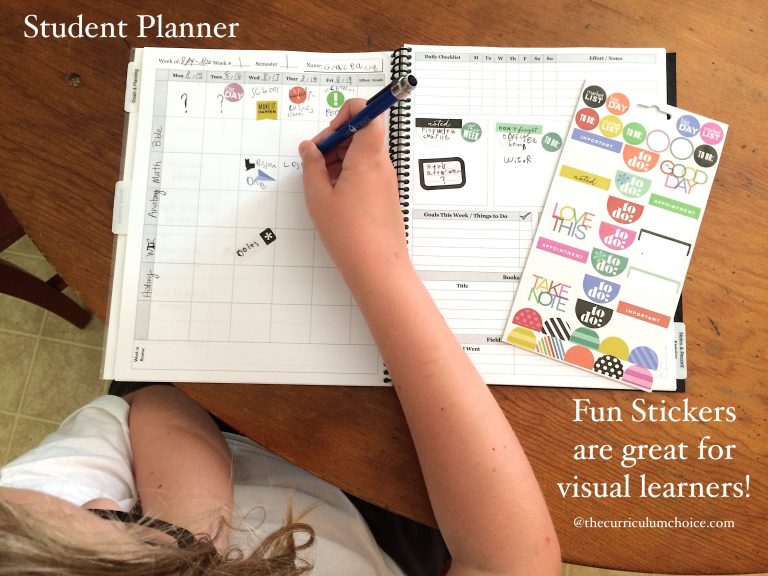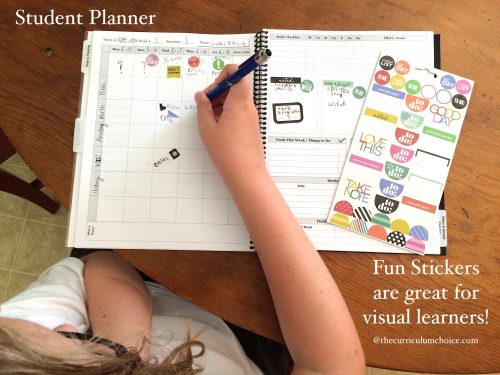 Fifth grader absolutely loves the planning stickers!
High School Planners for Record Keeping
Not only do we love the high school planners for the sheer long range planning, we know that each time we have a plan and our high schooler marks down her work, we also have a record. That sure makes keeping that high school transcript easier.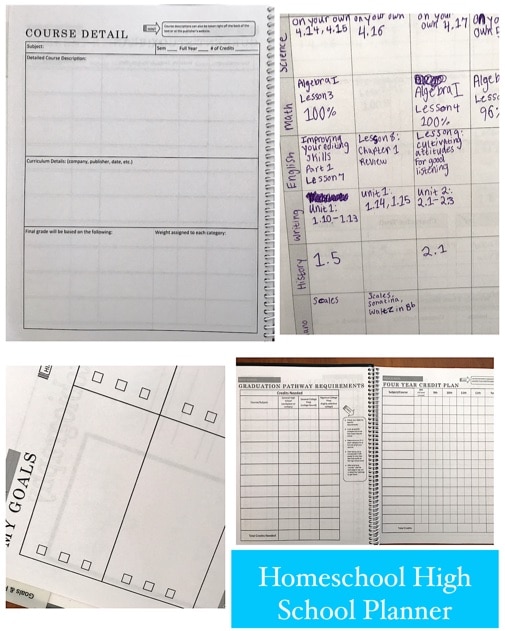 Of course the student planner helps maintain a record as well. We just appreciate it even more in high school!
What I Love About the Homeschool Teacher Edition
My homeschool teacher planner is my brain dump! I tuck my planner in my purse and carry it with me. I pull it out during piano lessons and write and update. Other times you can find my planner on my desk or sitting close by on the ottoman in the family room.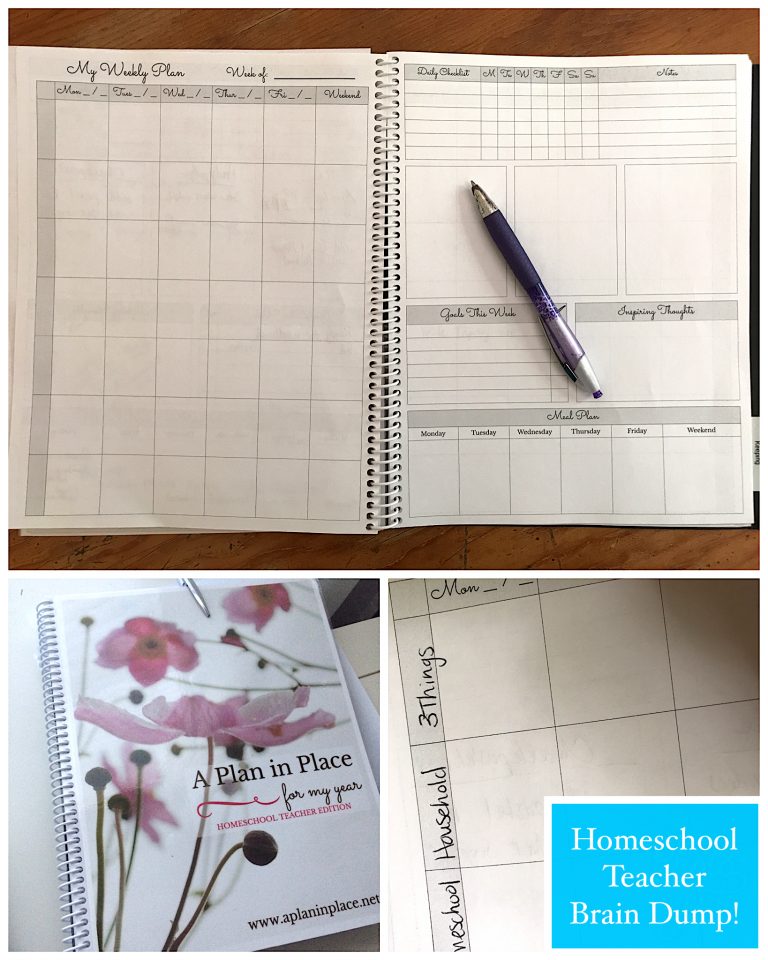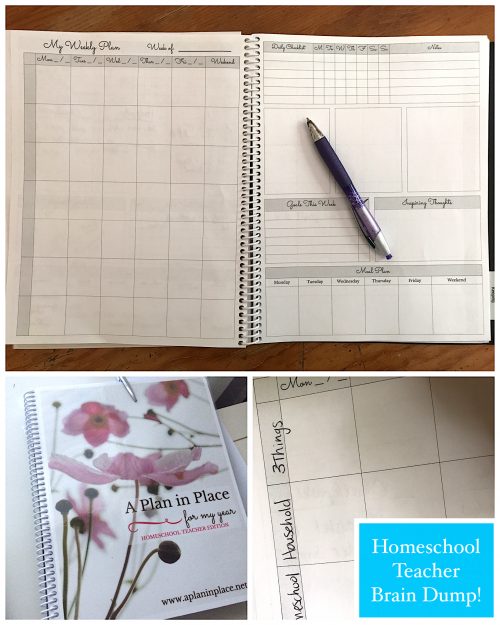 A homeschool teacher's mind can be swimming with lesson plans, course descriptions, college prep deadlines, the weekly menu plan, extracurricular activities and so much more. I adore the homeschool teacher edition planner for all of these reasons. My hodgepodge thoughts are all at a glance in one spot. Plus, that oh so important annual homeschool planning session for the upcoming school year is organized with brainstorming boards and curriculum needs/costs/wants lists. There are field trip organizers, library lending sheets – all sorts of organizational tools to help keep me on track.

NEW Custom Homeschool Planner Covers
When our brand new homeschool planners arrived, this was our reaction:
You can create a custom cover for A Plan in Place now! ❤️🎉We love @aplaninplacehomeschool
"I love this. I love this! I love this! Look at this section! I'm so excited! This is my favorite planner I ever had." -rising 10th grader's exclamations over her new high school planner for next year. 📚
"This looks so great! This is awesome!" -rising 6th grader's comments about her new student planner for next year. 📝
And you KNOW how much I love mine. The homeschool teacher edition with You ARE an Artist on the cover! 🎨 Calendars, planning sheets, brainstorming boards, long-range planning. Weekly planning pages with space for not only homeschool but all #thecurriculumchoice and @chalkpastelart planning too. We are a happy Hodgepodge!


We are having fun with this page this week!
Homeschool Planners for All Ages
Did you know? A Plan in Place Homeschool Planners are developed by homeschool teachers like you! Be sure to explore all the offerings at A Plan in Place!
Early Learner edition
Student Planner
High School Planner
Homeschool Teacher Edition Planner
PDF download versions
Summer edition
Extras like pockets, pens, planning stickers, accessory packs and more
More on why you need a plan in place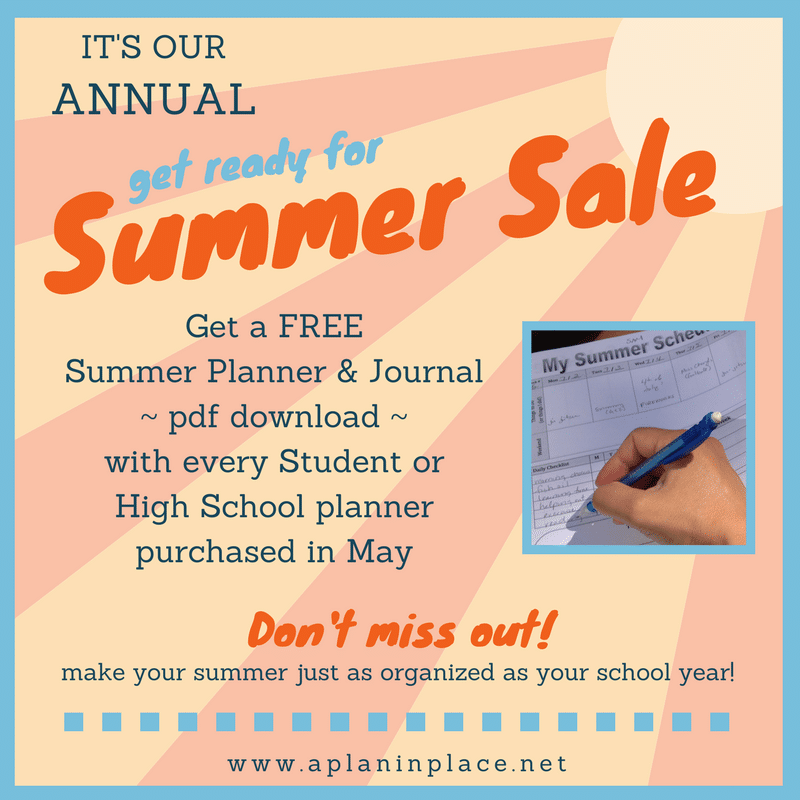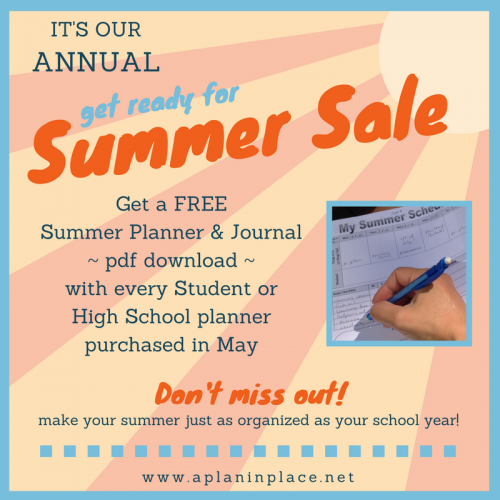 A free summer planner and journal (with your purchase with the discount code below!) – only through May! Details here.
More on A Plan in Place here at The Curriculum Choice: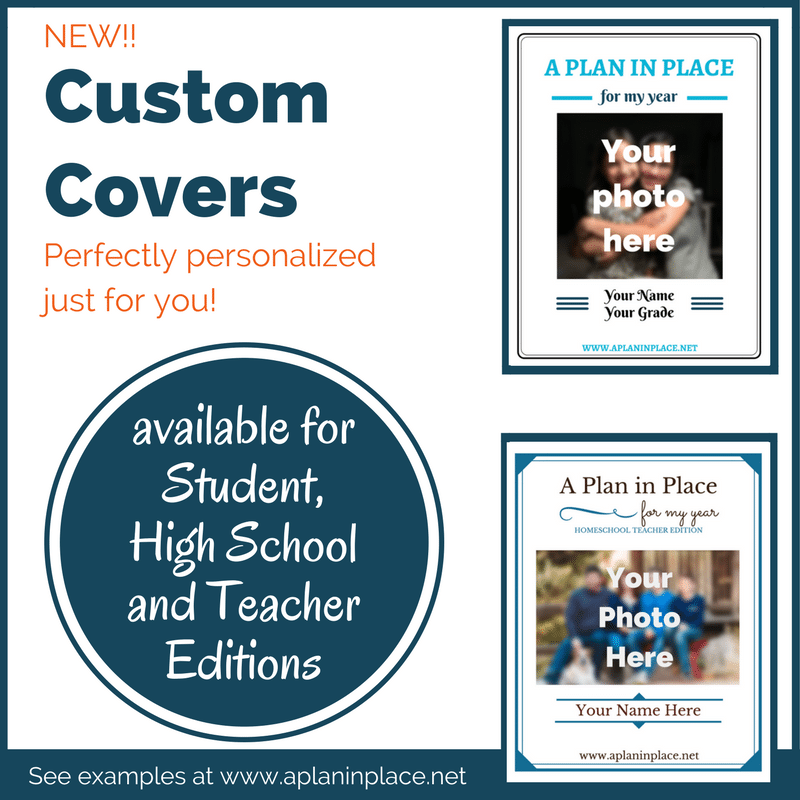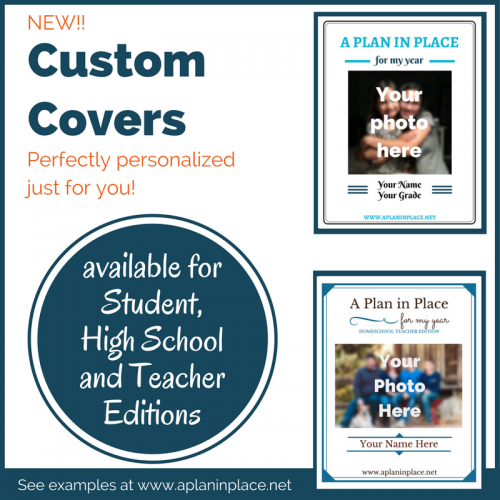 Be sure to follow A Plan in Place on Facebook and Instagram for specials, ideas, encouragement and more!
Be sure to explore www.aplaninplace.net for your planners for all your ages, grades and teacher planning needs.
Homeschooling since 2000, Tricia faces a daily dose of chaos with five children. She has seen the fruits of home education with three grads so far! With their You ARE an artist art curriculum she, "Nana" and her family are passionate about growing a love of art. She also shares helpful homeschool habits at Your Best Homeschool and is author of the book, Help! I'm Homeschooling! She and her husband, Steve, are owners of The Curriculum Choice. Find out more about her annual homeschool planning habit.
Save
Save
Save
Save
Save
Save
Save
Save
Save
Save
Save
Save
Save
Save