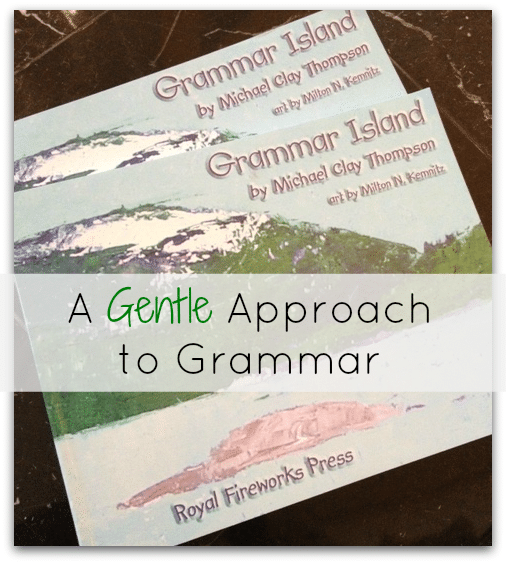 Grammar Island is part of Michael Clay Thompson's Language Arts series.  (We've also been using Building Language this year, and have been so pleased!)  It is designed to be a gentle introduction to grammar for the elementary student.  Ironically, this "gentle" approach also introduces concepts that might be saved for middle and/or high school.
The book is designed in such a way that the lessons are short, colorful, and interesting, but introduce pretty BIG concepts each time. It is far and away the most easy to understand and (dare I say?) "painless" grammar program I've seen.
What is Covered in Grammar Island?
In a nutshell:  Parts of Speech, Parts of Sentences, Phrases, and Clauses.  
Grammar Island consists of 4 distinct sections.
Each page in the book focuses on one concept. You read together with your student, talk about the concept, ask some questions, and then answer questions.
Who Would Benefit From Grammar Island?
I believe an elementary aged child would do well with this book.  My son is seven (second grade) and it's a perfect fit for him.  The publisher calls the books "A book to delight students just beginning grammar".
Notice that word:   DELIGHT.  They say this because the book is funny, sweet, colorful, and engaging. You can view an extensive  sample online. This is exactly like having the book in your hands, so if you're at all interested, be sure to take a look.
Why Do We Like Grammar Island?
We are enjoying Grammar Island for many reasons:
short lessons that hold my son's attention – not too many words on a page and it doesn't look overwhelming
humorous stories that speak to my son's sense of humor – the use of puns and silly names keeps him interested
an easy to understand Teacher's Manual  – it isn't taking a lot for me to work through the lessons with him
fits in a sequence of language arts  instruction from the respected Michael Clay Thompson
I encourage you to investigate Grammar Island for your elementary aged child. You will be impressed with the ease of presentation, but the difficulty of the subject matter.  It sets a FIRM grammar foundation for your child. I am thankful we found this program this year and we will continue with the next level!
Grammar Island is available from Royal Fireworks Press.   The Student Edition is $30 and the Teacher's Edition is $35.
~ Written by Mary, of Homegrown Learners.