Don't miss the giveaway at the end!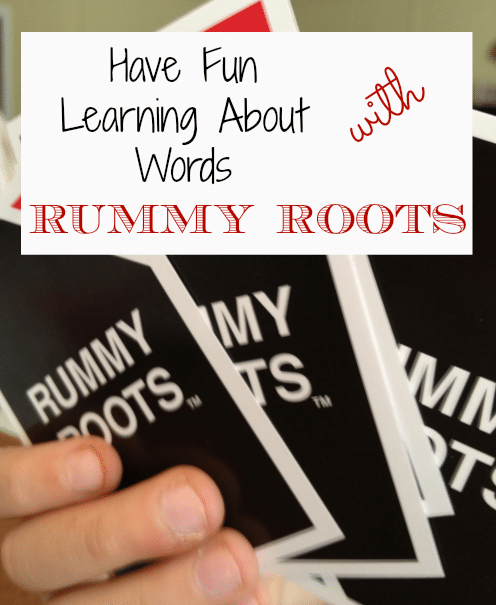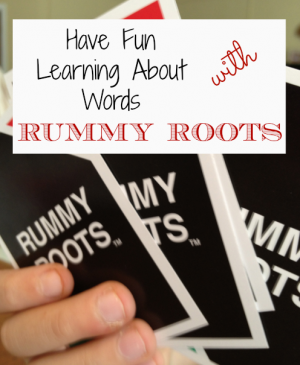 Do you know what PHOTOGRAMMETRY or THERMOPHILE mean?
How about ZOOMETRY or SYMPHILY?
Your children will be able to tell you quite easily what the definitions of these words are after spending time playing Rummy Roots.
This game is teaching my children all about English words through learning their Greek and Latin roots. It is a stress free game that is providing us hours of language learning.
There are four different card games in one deck. Each game (or level) is designed to build upon the next and be stress-free! The game is recommended for ages 8 and up (a perfect age range, in my opinion).
Pre-Roots
This game is played just like Go-Fish. It helps students (and their parents!) learn the basic word roots. The most familiar roots are used and success is guaranteed after just a few short minutes of playing.  A simple roots list is given so the youngest players can be successful. Alphabetizing skills are learned in this level.
Level 1
This level is played by combining two Greek or Latin words to form an English word. ("Autograph" is one example.)   Learning how to use guide words in a dictionary is emphasized in this level. A larger dictionary is included for this part of the game.
Level 2
This level continues more root combinations, but adds the use of a "Stump" card. Players learn the definitions of two root combinations in this level.
Level 3
This level resembles more of a traditional "Rummy" game… and players will combine 3 root cards to make words (like "autobiography") Things get harder and more challenging at this level.
How We are Using Rummy Roots in Our Homeschool
We have just been playing Pre-Roots for the past couple of months.  My children have learned the 42 Greek and Latin Roots and their meanings quite well, and are enjoying playing "Go Fish" with the cards. For the age and level we are, this has been perfect.
The Pre-Rummy Roots Word List is very helpful. We can refer to the list to match up roots and their meanings.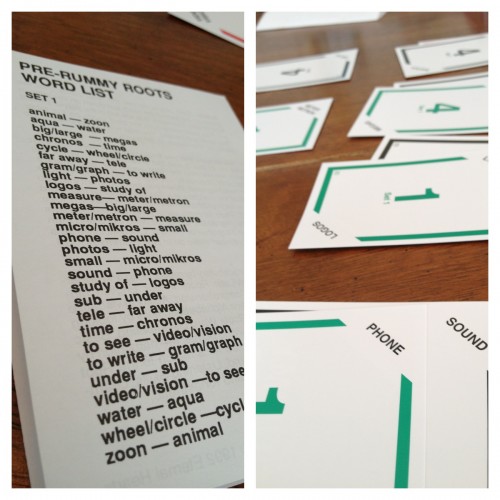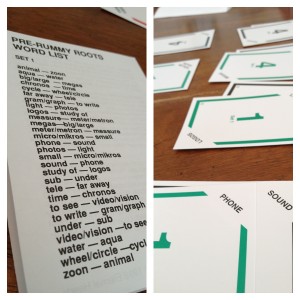 I see their learning progressing, though, and soon we will start Level 1.
We play the game purely now for FUN – and a by product of that fun is LEARNING.
My children's understanding of the structure of words, and also the meaning of words has increased. They are able to dissect a word they don't know, and get a general idea of its meaning through the roots they are learning.
This is such a valuable skill – one that serves them well in so many subject areas: history, science, language arts, and more.
*You can find out more about ordering directly from the Rummy Roots website.  Games are $14.95 each. (I picked mine up at the last homeschool convention we attended!)  Another game, More Roots, is also available for continued (and harder) play.
OH — and if you're wondering:
Photogrammetry is making surveys or maps with the help of photographs, especially pictures taken from the air.
Thermophile are micro-organisms, such as bacteria or fungus that need high temperatures in order to grow.
Zoometry is measuring animal bodies by their size, number and proportions.
Symphily is a  mutual friendship for the good of each other.
Now for the Giveaway!
Just follow the instructions on the rafflecopter widget below:
a Rafflecopter giveaway

~ Written by Mary of Homegrown Learners