I am very happy to introduce you to our May sponsor, Triple 1070. Don't miss the giveaway at the end! This review contains affiliate links because we have used this curriculum in our home, thoroughly enjoyed it and believe in it! Please see our disclosure policy for more detail.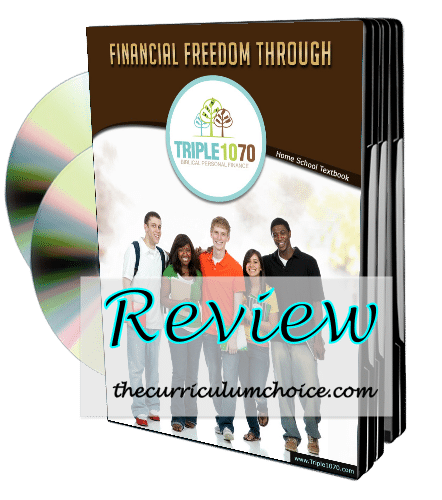 Practical, life skills are so very needed in a high school education. But just how can you teach your young adults about finances without it being BORING? Triple 1070 offers a media rich adventure to Biblical Financial Empowerment.
With this DVD-based curriculum, follow four young adults – of various ages, backgrounds and ideas about finance – on a practical learning experience. These young people travel across the country talking with financial experts, visiting banks, learning about job planning, taxes, avoiding debt, government, investments and much more.
What is Triple 1070?
Triple 1070 is a high school level course, 13 weeks long.
What does Triple 1070 mean?
This framework is a guideline: 10% charitable giving, 10% savings, 10% investment, 70% spending (what you have to live on). "Triple 1070 is about intentional stewardship — planning where you are going to use the money God has entrusted you with. It is not a law, but a general guideline on how to steward your resources to ensure that you take care of your own (1 Timothy 5:8) and allow God to bless others through you (Acts 20:35)."
52-Its time to fly!.mp4 from Triple1070 on Vimeo.
Take a few minutes to watch this video from Triple 1070.
What is included in the Triple 1070 curriculum set?
DVD-based curriculum – six DVDs that we watch to accompany the textbook.
Homeschool textbook – this resource is rich with knowledge and I can see it being a tool referenced often as my high schoolers continue into adulthood over these next, few, short years as our children work towards the steps of financial stability.
Homeschool daily workbook – I love how the exercises simulate a real-life situation and encourages the student to problem solve and plan.
What does Triple 1070 Teach?
Entrepreneurship
Banking, The Fed
Commercial banks
Credit management
A balance a checkbook
Financial strategies
Financial planning
Making it work in the real world
Personal net worth
Compound interest
The 10-10-10-70
What to do with your life
Not just a paycheck
Resumes & interviews
Invisible money
Ways to save big
History of taxes
Taxes in America
Higher education
Governmental budgeting
Life strategies
Trade schools
The creation of credit
What's in a number
Consume, consume, consume
Ideas to buy a car
Living large/living low
What happens if you don't pay your bills on time?
Giving works
Making the world a better place
What kind of mortgages are right for me?
What's and why's of insurance
America!
Investments
How We Use it in Our Home
With two young adults in our household (rising 9th and 10th graders), my husband and I knew that finances – especially Biblical financial empowerment – would be an important part of their education. Because we have multiple ages from preschool to high school in our homeschool, we have been watching the DVD series in the evenings after the younger children are in bed. This also allows my husband to be included in the studies. Since he is in charge of our family finances, he offers examples from our our family.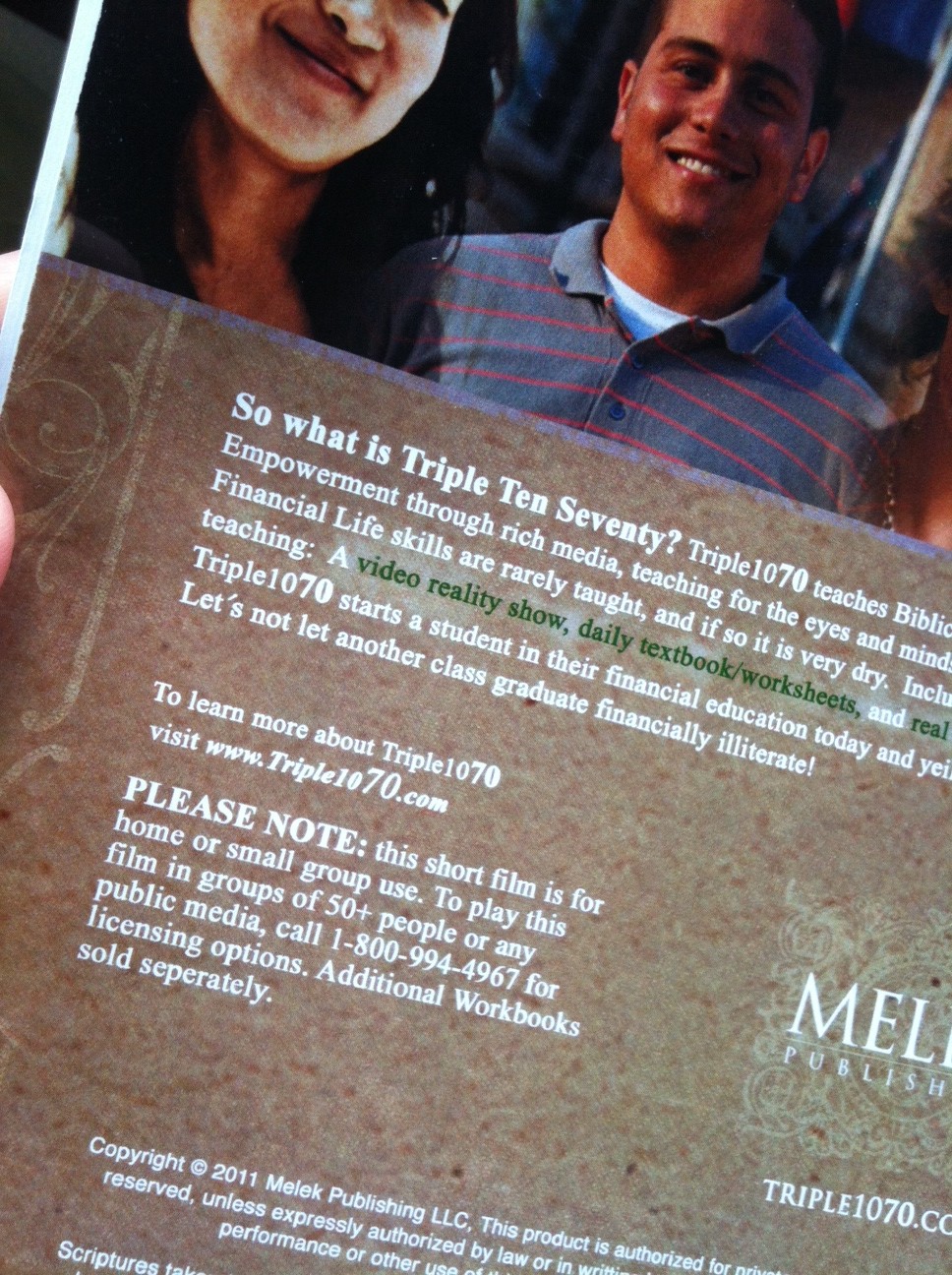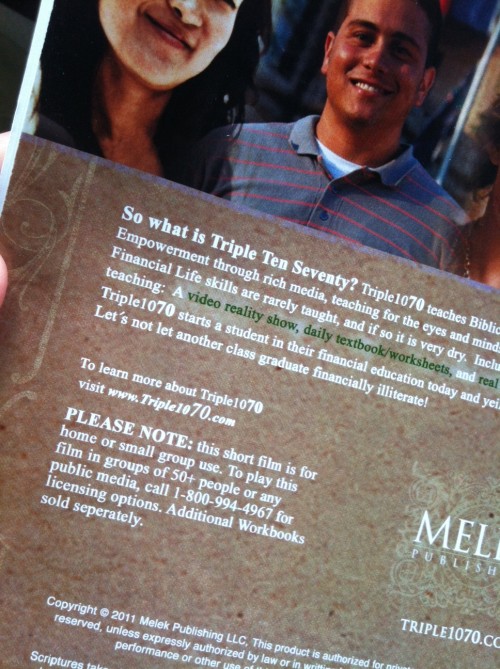 Here's an example of what happened after we watched the session on Credit Cards and Interest. The speaker brought up the fact that he never buys a new car. So my daughter said, "well, how much does a new Ford Fiesta cost?" So my husband pulled up the site online and they added all the features she thought would be fun. Including the color car she wanted. Then we saw the price for that new car. We discussed how much less a car that was just a two years older would cost. We pulled up the family van and showed the children the current cost. How much we paid, etc. It's these real life discussions prompted by Triple 1070 that I value most.
"One piece of information I could have had in high school – at least financially – it would have been the power of power of saving versus the power of debt. Saving a dollar versus spending a dollar. When you save the dollar, then you have interest on that and then compound interest. It's an extremely powerful way to build wealth. Very few people realize that when you are in high school you can literally cinch the fact that you'll be a millionaire by the time you retire just by socking away very few dollars every month – because of the power of compound interest and time." basically by saving $1,000 a year ~ lesson on net worth by Dory Wiley, President of Commerce Street Capital, LLC
Where can you find Triple 1070 to Use with Your Young Adults?
$136 for a complete curriculum – for a high school level course. (and we're enjoying it with two children in our home!)
Interested? You can even try a sample lesson.
In Summary
Triple 1070 is building Biblical financial foundations for a lifetime. "You shall know the truth and the truth shall make you free." This curriculum is opening the doors to practical discussions, expanding our thinking and challenging us all with Biblical standards. How I wish I'd had this type of course when I was a high schooler!
Now for the giveaway!
Triple 1070 is offering a complete curriculum set to one blessed Curriculum Choice reader! This curriculum set is valued at $136 and includes:
Textbook
DVD series
Student Workbook
Exam booklet
Just follow the instructions in the rafflecopter widget below:
a Rafflecopter giveaway

~Homeschooling for a dozen years now, Tricia faces a daily dose of chaos with five children from preschool to high school. She shares a mixture of art lessons, recipes and helpful homeschool habits at Hodgepodge. She and her husband, Steve (who writes app and technology reviews), are co-owners of Curriculum Choice.