My husband wants our kids to be able to think. He especially wants them to be able to think critically about all the information and ideas they are being fed every day. That's why we emphasize logic in our homeschool.
We've used a wide variety of resources over the years. While we use other materials as well, the bulk of our logic studies involve books from The Critical Thinking Co. Our most-used resource is the Building Thinking Skills series, the most in-depth one is the James Madison Critical Thinking Course, the most fun of all is Red Herring Mysteries, and we also enjoyed Balance Benders Beginning.
Building Thinking Skills Series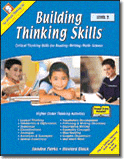 The Building Thinking Skills Series by Sandra Parks and Howard Black is a wonderful introduction to informal logic and basic thinking skills. From describing shapes and things, it progresses to complicated verbal and figural analogies. Along the way, students work through exercises dealing with similarities, sequences of all sorts, and classifications. Each of these topics is introduced with figures and expanded with words.
Building Thinking Skills 2 (grades 4-6) is a great book to introduce informal logic. Since it's basically all puzzles, it's a wonderful one-on-one resource, great for cuddly couch time. I like waiting until my children are at least in grade 6 before starting this book so that it will be an enjoyable and easy introduction to logic.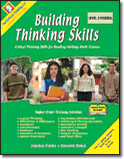 Building Thinking Skills 3 Figural (grades 7-12+) has more advanced versions of the figural puzzles of the previous book. This book, too, is fun and can be done happily side-by-side on the couch or as a workbook activity.
Building Thinking Skills 3 Verbal (listed as grades 7-12+) is best done together on the couch. It assumes a reasonable vocabulary, significantly beyond that of most grade 7 students. Even in grade 9 we have had to give up on this course because it depends on nuances of various words that one very verbal child was not able to work with easily. Words being words, this book can lead to some great discussions of word meanings as well as the validity of the Instruction Guide's choice compared with the validity of my teen's choice. Learning to understand assumptions behind disputed answers was a completely unexpected logic bonus.
These three books are an enjoyable, low-key way to improve your children's thinking skills and will benefit them throughout their lives as well as in their schooling.
The Instruction Guides are definitely geared to classroom use, and it is difficult to find the answers if that's all you are looking for. But then, I rarely need the answers unless I'm too tired to think logically myself. They also include all sorts of teaching tips that I ignore, including how the skills being studied are useful. Are the Instruction Guides important? If you're using Building Thinking Skills as a mom-kid time activity, you'll be able to do them at the same time as your child and will only need the answer key on the days you're feeling foggy, tired, or distracted. If you're planning to hand the book to your children to do on their own, you'll want the Instruction Guides to speed up marking.
James Madison Critical Thinking Course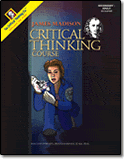 Recently, I reviewed the James Madison Critical Thinking Course. It is a mystery-based introduction to real-life critical thinking and formal logic and is definitely for older teens or for younger ones who have been introduced to formal logic before. This is not an easy course; in fact it was designed for adults preparing for standard assessment tests. On the other hand, it is an excellent introduction to formal logic and does a great job of making an otherwise dry and difficult subject both interesting and accessible.
Balance Benders Beginning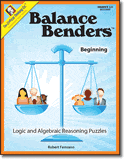 Years ago we received a copy of Balance Benders Beginning (grades 2-6) to review. Although it was helpful (see my review here), my little ones did not enjoy it enough to want to spend a lot of time with it. With the older ones I can say, "This is what we're doing for logic. Let's begin." But little ones need more motivation and they think learning logic is not nearly as important as gathering eggs, playing with dolls, or throwing sticks for the dogs. Probably, at that age, hands-on opportunities teach logic and critical thinking far more effectively than any book could. (We avoided the early Building Critical Thinking Skills books for the same reason.) All that being said, I was planning to use Balance Benders Beginning with my 10 year old this summer but, sadly, it has disappeared.
Red Herring Mysteries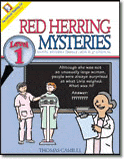 Recently our family has begun to enjoy Red Herring Mysteries 1 (grades 4-6) by Thomas Camilli. It's full of mysterious statements or situations and the goal is to understand the mystery by asking only yes/no questions. It's a neat suppertime activity, and we all enjoy it even though most of us are beyond the stated age range. Even my husband was intrigued! I'm planning to take it along on our vacation this summer to help while away the 50 hours of driving.
To purchase or for more information, contact The Critical Thinking Company. You can also sign up for a free newsletter full of deals, resource suggestions, and interesting articles.
Disclosure: Our family purchased the Building Critical Thinking Skills books and A Case of Red Herrings. I received the James Madison Critical Thinking Course from The Critical Thinking Co. for the purposes of a review and was given Balance Benders Beginning years ago as a member of the TOS Review Crew.