The life cycle of tadpole to frog is one that has always been a hit in our homeschool, especially if you can get a tadpole to raise into a frog!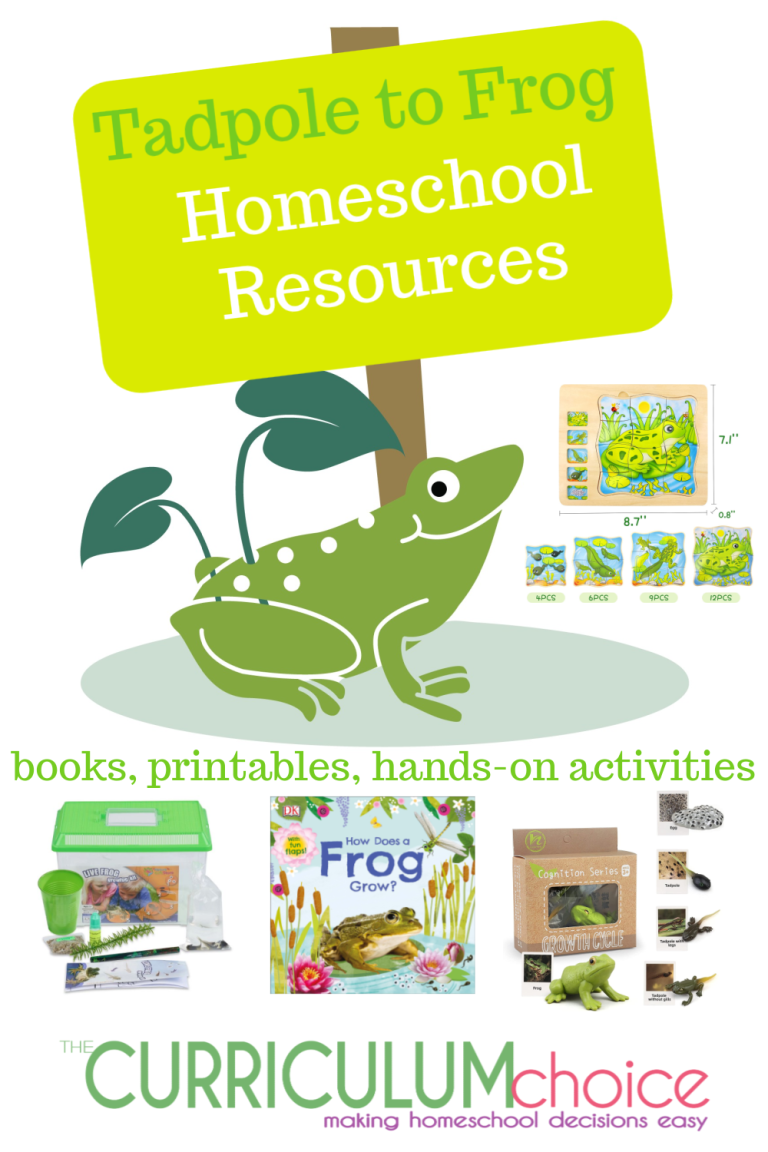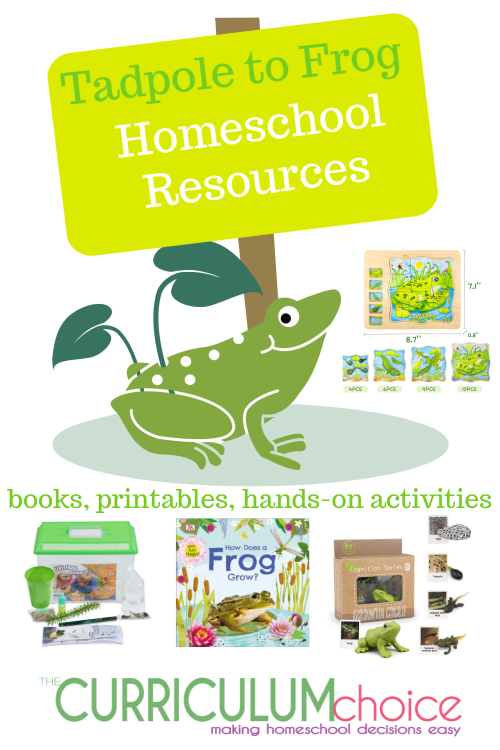 Affiliate links are used on this website. Please see our disclosure policy for more details.
Tadpole to Frog Homeschool Resources
This is a collection of tadpole to frog resources and activities I put together for my grandson. He is currently raising a couple of tadpoles into frogs as an enrichment to the chapter in our science curriculum.
Frog Life Cycle Books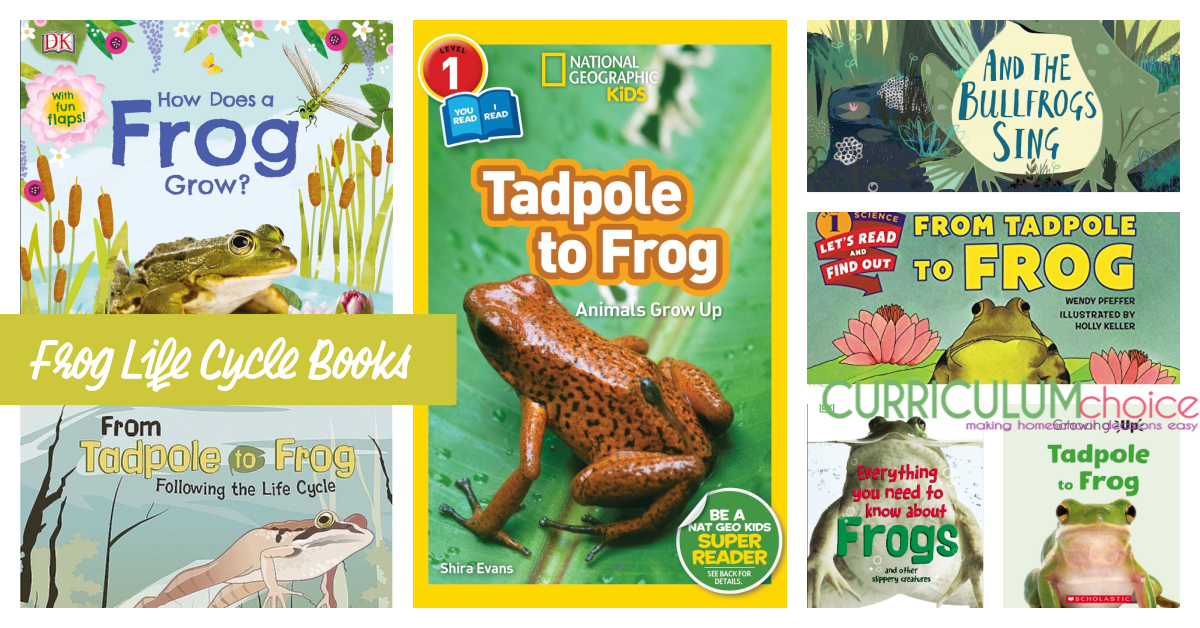 Everything You Need to Know About Frogs and Other Slippery Creatures – Packed with vibrant pictures and lots of fascinating facts, kids can enjoy learning all about a frog's habitat and behavior. Discover how these amphibians survive in lakes and rivers, forests and deserts, and how these clever creatures have adapted to live in seemingly inhospitable habitats. Alongside, in between, and on top of all that, this riveting frog book also provides ideas for things to make, games to play, quizzes, and amazing facts to share with friends!
From Tadpole to Frog (Let's-Read-and-Find-Out-Science 1) – This is a clear and appealing science book for early elementary age kids, both at home and in the classroom. It includes a find out more section with an illustrated guide to identify different frog species and a map showing where bull frogs can be found throughout the United States.
Tadpole to Frog (Growing Up) – Each living thing in nature follows a life cycle. Come with us as we explore growing up from tadpole to frog! The books in this Growing Up series offer kids the chance to learn what happens at each stage of these life cycles. Engaging text, fascinating facts, and beautiful photos complete these books where readers will discover how the process of a new life starting is always fascinating.
From Tadpole to Frog: Following the Life Cycle – How many eggs does a wood frog lay? What does a tadpole eat? Hop through the pages of this book and discover the life cycle of a wood frog.
National Geographic Readers: Tadpole to Frog – Learn all about how animals grow and change in this leveled Co-reader, perfect for parents and kids to read together. Through vibrant, adorable images and expert-vetted text, you'll glimpse some of the most amazing metamorphoses in the natural world. Kids will see a tadpole transform into a frog, watch a caterpillar become a butterfly, and learn how a nymph becomes a dragonfly.
How Does A Frog Grow? (Life Cycle Board Books) – With friendly, read-aloud text, beautiful photos and illustrations, and surprise flaps, the easy-to-follow pages explain the complete life cycle of a frog to young children.
And the Bullfrogs Sing – Lyrical prose and elegant art depict the life cycle of a bullfrog in this nonfiction picture book.
Hands-on Frog Life Cycle Resources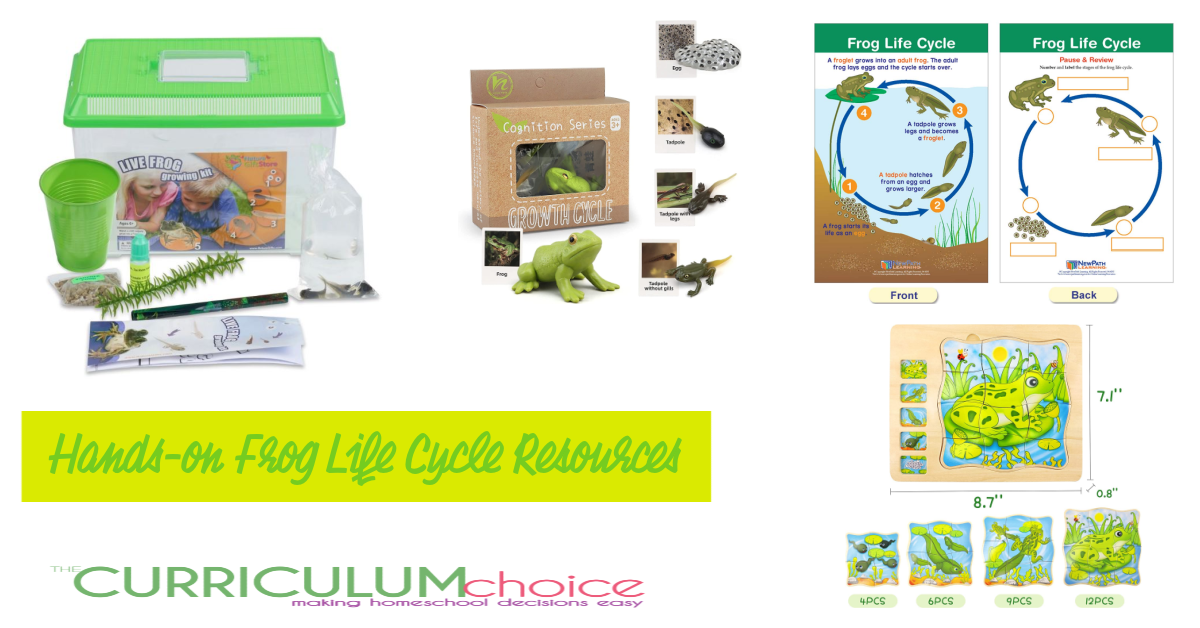 Montessori Life Cycle Animal Figures – Plastic figures with flash cards that walk kids through the lifecycle of a frog.
The Life Cycle of a Frog Wooden Puzzle – a layered wooden puzzle presenting the growth cycle concept. It shows the passage of time with the development of the images, each phase of growth is bigger and requires more pieces to complete the picture, total 31 puzzle pieces.
Life Cycle Posters – A set of 8 life cycle posters, including tadpole to frog.
Frog Growing Kit – This LIVE frog growing kit offers children the unique opportunity to grow a frog from a tadpole. Kids get hands-on experience with the frog life cycle! Everything you need is included. Contains: habitat, certificate for 2 free live tadpoles, tadpole food, water treatment solution, water change cup, plastic plant, life-cycle coloring page, and easy instructions.
Life Cycle of a Frog Activity Ideas – This is a website called Mr. Amphibian. It has tons of resources and fun hands-on activity ideas
Printable Tadpole to Frog Resources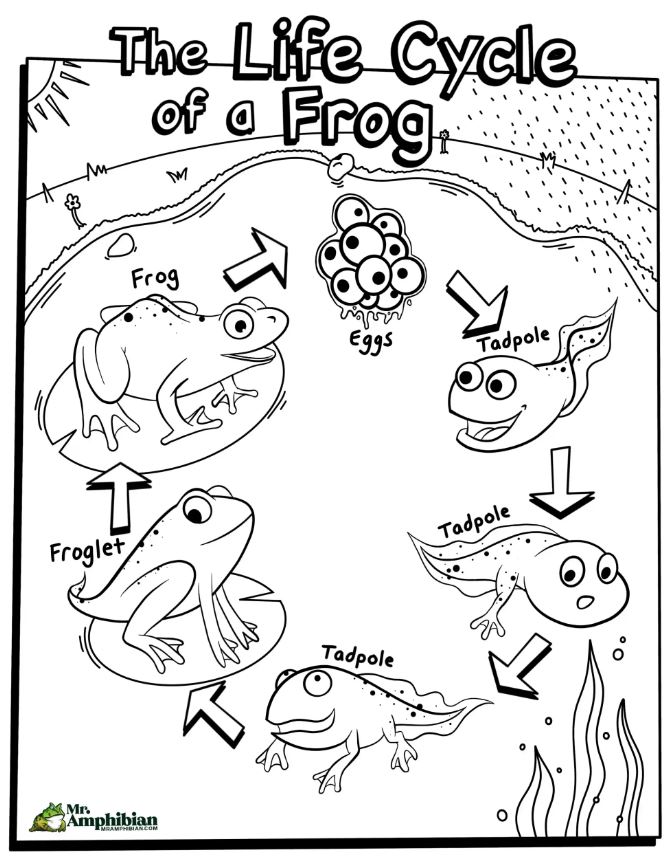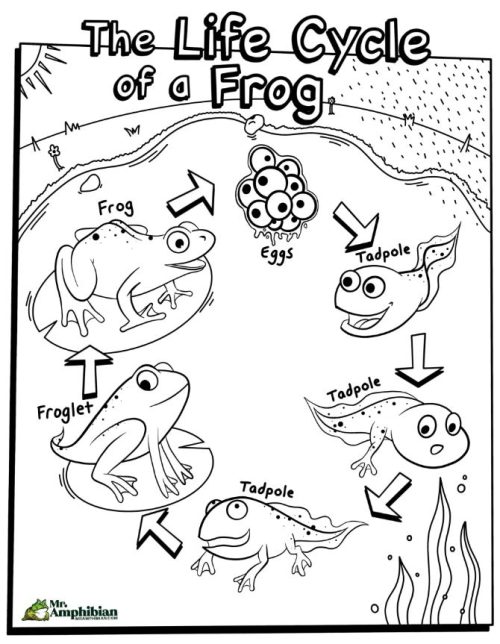 Frog Life Cycle Printable Pack (for early elementary ages)- FREE! Includes printable life cycle pages, fill in the blank activity, and book.
Frog Life Cycle Notebook – FREE! Love this one because it includes observation pages to fill out if you are growing tadpoles into frogs.
Frog Life Cycle Printables – Life cycle diagram, cloze activity, life cycle quiz and more!
26 Frog Coloring Pages – FREE frog coloring pages including a cute life cycle of the frog coloring sheet.
Tadpole to Frog Life Cycle Videos
More Frog Resources from Our Sister Sites