There's one book I always recommend to new homeschooling moms, 100 Top Picks for Homeschool Curriculum by Cathy Duffy. But it's getting old. This summer, a new edition of Cathy's wonderful book has come out, called 101 Top Picks for Homeschool Curriculum. It is similar to 100 Top Picks in format and content, but some resources from the first book have been replaced by better, newer ones.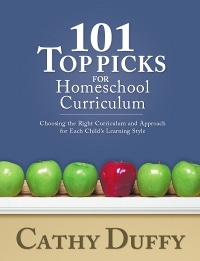 101 Top Picks for Homeschool Curriculum
101 Top Picks begins by helping you understand and determine your family's educational goals and needs.  Cathy asks questions such as
What do you think is most important for your children to learn?
Which of these are most important?
How do you think learning should happen?
How do you want to teach?
How much confidence, money, and time do you have?
How do your religious beliefs impact your homeschooling?
Each question is discussed carefully to help you understand its impact on you and on your homeschool. If you've never gone through this book before, be prepared for surprises and an 'aha!' feeling as you discover things you've never thought about, ideas that can transform your homeschool.
Using a table full of simple questions, Cathy also helps you determine which approach to education, from classical to independent study to unschooling and everything in between, suits your family.
I use the blank lines and tables in the book to note important information about our family, and then read Cathy's explanations and example to apply that information to our homeschool.
After all this, you will know where your homeschool is headed and it is time to look at different curricula.  In the second part of the book, Cathy discusses the best homeschool resources available today.  Of course, this is a somewhat subjective choice, but as one of the first and biggest homeschool curriculum reviewers, Cathy knows what she`s talking about.
First she presents a huge, detailed table of all the 101 Top Picks, telling you about each curriculum's
learning style,
parental involvement required,
suitability for independent study, one-on-one teaching, or group lessons,
amount of writing,
teacher prep time,
grade-level, or whether it is multi-level and suitable for teaching multiple ages,
ease of use for parent,
teacher manual and how helpful it is,
suitability for Charlotte Mason or classical education, and
religious content.
Next, Cathy reviews each of her top 101 curricula in great detail, describing everything you could possibly want to know about it. Her reviews are extremely thorough and do not have the length constraints so common in the online world.  Because of her extensive experience with homeschooling curricula, she is able to point out both the good and the bad points of each curriculum and to highlight the features that will help you make the right choice for your family.  I find that her reviews are even better than holding the curriculum in my hands, because she point out details that I would not even notice. It's obvious that Cathy has been reviewing homeschool products for almost 30 years; she really understands what parents need to know.
Reading her introductions to each subject area is illuminating in itself, with links, reading lists, and discussions about different approaches to each subject.  Even after 15 years of homeschooling, I still learn every time I read something by Cathy Duffy.
For a detailed review of Cathy's earlier book, which is similar in many ways, and how we used it, see my review of 100 Top Picks and her latest book,  102 Top Picks.
101 Top Picks by Cathy Duffy is available as a print book or an ebook at Cathy Duffy Reviews. If you sign up for the latest reviews at the website, you'll also get a $3 coupon for the book.
Written by Annie Kate, a Christian homeschooling mom of five, who reviews and blogs at Tea Time with Annie Kate.
Disclosure: I received a PDF version of 101 Top Picks from Cathy Duffy in order to share my honest opinions with you. I was not compensated in any way, although I must confess that exchanging a few emails with one of my homeschooling heroines was pretty exciting!
-originally published August 2012