Writing is often a difficult subject for homeschool moms to teach. Thankfully, there are plenty of wonderful resources available today to make that job easier. The hard part will be narrowing down your choices! After using many different writing programs in our homeschool, we've finally found the one that works the best for us – the Writing & Rhetoric series from Classical Academic Press.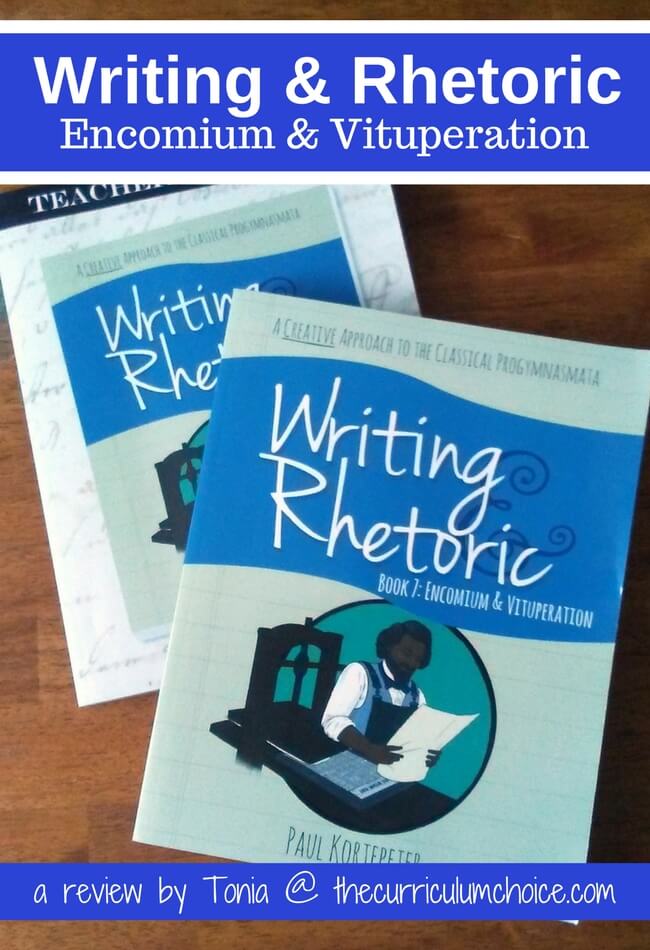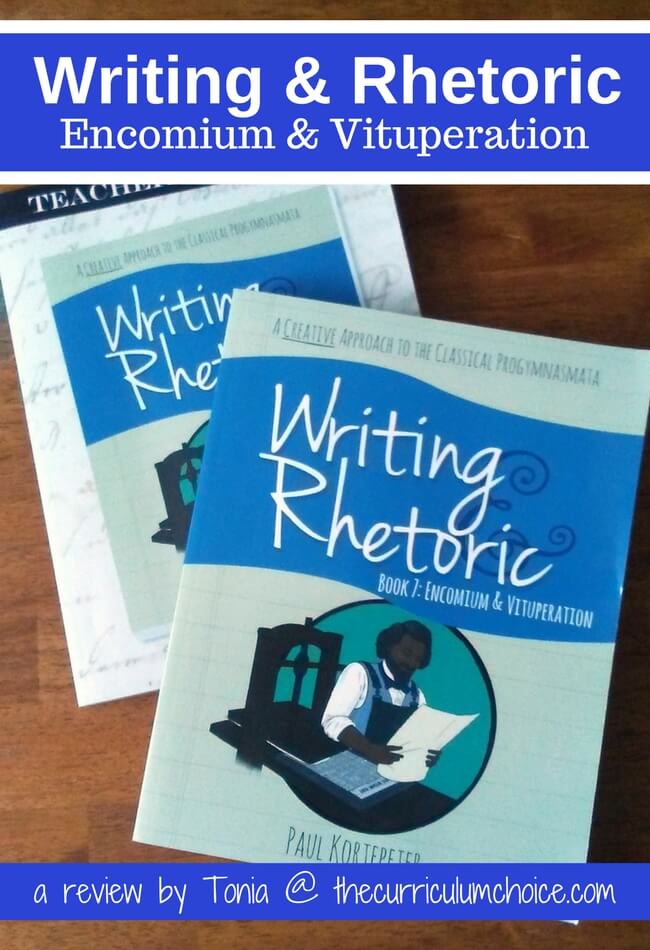 Writing & Rhetoric
The Writing & Rhetoric series from Classical Academic Press is based on the 'Progymnasmata' a technique for teaching writing and speaking skills that has its roots in ancient cultures. While it could certainly be confusing to try and figure out how to apply that ancient methodology today, Classical Academic Press has done the hard work for homeschoolers by taking those ideas and techniques and creating the Writing & Rhetoric series, a 12-book series (currently, there are 9 books in the series) that will teach students to write and speak persuasively.
We've used books 1-7 in the series (you can click the links below to read complete reviews of many of the books) and are currently using book seven – Encomium & Vituperation.
Book 7: Encomium & Vituperation
The seventh book the Writing & Rhetoric series, Encomium & Vituperation, focuses on teaching students to write persuasive essays. Students will learn to write an encomium – an essay that praises the virtues of someone, and a vituperation – an essay that focuses on the faults of a historical figure.
Book seven includes fourteen lessons, making it easy to cover two levels in the series each school year. The first six lessons in the book cover the basic concepts of writing the encomium and vituperation essays. Every part of the essay is explained and skills are reinforced through each lesson. The next section of the book, lessons seven through twelve, focus on writing the six-paragraph essays – a different one in each lesson. Like other books in the series, each step is broken down into manageable pieces so these essays never feel confusing or intimidating. In the final two lessons, students will use their newly acquired skills to write their first research paper.

The program, for grades 6 and up, includes a student worktext (assignments & readings are completed directing in one book) and a separate teacher's manual. The teacher's manual is a replica of the student book with answers, discussions, and extra teaching guidelines (I highly recommend that you purchase the teacher's manual to use this program effectively. It includes a grading rubric that will help you assess the completed essays – see image below.). There is also an MP3 audio file that includes an audio version of the lesson stories. The stories in this level are quite long so I recommend you purchase the MP3!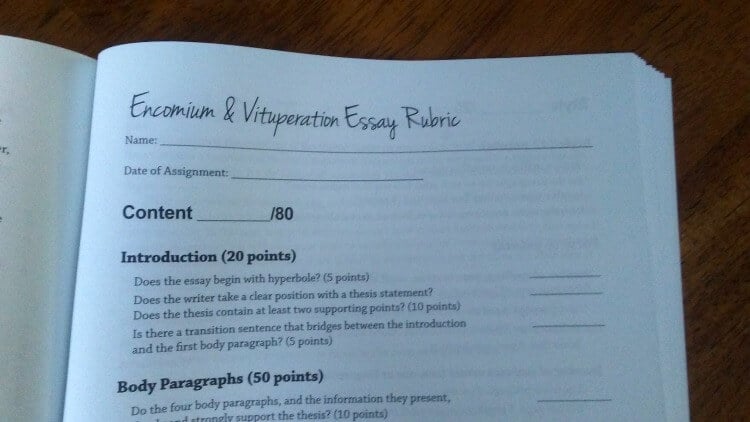 Every lesson follows the same basic format:
Lesson Reading – each lesson contains narratives and writings from a variety of historical sources.
Tell It Back – students are encouraged to narrate the story in a variety of ways. You can have them summarize the reading in a few sentences, outline the reading, and annotate the text.
Talk About It – while working through this section, you and your students will cover comprehension questions and discussion that provide a solid foundation for understanding the lesson material.
Memoria – students are encouraged to memorize a quote related to the lesson and also to keep a commonplace book to hold their thoughts and quotes for future reference.
Go Deeper – this section focuses on specific skills – understanding the difference between biographies and autobiographies, writing thesis statements, and using hyperboles, similes, and metaphors are some of the skills students will practice.
Writing Time – the bulk of your time will be spent on this section, with exercises that teach students to write with interest and variety. This section also covers the six-paragraph essays that are the focus of this course.
Speak It – the goal of this series isn't just to teach writing, it also focuses on teaching students how to speak persuasively as well and activities in this section of the lesson support that goal.
Revise It – students learn to analyze and improve their writing when they work through this final section in each lesson.
What a lesson looks like in our home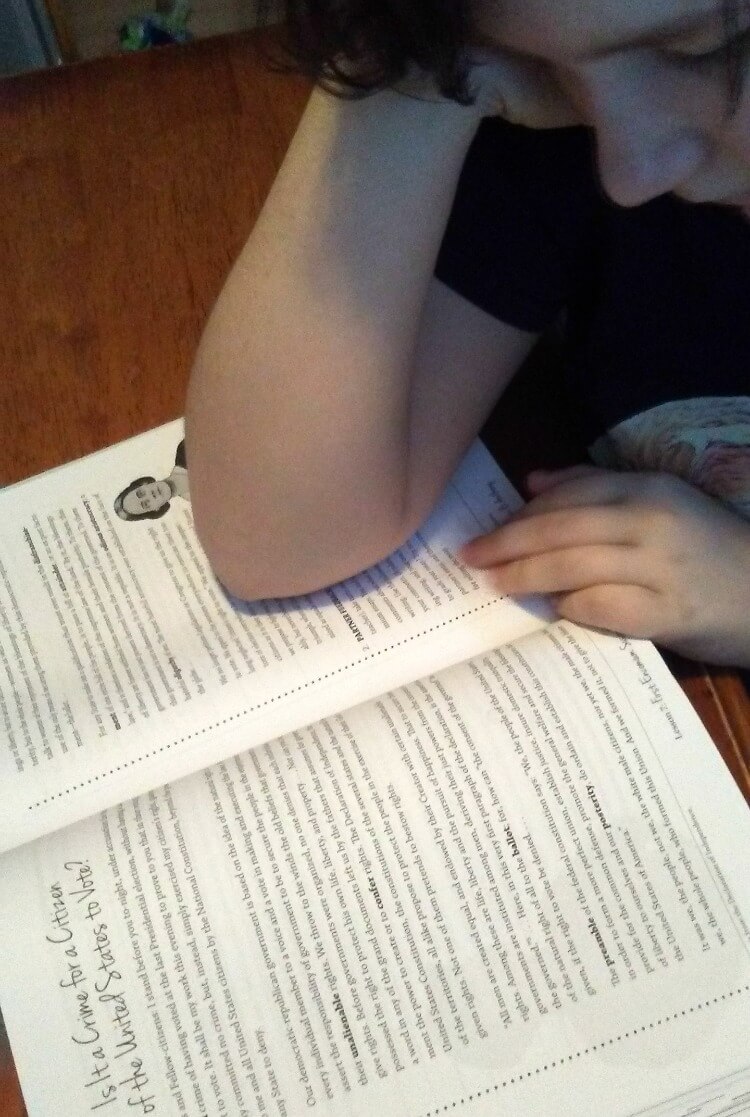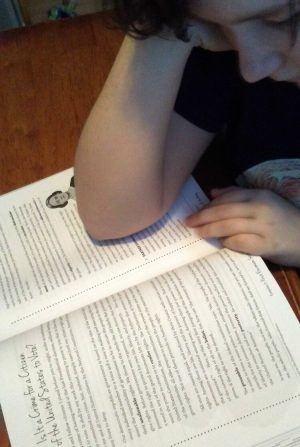 I prefer to have writing assignments in various subjects so we took our time with this book, taking two weeks to cover the second half of the book. We would take one week to cover the first half of each lesson. Then, during the next week, we would focus on the six-paragraph essay (and I would lighten the writing load in other subjects accordingly), taking time to plan, write, edit, and revise the essay.
While you can certainly complete one lesson a week, if you require many writing assignments in other subjects, I recommend slowing it down slightly. Even by taking a slower approach, we were still able to complete two books in the series over the course of a school year.
We really enjoy this series – it's easy to teach, the program is open-and-go (making it very easy for mom as the teacher!), and the assignments and lessons are engaging and interesting. For more information, take a look at the program directly on the publisher website: Writing & Rhetoric: Encomium & Vituperation. Click on the 'Look Inside' text on the product image for a look at sample pages.
If you're not sure where to place your child in the series, send Classical Academic Press an email and they'll help you determine which level would be the best starting point for you.
Read more reviews about the Writing & Rhetoric series:
~ written by Tonia from Happy Homeschool Nest