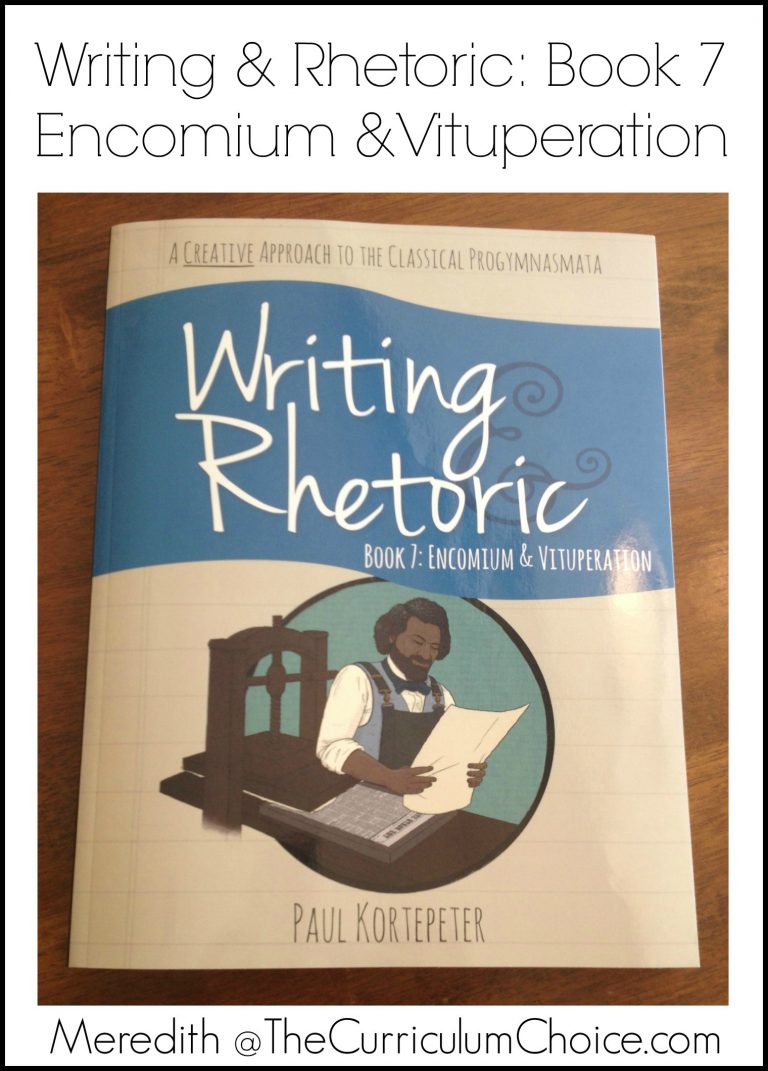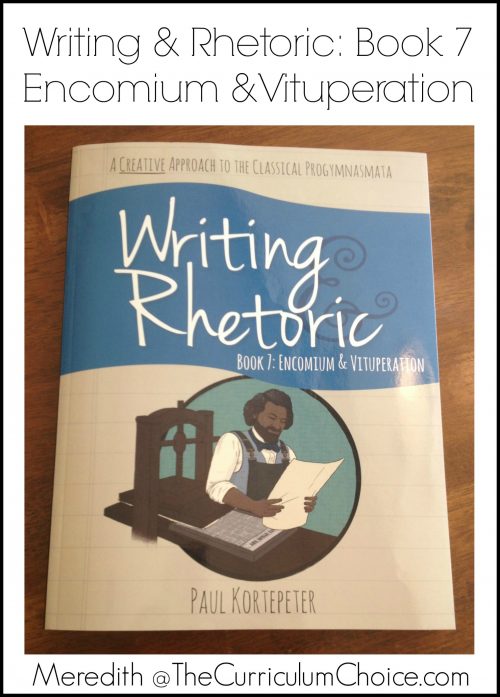 Writing & Rhetoric Book 7: Encomium & Vituperation – A Review
Today I want to share a new-to-us resource that my high school freshman is loving this term. I am also using the very first book Fables with my youngest and you can read my review of it here.
Writing & Rhetoric Book 7: Encomium & Vituperation by Classical Academic Press
This is the seventh book in the Writing and Rhetoric series and the first time for us using this program, so I chose to start my new freshman with this level for a bit of review and to introduce him to this style of using rhetoric within the writing process.
We are using this program in addition to our regular weekly written narrations, and other writing that I have my freshman do for some of his different subjects. We are finding it to be a a nice balance in our school week.
Writing & Rhetoric Book 7 is part of a twelve book series derived from the progymnasmata creating a step-by-step program in the art of writing and rhetoric. Paul Kortepeter developed this resource as a "creative approach to the classical progymnasmata".
Here is a breakdown of the course and how the lessons are divided for a complete term of writing.
Discern the main idea
Use hyperbole and thesis
Incorporate background and supportive detail
Understand the difference between the genres of biography and autobiography
Note the good and poor qualities present in a person or event
Contrast different behaviors after weighing their merits
Craft effective conclusions that encourage readers either to emulate or avoid specific behaviors
Learn to write a research paper in all its parts, including making notecards, outlining, integrating sources, and citing sources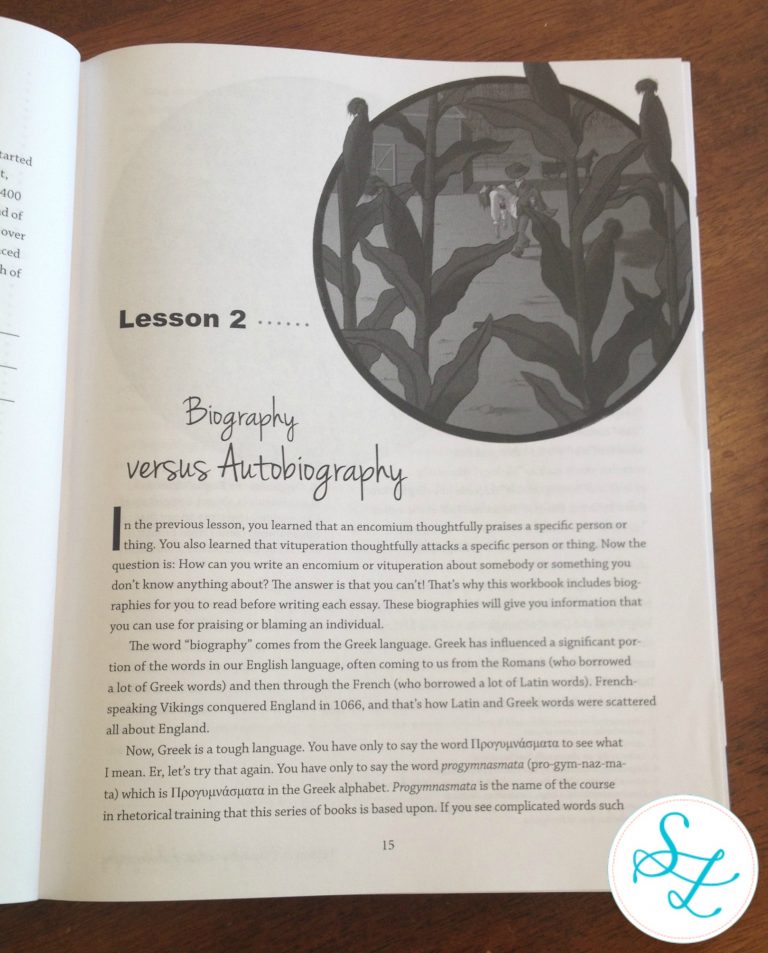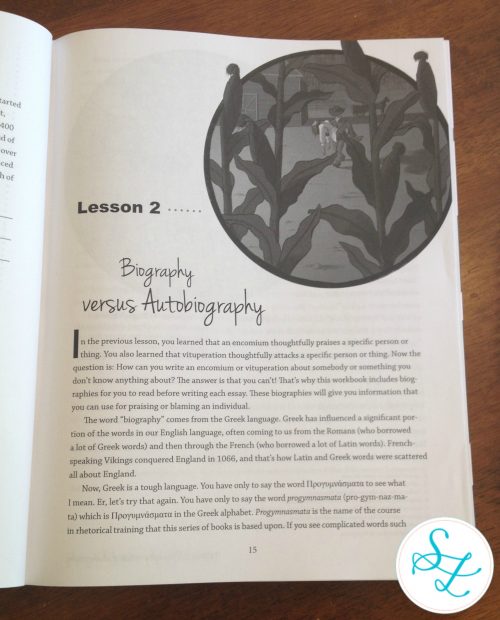 Each lesson contains:
Reading
Narration "Tell it Back"
"Mark Up the Text" – Annotation
Talk About It
Memoria
Going Deeper – Writing
A suggested schedule would be to do the Reading and Narration on the first day, then spend day two working on annotating and work on the memoria. Finishing out the lesson with two to three days working through the writing. So far, our experience has been that you can easily accomplish each lesson within a week's time over about three to four days.
A typical week looks like this for my Freshman:
Day 1 – Read the introductory section and then read through the reading selection(s). After the reading I have him narrate the back to me. This is the "Tell it Back" section. This is also the portion of the lesson where the student gets to practice annotation in the "Mark up the Text" section.
Then we "Talk About It" and read through the "Memoria" selection and discuss. This part is always my favorite because discussion is where we get to dig deeper and of course we go over any new vocabulary and definitions. These two sections for Day 1 usually take us about 30 minutes or so, depending on how much we decide to talk and what other conversations ensue because of our reading.
Day 2 – Today is all about "Going Deeper". There are questions to answer and the student is asked to write some information pertaining to the reading selections. For example in Lesson 2, it focuses on the difference between Biography and Autobiography, so the student gets an opportunity to differentiate in his own words and also try his own hand at a character sketch pertaining to biography.
Day 3 & 4 – This section of the lesson gives the student the chance to rewrite a biography selection in third person, as well as another selection where they practice amplification and writing in first person voice.
We have found with this kind of a schedule, it's very doable to complete a lesson per week. And I know that after we zip through this semester we will welcome Book 8, which I believe is in progress at the moment.
We are looking forward to working through the entire series of Writing & Rhetoric books from Classical Academic Press, one of our favorite places to find quality classical educational resources.
What are you using for writing in your homeschool?
Save