Getting children to write is not easy. Moreover, it is more difficult when they have to use their second language. Creating sentences is not easy. It is even more complicated when we have to think about the English of certain terms translated from our native language. If you learn other languages than your native language, you should understand better what I mean. It has come to our 5th year of homeschooling our children, but we have never finished any writing curriculum yet. The journey of our writing lessons is on and off.
This year, I try hard to be persistent in making my children love writing like I do. I decided to choose WriteShop Junior D and WriteShop I for my sons in their 4th, 8th, and 9th grade levels. We have finished our first months of our homeschooling and it seems that our ESL children enjoy Writeshop well. We use it as our spine right now. We don't use other curriculum for writing because we don't want the method used in this curriculum mixed up.
Today I would like to share how WriteShop I is adaptable to our 8th and 9th ESL children.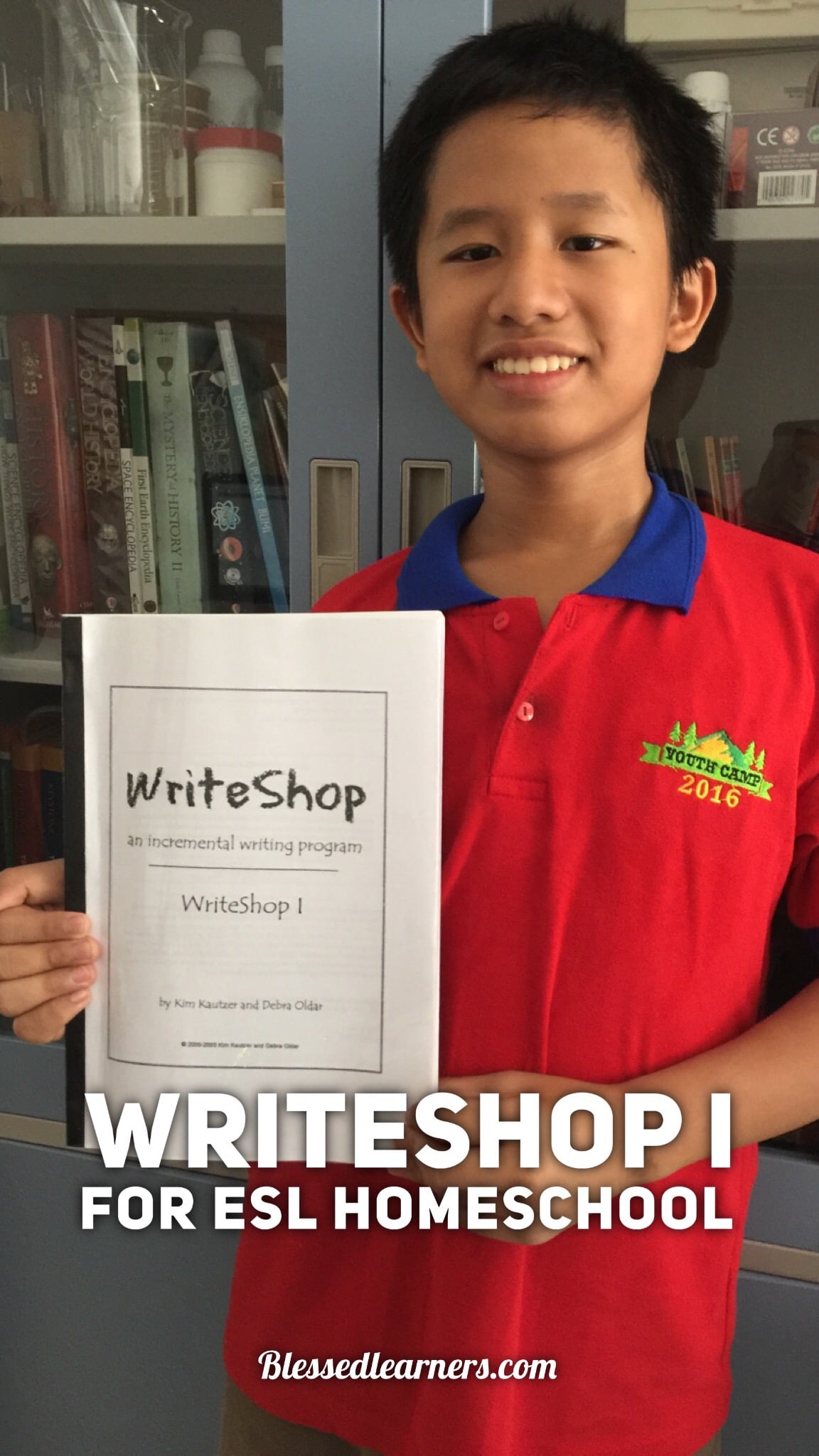 What is WriteShop?
A couple of curriculum reviews about Writeshop can be accessed at WriteShop Curriculum Review and WriteShop Junior Curriculum Review.
We use the e-book versions of the curriculum since we are not US residence. Shipping is expensive for the printed version.
The WriteShop I and II Teaching manuals are available in one book. WriteShop I consists of lesson 1-16 and Writeshop II consists of lesson 17-32.
How We Use WriteShop I for ESL Children
We have writing five days in a week. We use the two years planning. It is very exhausting at first because we are not used to these lessons. Each lesson takes between 20 to 30 minutes in a day. It means that we have a chunk each time with more frequency. That is to avoid boredom.
I am not a native speaker as well and I learn with them at the same time. I learned the methods in the teaching manual before the year was started to be familiar with the system and structure. I try my best to follow the teaching instruction in the manual.
My children are very new to the writing process as well. Therefore, it takes longer time to explain the writing process terms. The longest part of explanation was the student writing checklist.
Children use some traditional or local things for the subjects of writing since they are more familiar with the traditional subjects and condition. Therefore, they can explore better.
To support the vocabulary, children have a quiet uninterrupted 30-minute reading time everyday. I believe that reading can extend their vocabulary and enrich their writing style. We pick books from my list 52 books to read for middle schoolers.
Kids use the skill of learning vocabulary through the context from their reading spine book: A Time to Plant and Time to Build from Rod and Staff Reading Series. They use this skill in both learning and applying vocabulary.
Writing is also the time to apply their grammar knowledge and skills that they learn in their grammar curriculum. We use Rod and Staff English which is quite traditional and firmed. You can read my review for the English 6 here.
What I Like about WriteShop
There are some games that don't take a lot of time to prepare and play. The games are suitable for play for either individual or groups. Therefore, they are suitable for homeschooling.
One piece of writing is finished in 15 meetings. It teach children to be patient and to work for perfection. Children write until the end of the correct process. They learn to build their quality than quantity only. Editing is a part of the writing process.
It has clear step-by-step instruction for all processes. Non-native learners and parents can use it as well.
It teaches tidiness and obedience. The use of checklists in all of the lessons requires children to follow the instruction and procedures.
It involves copywork and dictation of literature so that children can learn the correct styles of writing from the correct examples.
How to Get The Products
You can purchase WriteShop I and II with The Teaching Manual from the website. In addition, there is also the dictation and copywork practice you can purchase.
Save
Save