I'll admit that I'm very new to the world of apps.  My son saved up his own money this past winter to purchase an iPod Touch.  I had no idea how incredibly cool that little palm-sized piece of technology could be.  When Terri Johnson of Knowledge Quest and App-School asked if I'd like to review her newest educational app, I was very excited!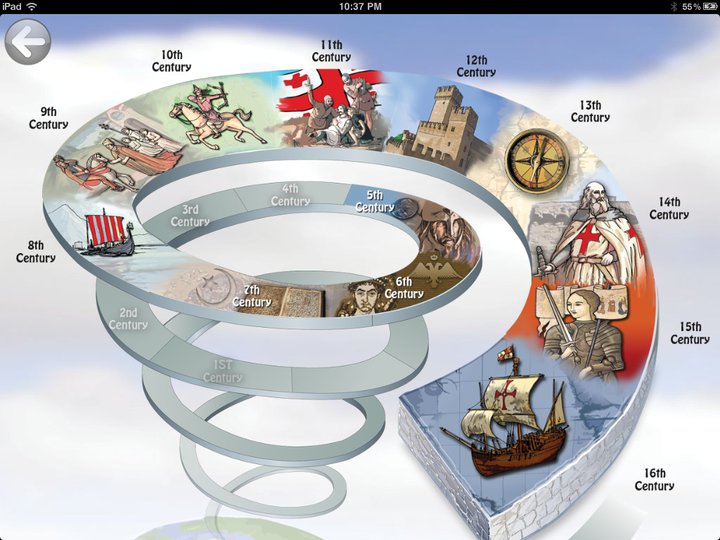 The Wonders of Old: Medieval Timeline App is exactly what the name suggests: a timeline of Medieval historical events and people on a downloadable app for whatever device you own that utilizes apps – iPod Touch, iPad, iPhone, etc.  It's second of a four-part series of apps that cover Ancient history through modern times.
Quite simply, a timeline appears on your device which is "clickable" on each century from the 5th – 16th centuries.  Upon clicking on a century icon, various important events and people are shown by date.  Clicking on any of these lands you into a "page" of text and/or graphics and/or maps on the subject.  Depending on the subject, there are one to four paragraphs of information to read.
Terri suggests the app for children 7 and older.  The information is brief, but in-depth – if that makes sense – so your student needs to be a good reader.  Our iPod Touch has a small screen, so we had a little trouble viewing the detail of most of the maps.  Although we have the capability to magnify our images, doing so meant we had to "scroll around" to see the entire map.  That's not really the problem of the app, but instead the limitations of using an app such as this on a small screen.
This is a great little tool to add to the understanding of the Medieval era.  My kids have had fun with it and I've enjoyed learning both the educational information and how to use apps to enhance our learning.
-Cindy West is an eclectically Charlotte Mason mom of three (high school, middle school, and K4) from Central KY.  You can find her blogging at Our Journey Westward and find her NaturExplorers series and other creative curriculum at Shining Dawn Books.