"From the time my children were in kindergarten, I have followed the same basic weekly schedule for math. We typically complete three textbook lessons per week and two living math lessons per week." ~ Cindy West
Cindy West's Loving Living Math has given my family permission. Permission to learn and enjoy the real life stuff of math. See, I admit I am not a math type mom. But I do thrive on the practical. That's why Loving Living Math speaks to me. I can see math all around us now.
This ebook also opened my eyes to the fact that we were already enjoying many living math opportunities in board games, Snap Circuits, Saturday morning trips to the store and simply setting the table! Our favorite game, Blokus? Check!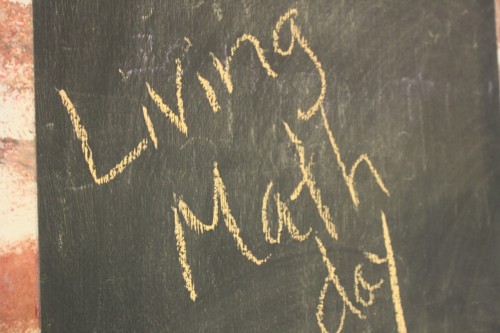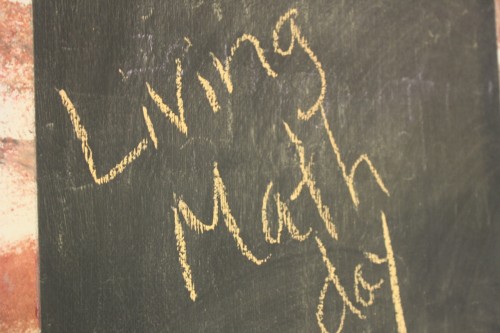 Dear Parent – Loving Living Math is for you! Most often curriculum is for the student. This is for you. To teach you. To encourage you.
Coaches the parent in how to:
teach outside the textbook. You don't have to complete each and every textbook lesson!
add living math to your homeschool. Practical ways for working your schedule.
Offers lengthy lists of resources for:
Logic
Problem solving
Favorite skills and drills
Making the most of website links
Using manipulatives
Includes worksheets with math puzzles (e.g., popcorn puzzler, Valentine math, coordinate candy graphing) to mix in. (Complete with the answer key at the end of the book.)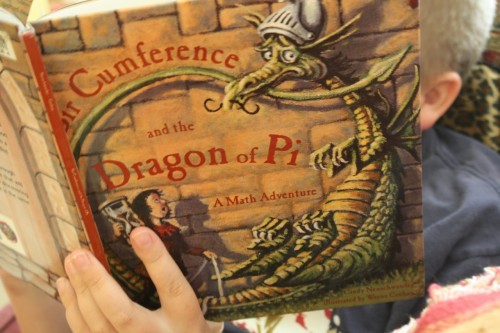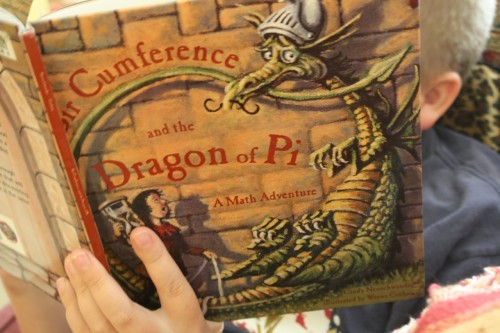 But there's more! Did you know you can teach math through literature?? Through hands on projects?? Yes! In the photo above, my son is enjoying both a Tapestry of Grace assignment and living math.

Loving Living Math even shows the parent ways to incorporate writing into math and infuse math into other subjects. The latest, greatest technology? How about Excel spreadsheets, balancing the family online bank account, designing a graph for the science fair project? All math.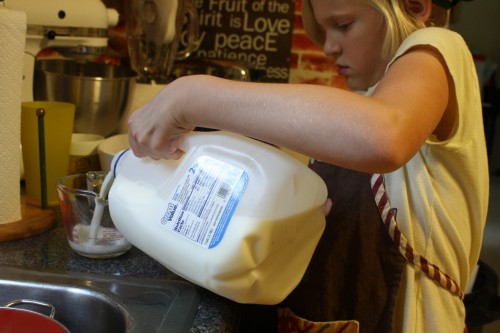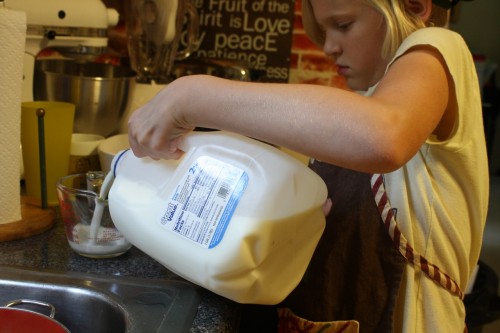 Baking. Oh I can see this area expanding even more. All that Cooking Fun we do during our week? It can all count as math. And Loving Living Math gives examples for doubling, tripling recipes, sorting candies…
For my family, Loving Living Math cued up the fun. Added in the logic that was lacking. My children are traditional math textbook learners. But this approach throws a bit of delight into math learning. I can see Loving Living Math being a successful tool for families that might have difficulty learning the traditional textbook way.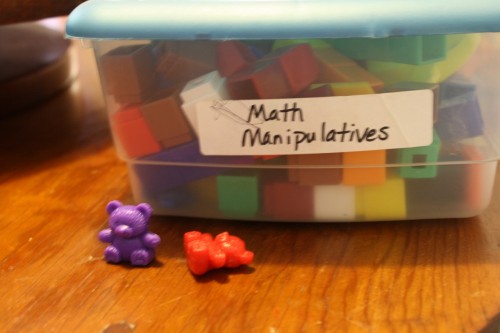 Loving Living Math taught me, the teacher, how to see the everyday math learning opportunities. It helps answer the practical question, "How will I use this in the real world?"

Loving Living Math is a 48 page ebook. Excerpt from the book description: "Loving Living Math will answer all your questions, ease all your fears, and bring skeptics at least closer to the idea. This is a book for parents who would like to learn more about living math – a "how-to" book of sorts. In 46 straightforward pages, you'll understand what living math is, learn why it can be so effective in your homeschool, and consider various ways to incorporate it into your homeschool schedule.  Don't get the impression that Cindy wants you to get rid of math textbooks!  Although some parents use living math exclusively, this book encourages you to supplement textbook lessons with living math lessons and shows you how to effectively do that."
What age/grade is Living Math designed for? All ages. What you, the parent and teacher will learn will help students of all ages. See how we enjoyed Popcorn Math with Loving Living Math.
View a sample on the NaturExplorers site: Loving Living Math
Loving Living Math! So many children (and parents) struggle with math during the school day. Whether you're hoping to learn how to ease the whining, add some new lessons to the regular textbook schedule or overhaul your math curriculum, this workshop will inspire you. Learn how to add "real" math lessons that make sense to your child. Questions will be answered very practically! What is living math? How will it help my child enjoy math again? How can I add it to my textbook curriculum without overwhelming my child? Why would I want to add living math to our schedule? What are some super ideas and resources for living math? ~ Heart of the Matter session description
But don't take it just from me. I had the privilege of hostessing Cindy's Heart of the Matter Online winter 2011 conference session. I heard directly from the author how simple it is to incorporate living math ideas in our homeschool. And you can too. The mp3 of her session is available for purchase HERE.
Plus you definitely want to enjoy Cindy's 10 Day series on Living Math Matters!
I'm off to oversee children tripling some recipes…
Before you leave, here's a special note from Cindy West…Please enjoy $3.00 off Loving Living Math through the month of September!  Use the code "livingmath" (without quotes) at checkout.

~Tricia faces a daily dose of chaos homeschooling five children. She contributes a blend of writing at parenting, frugal living and homeschool sites as well as her own daily Hodgepodge.