Besides questions like, "How am I going to teach High School math?" and "How will I fulfill lab science credits?" I often get asked about fulfilling homeschool physical education requirements, and more specifically winter homeschool physical education.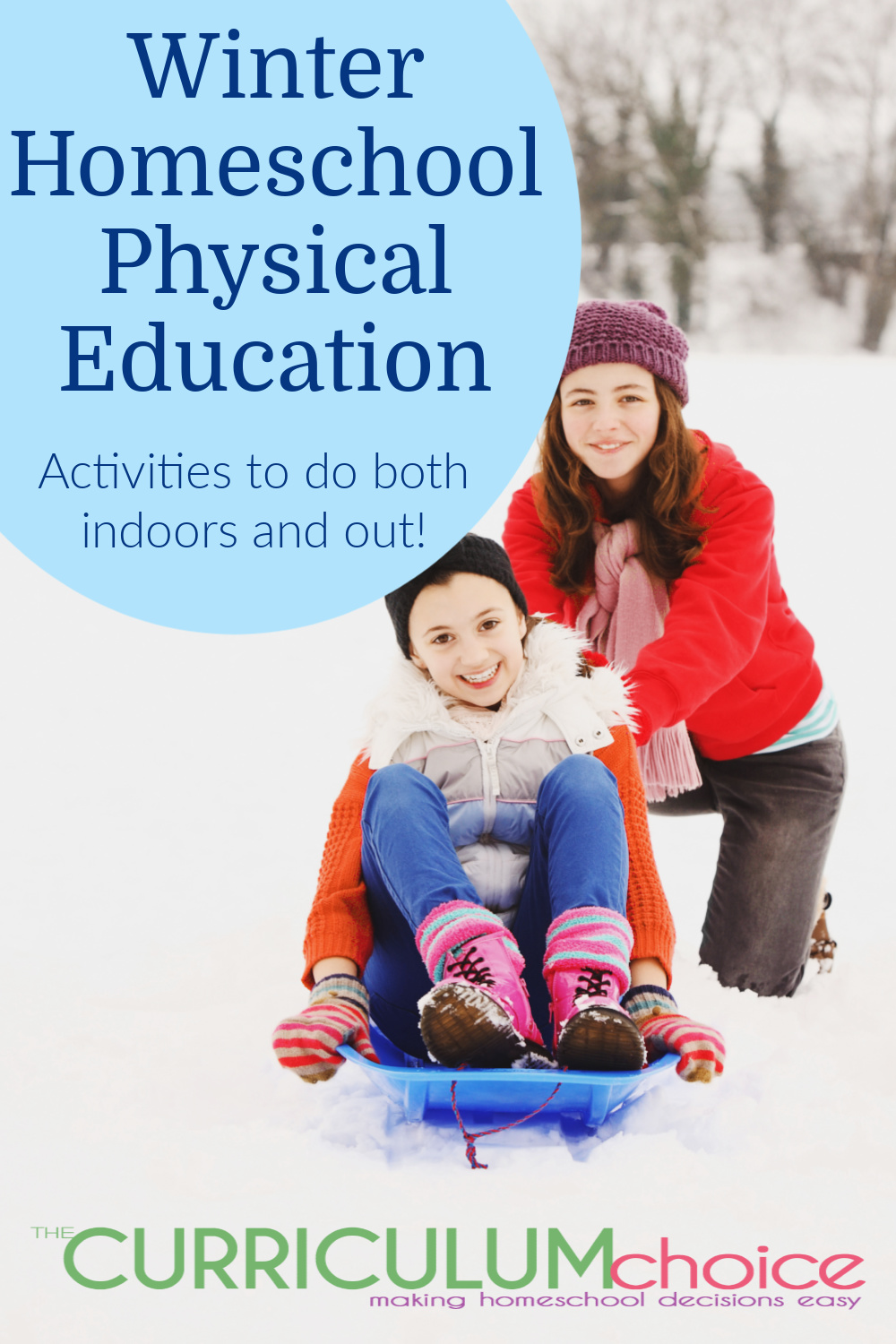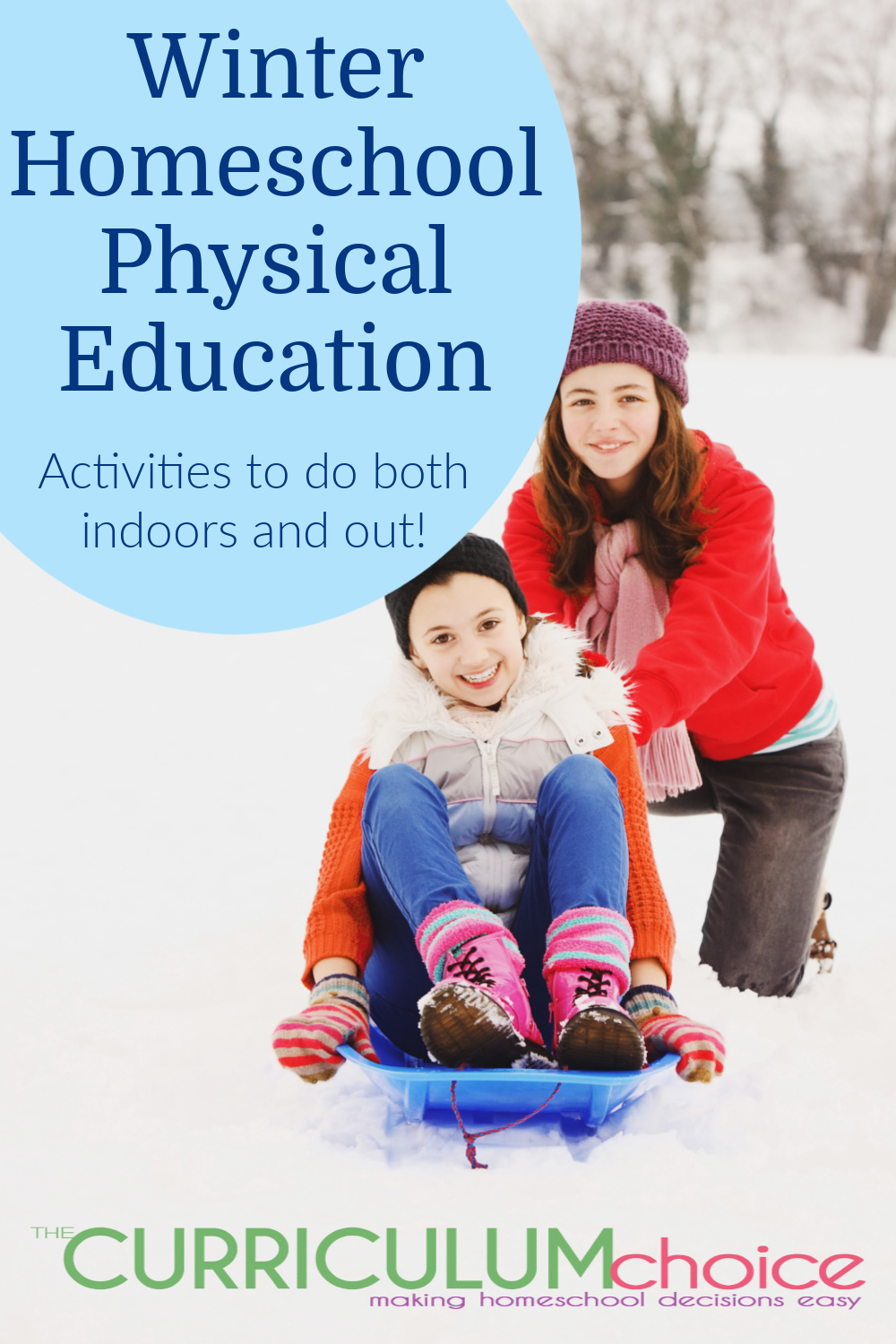 Affiliate links are used on this website. Please see our disclosure policy for more details.
It's tough when the snow flies and you are all cooped up inside for more hours than you'd like to admit! Plus the shorter days and colder temperatures make our bodies feel sluggish. The good news is…there are plenty of things you can do to get moving in the winter! Not only will you feel better, but you can also check it off as winter homeschool physical education for your kids!
Indoor Winter Homeschool Physical Education
There are some really simple and fun things you can do inside to check winter homeschool physical education off your list of things to do.
Dance Party – When my kids were younger I taught them all the fun choreographed dances like The Electric Slide, Cotton-Eyed Joe, the Macarena and more! When the kids get restless doing school work we would just stop what we were doing and dance it out for 10-15 minutes. Not only did it give us exercise, but it helped everyone to focus when it was time to sit again.
Mini Trampoline – I purchased one that could be used for adults so not only could I use it, but it would grow with our kids. We often just turn on music (songs like Cotton-Eyed Joe) and bounce it out. You'd be surprised how little it takes to get your heartrate up! But you can also find LOTS of mini-trampoline workouts on YouTube.
Walk at Home – a workout program that uses "walking" as the base for exercise. It's a series of multi-muscle moves set to the beats per minute of popular songs. This creates higher muscle engagement which leads to higher calorie burn and more muscle tone…all while being easy on the joints! Walking works for anyone, any age, any size and anywhere… because you are walking at home!
Active Video Games – I know everyone isn't fond of a ton of screen time, but hear me out. My son struggles for years with sitting still and focusing on his school work. To combat that we found ways for him to get his energy out. We would set a 15 minute timer. 15 minutes of school work, 15 minutes of active movement. One of the things he loved doing was playing Dance Dance Revolution on the Playstation. Even now my kids enjoy Wii fitness games, and even Beat Saber with VR goggles.
YouTube Exercise Videos – If you do a YouTube search for kids exercise videos you will find TONS of kid friendly workouts to get their blood flowing while stuck inside. There are even family workouts like the one below!
Outdoor Winter Homeschool Physical Education
Now lets talk about outdoor winter homeschool physical education options! This is a chance to bundle up and get on out there this winter.
Running/Walking – believe it or not we see lots of people up here in frigid Western NY out running or walking during the winter months. We live in a neighborhood with sidewalks so it's safe and easy to get up and out all year long!
Sledding – Have you ever traipsed up a sledding hill? That is a work out all by itself! Grab the kids and hit a local sledding hill on those fluffy snow days!
Skiing/Snowboarding – You could go small with this and do it at the local sledding hill, or go big and hit nearby slopes!
Snowshoeing – We have a local nature center that rents snowshoes very inexpensively and has trails to follow. But you can even grab your own sets and walk your favorite trails when the snow flies.
Ice Skating – This could be done indoors or out, and at home on a pond or out in the community somewhere. I used to take my kids to a weekly homeschool ice skating meetup at a local rink. The kids loved getting out on the ice together and us moms loved being able to sit and talk while watching them.
Snow Fun – Build a snowman, have a snowball fight, build an igloo. Fun and fitness in one!
Winter Homeschool Physical Education Out and About
Another way to get moving this winter is to find local places offering activities. Here are just a few suggestions;
Roller Skating – we have a local place to go roller skating.
Indoor Track – our community center has an indoor track available all year long.
Indoor Pool – Lots of YMCA's have indoor pools as well as some community centers. You might also sign them up for swimming lessons.
Bounce Place – Places that either have endless trampolines, foam pits, and space to run, or a bounce house specific location.
Laser Tag – This might be more for the little bit older set, but my teens LOVE going to play Laser Tag. They get a few of their friends together and go play a couple of rounds together.
Community Center – Local community centers in our area offer short sessions of things like soccer, basketball, indoor games, and more. They do these inside the community center's gymnasium.
Bowling – In our area we have homeschool bowling leagues at a local bowling alley. But you could also go as a family to open bowl. We used to go on Sunday evenings because they cut the price by more than half at that time.
Homeschool PE and Family Fitness on Pinterest
Be sure to check out our Homeschool PE and Family Fitness on Pinterest for more great homeschool fitness ideas!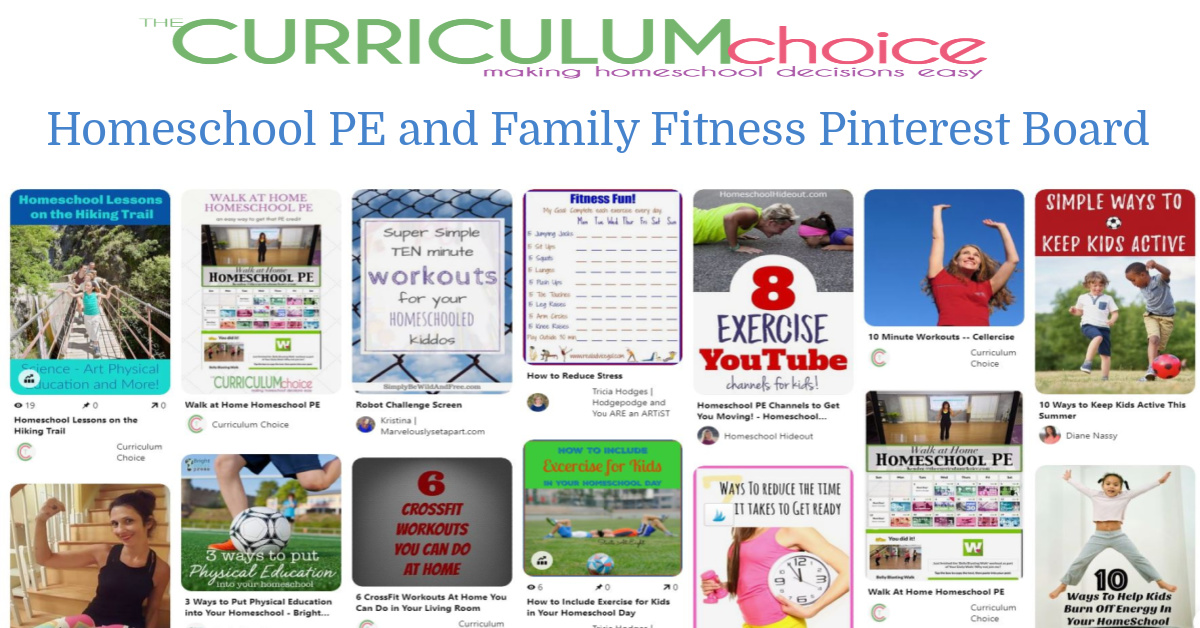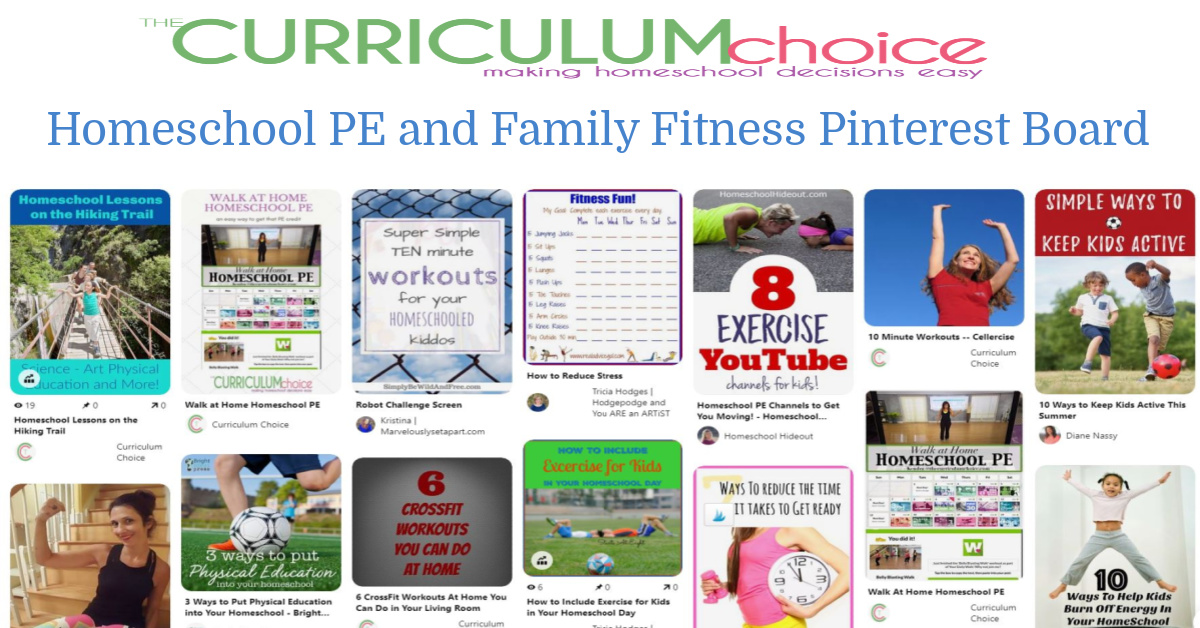 January Activities from The Curriculum Choice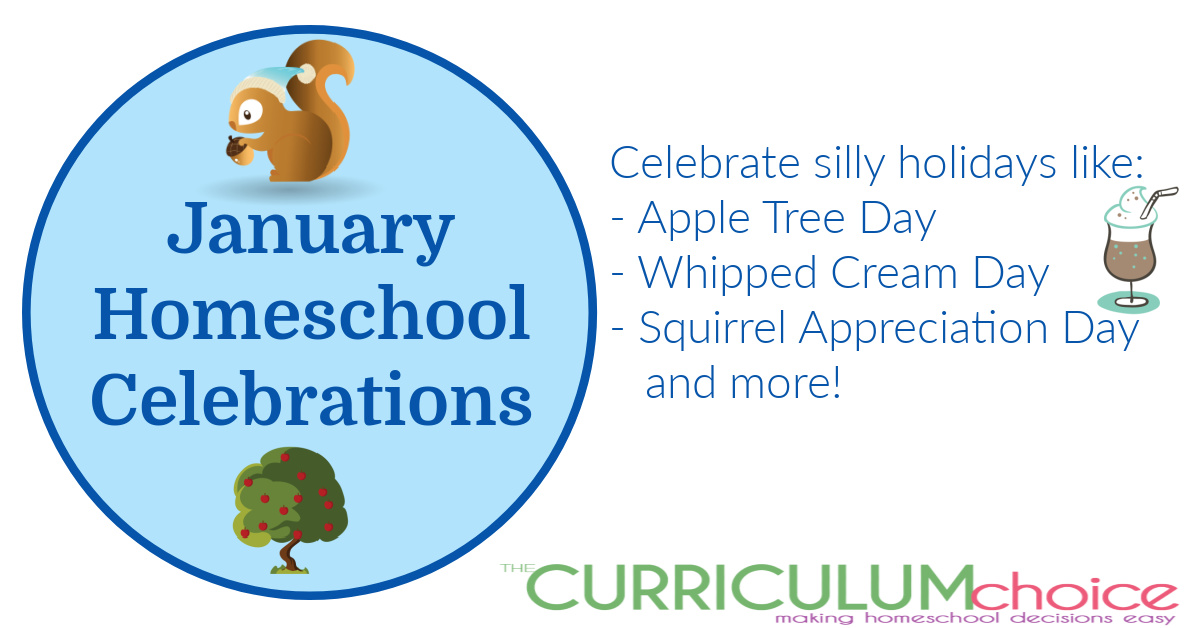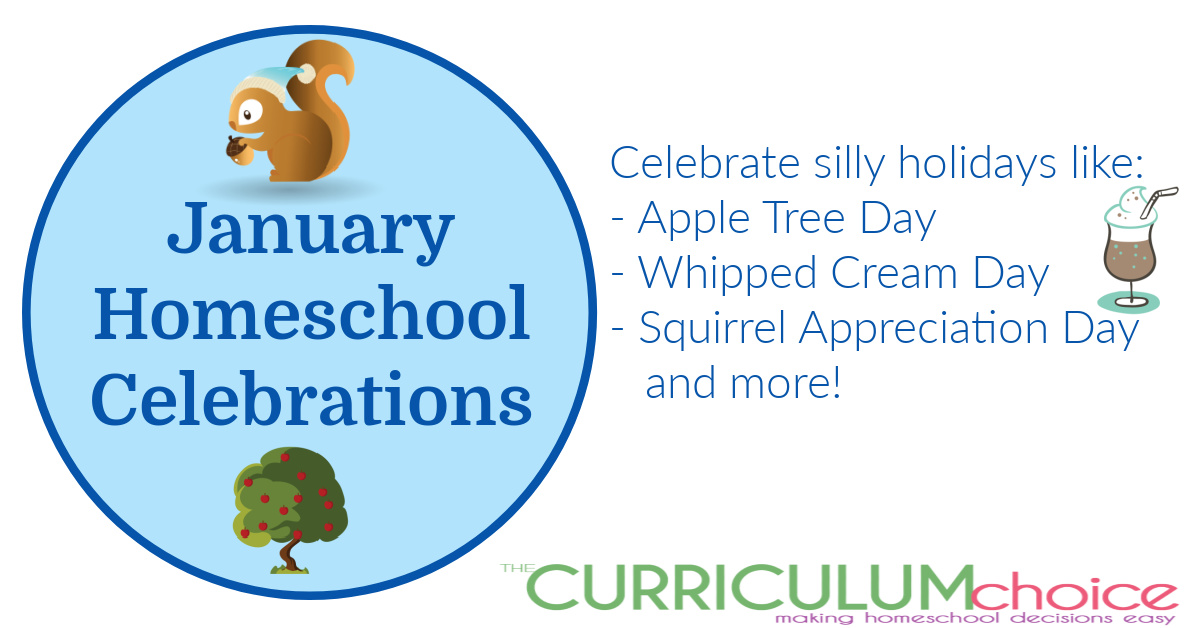 Apple Tree Day, Whipped Cream Day, and Penguin Awareness day are among the fun things to learn about and celebrate in January!
Incorporate some of these silly holidays into your lesson plans for January to make treasured memories, and learn along the way!