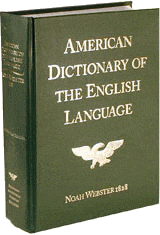 This is the first dictionary of the American English language. Written by Noah Webster, considered the founding father of American Christian education, this dictionary is an important asset to any homeschool library. I refer to it in our studies daily and Mr. Webster's definitions have spurred many rabbit trails and offered a lot of insight.
The green pages in the front of the book are a biography of Webster and his contributions to American Christian education. In the introduction of the dictionary itself Mr. Webster offers a lot of useful help, starting with what language is, where it came from and its history. He also includes notes on grammar, orthography and etymology.
I do not believe there has ever been a dictionary so lovingly and painstakingly produced. He learned 20 languages to help him in his pursuit and diligently looked each word up in 20 to 30 other dictionaries of various languages, considering language, use and grammar, making notes and scrutinizing every entry.
The words are defined completely and the list is exhaustive. It's a huge book at around 2000 pages and it is a facsimile of the original, so the typesetting and format is identical to his original. The definitions give the part of speech, language of origin and examples of the word used in context (many examples come from scripture).
Reasons you may like this book
It is thorough (70,000 words completely defined)
It gives the original meanings of words as they used them at the time of the Revolutionary War.
The scripture examples given
The helpful notes at the front of the book
It gives great opportunities for word studies within the definition
It is done excellently
It allows you to use words precisely
Reasons you may not
Modern words are not here so you need another dictionary to supplement
The size (note it is available on CD-ROM)
The wording can be challenging. For younger students you will have to put things in your own words at times
Cost is $50+
The American Dictionary of the English Language (1828 Facsimile Edition)

is available in hardback or on a CD-ROM. It is available many places (such as the Foundation for American Christian Education, Amazon and CBD) and is often on sale.
Anna-Marie blogs at http://principledmom.com