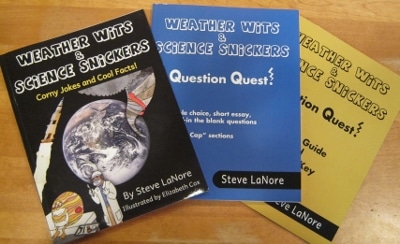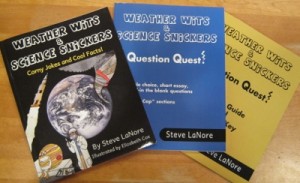 What's the difference between a dust devil and a tornado?  Why don't vacuum cleaners work on the moon? What do raindrops look like?
With Steve LaNore you can learn these and other science tidbits while laughing through Weather Wits and Science Snickers. This 57 page softcover book is full of Corny Jokes and Cool Facts about "Things in the Sky," "Things on the Ground," "Dust and Danger," and "Sun and Space."  Each concept includes a Q&A joke page and a page of easy-to-follow scientific discussion, the former illustrated with  Elizabeth Cox's funny pictures, and the latter with photographs or diagrams.
As a scientist, I really enjoyed this book and even learned a few things in the process.  Do you know what happens to the cloud cover above a volcano when it erupts?  Steve shows the coolest picture.
As a mom, I was happy that my kids enjoyed it.  They would read the front, open it, and take it off to the living room where they read through it from front to back.  It was fun!
Unfortunately, science is often presented textbook style, in a dry manner.  Weather Wits and Science Snickers is a welcome exception. There's no doubt about it:  the author loves science and loves to tell people about it.  His enthusiasm shines through so that his book meets all of Charlotte Mason's requirements for a living book.
For those who want to use Weather Wits and Science Snickers as a formal course, Steve has also written a Question Quest which contains 18 two-page quiz/worksheets and ends with a larger test/worksheet covering the whole book.  Each quiz is accompanied by a brief lesson, often including activities and links, in the Lesson Guide and Answer Key.  My kids would rather read the main book over and over than pull out a pencil, but in a formal setting these workbooks (reproducible within a family or a class) would be invaluable.
What ages is this for?  I enjoyed it myself, but as a learning resource I think it would best for ages 8-12.  The workbooks might be too difficult for many 8 year olds, but would work well for older students.  With the links in the main book and the Lesson Guide, it could make a good science supplement even for older students.
The bottom line is that Weather Wits and Science Snickers is funny and draws kids into learning about the world around them.  It's a great science resource—fun, memorable, and affordable.
Weather Wits and Science Snickers is available from Amazon in paperback and Kindle; both the book and the workbooks are available in PDF format from Currclick and Teacherspayteachers.
Disclosure:  I received these books for the purposes of this review.  I am not compensated for this review and my opinions are my own.
~ written by Annie Kate