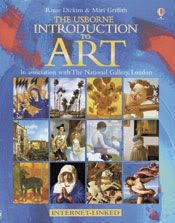 Our family completes artist study once per month during the school year.  We focus on one artist during that month – learning about their life, observing their art and completing art projects of our own.
One super book that has helped us during this art study time is The Usborne Introduction to Art by Rosie Dickins and Mari Griffith.  Even more than being a specific help during artist study, it's been an awesome, well, introduction to art!
In a 144 page, hard-cover, fully-colored book, you (oh, and your children!) are introduced to all sorts of art and artist related topics such as:
how to look at paintings critically
noticing art themes – like prayer, war, Biblical scenes and more
recognizing scenes
watching for illusions
artist's materials and how they're used
sections on Ancient/Medieval art, The Renaissance, Baroque/Rococo, Revolution art and the Modern World of art
Each and every page of this book is brightly colored with authentic artwork, photographs and "just enough" reading material for the typical upper elementary and middle school student.  As with most artist study books, there are a few nudes here and there.  If you'd rather your children not view these, you will need to preview the pages.
As with many Usborne books, this book is internet-linked, which means every few pages offers you a quick-link resource where you can go to find more about a certain topic on a safe internet site.   There's also a neat section in the back with an art timeline going from ancient times all the way to 1995.  (The very first notation on the timeline mentions cave paintings dating to about 35,000BC.  This is the only questionable reference I found.)  You can also find a brief biography of each artist highlighted in the book – that's about 140 artists – and a glossary of art terms.
The Introduction to Art has been a wonderful addition to our library!
There's one more fun book I'd like to mention, just because we're talking about art and Usborne.  🙂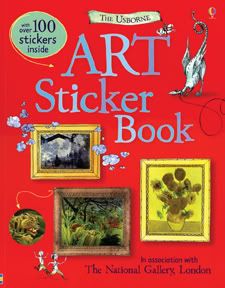 The Art Sticker Book goes along with Introduction to Art very well.  It's sort of an introduction in and of itself.  On each two page spread, there is information about a certain topic like:
fashion
children
nature
self-portraits
and 11 more!
In the back of the book, your children find full-color, authentic artists painting stickers to place in the correct picture frames on the information pages.  My kids have had a ball with this book!
Along with these books, don't forget about the Dover Art Cards as great art resources.   What have you used to spice up art/artist study time?
-Written by Cindy, eclectically Charlotte Mason mom of 3.  You can find Cindy blogging at Our Journey Westward and Shining Dawn Books.