I knew my son needed to learn how to read, but I'd never taught anyone. I debated the decision to homeschool. I worried and fretted. Then I resolved to trust the process. I'd been taught the basics of teaching phonics through a program called, Writing Road to Reading.
We used it. It worked!
Then we got to the spelling rules and the notebook work. I had a general idea of what to do, but really wanted more examples. That's when I discovered Spell to Write and Read by Wanda Sanseri.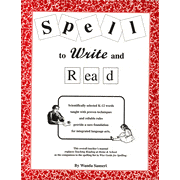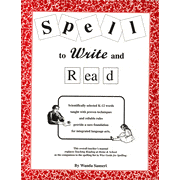 Mrs. Sanseri started her program by writing helpful tutorials to go along with Writing Road to Reading. Soon it became it's own separate manual.
I purchased an older version called, Teaching Reading at Home, but from what I can tell the new version is similar. There are specific tutorials for teaching letter formation, step by step instructions for working through the program, and sample notebook pages.
By the time I invested in this curriculum, my son had already learned the 70 phonograms, but I still found it helpful. What we did use daily was the second part of the curriculum, The W.I.S.E. Guide to Spelling.
The W.I.S.E. Guide breaks down the spelling lists and gives lots of ideas for using each week's words. I found that especially helpful.
Spell to Write and Read is a total language program. It teaches reading, writing, and spelling all at the same time. Children learn to write the letters as they learn their sounds. Then they compile their own spelling book that reinforces what they already learned. It is an investment that can be used for multiple grade levels. The spelling portion can be used all the way through high school.
There are a lot of recommended resources, but all that is really needed are the two books mentioned above and some form of the phonogram cards. Mine were cut out of our Writing Road to Reading book and covered with contact paper. Two of the phonograms are different, but my son didn't even notice.
This year I added two Learning Logs from Wanda Sanseri's site, Back Home Industries. A composition book can be used instead. I splurged a bit, because it's time to teach my two little girls to read.
I'm looking forward to it this time around. The fear is gone. It's been replaced by the wonder and simplicity of laying a solid foundation of learning.