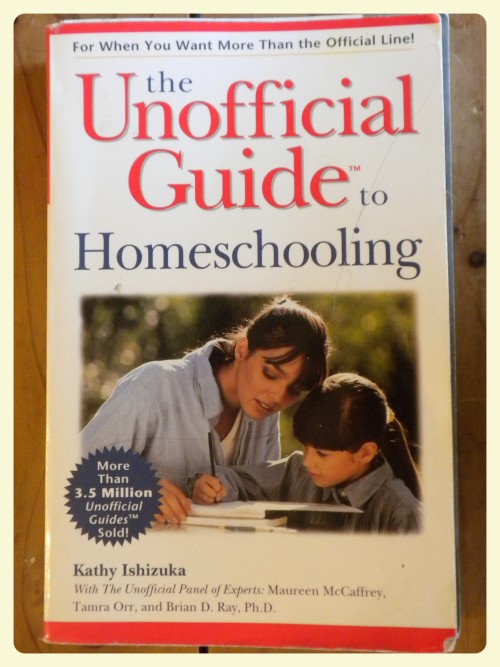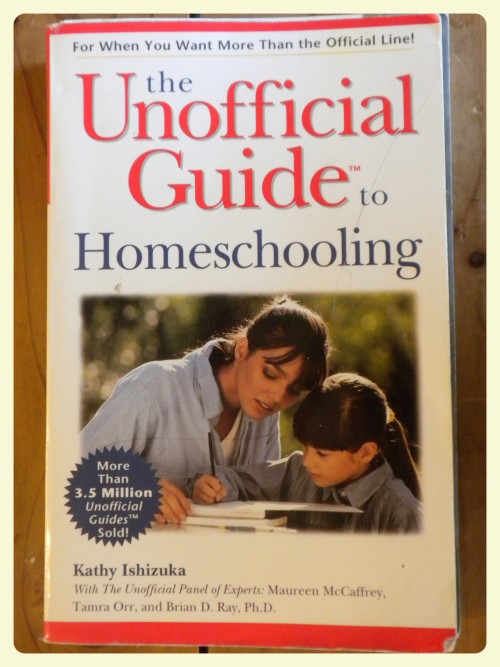 Are you considering homeschooling for your kids?  Do you feel a little overwhelmed with all the information that is out there?  I did, when we were first thinking about the homeschooling option for my daughter.  I wanted to find unbiased information on the pros and cons of homeschoooling and did not know where to turn.  Then I stopped by my local library one day, and found this helpful resource, called The Unofficial Guide to Homeschooling, by Kathy Ishizuka.
The Unofficial Guide to Homeschooling gave me insight into the basics of homeschooling, including:
1.  Pros and Cons of Homeschooling
2.  An overview of how to choose Curriculum
3.  Money saving tips
4.  The latest trends, such as dual enrollment, and other terms
5.  Handy Checklists and Charts
I liked this book as a helpful introduction to the world of homeschooling.  It was reviewed by both a board of experts and by homeschoolers themselves. I found the book to be unbiased and not influenced by any company, product or organization.
When I got this book out of our library, I began by browsing  through the different sections. I liked how they included quotes from a number of different homeschooling families.  The writing style was casual, like you might be sitting down and having a cup of coffee with the author.
There are 16 chapters in all, which are divided into six units. The chapters cover the ABC's of homeschooling, getting ready to homeschool, how tos for preparing to teach, how to get support, scheduling your homeschool day, and high school and beyond.  That's a lot of information to digest!
Here are the 16 chapters in this book:
1.  ABC's of Homeschooling
2.  Making the Decision
3.  Special Needs
4.  The Financial Picture
5.  State Requirements
6.  Preparing to Homeschool
7.  Homeschooling Methods
8.  Your Homeschool Plan
9.  Homeschool Community
10.  Tools of the Trade
11.  More Resources and Materials
12.  Learning Life Skills
13.  Preschool and Primary Grades
14.  Homeschooling by Subjects
15.  High School
16.  College (or not) and Beyond.
How I used The Unofficial Guide to Homeschooling:
I found five chapters to be the most helpful to me and focused on them. Here they are:
I liked how Chapter 1 dealt with the pros and cons of this educational option.  This gave a good, clear overview of homeschooling. Chapter 2, Making the Decision, was also helpful for me, as it discussed how tos for making this big decision.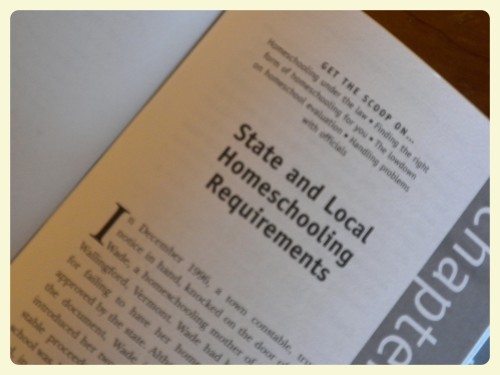 State Requirements
Then I skipped to Chapter 4 – The State Requirements. This is a great place to start as a newbie. Each state has a homeschooling law which explains the regulations for that state. Each law will lay out what is required of you, what subjects to cover, whether there is testing required, or not, that sort of thing.
By knowing your state's homeschool law, you then know the basics and that's a good place to start.  When it came to my first curriculum decision, I talked with my sister. She had already been homeschooling and helped me pick a curriculum to try.  Finding your the best curriculum for your family will come, over time.  You don't have to know what it is, at first!
Homeschooling Methods
A new homeschooler does not have to pick their homeschooling method, in my opinion, when they begin. ( Chapter 7.)  That will come, as you work with your students, and observe what they need, and how they best learn. And your homeschooling plan (Chapter 8), will come out of that, also, as you go along. It is important to have a plan in place, when you are ready for that, so I also studied the chapter on The Homeschool Plan, as an introduction.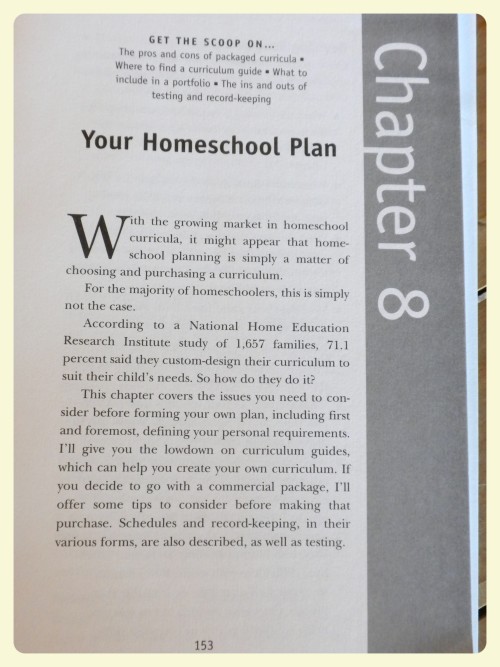 Homeschool Support
Another helpful chapter for me was Chapter 9, all about finding and getting support and help from other homeschooling families.  Don't go it alone! Co-ops, support groups, online networks, and curriculum fairs are all there for you.  And online resources are there as well.  My friends here at The Curriculum Choice, all have had years of homeschooling experience, and have written about their favorite curriculum, right here!
Creative Learning Ideas
My favorite chapter of all was Chapter 11, all about creative learning ideas, including: backyard science, how to use art in your homeschool, and of course, the all important field trips!  There are so many creative ideas in this chapter that got me thinking what my own daughter might enjoy as we began our first year of homeschooling together.
If you are looking for a helpful introduction to homeschooling, my family recommends The Unofficial Guide to Homeschooling, by Kathy Ishizuka. For more information, please go to IDG Books, the publisher, which is currently selling this resource at a very frugal price at less than $2.00.
Betsy blogs at BJ's Homeschool about high school and college and all the fun of homeschooling the early years too.  As a veteran homeschooler and the mom of a college student and homeschool grad, Betsy also offers free help to homeschool families,   She is the author of Homeschooling High School with College in Mind.