The Montessori Homeschool provides a guided learning environment for young children to learn problem-solving techniques, patience, self-discipline, practical life, and compassion for others.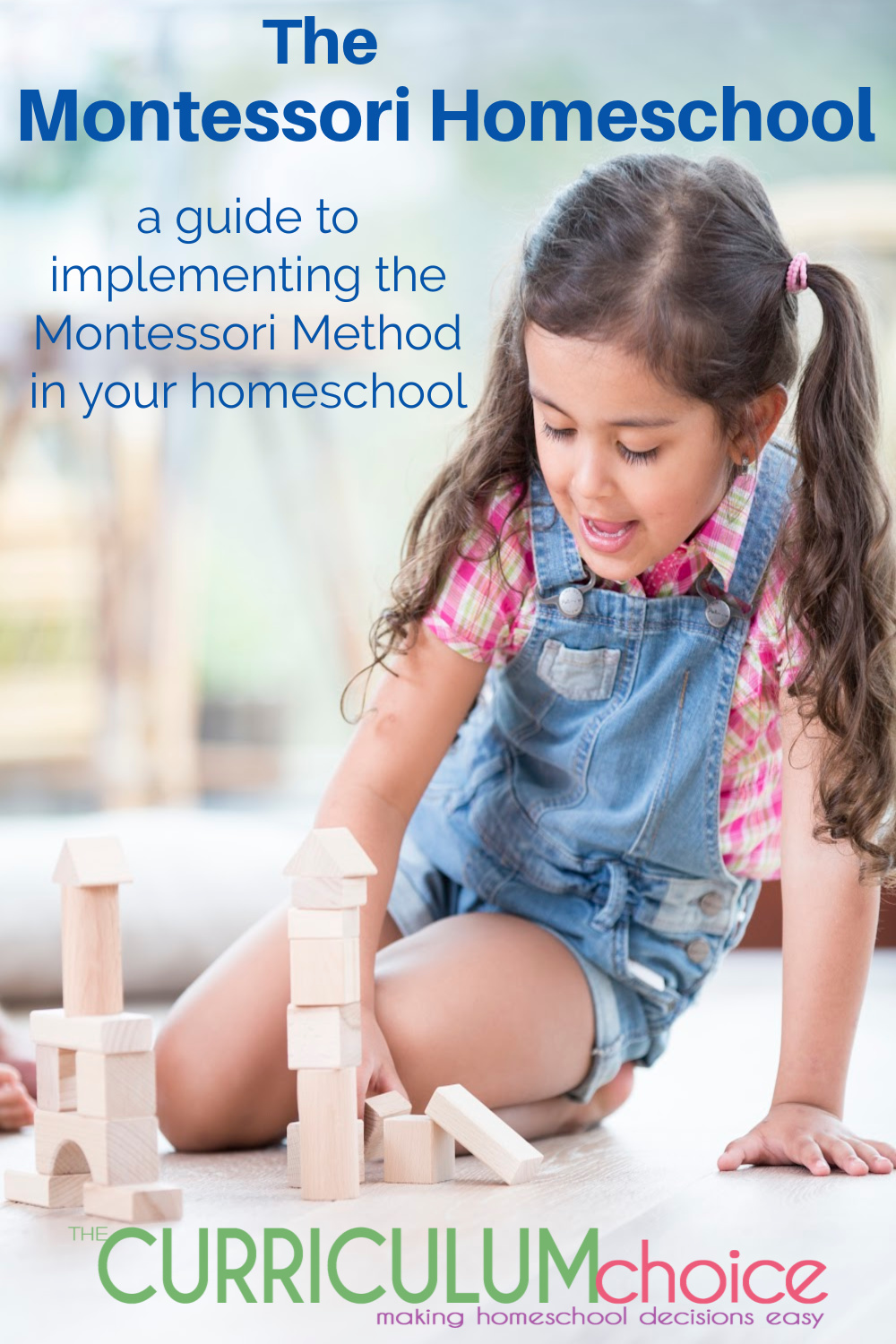 What is the Montessori Homeschool Method?
The Montessori method of education was created by Maria Montessori in the early 1900s. This method is structured, but child-led. This homeschooling style helps children to learn problem-solving techniques, patience, self-discipline, and compassion for others and the environment. Often, a parent's role in the Montessori style is to provide more guidance than strict leadership and a set program.
Major things to know:
used primarily in the birth – age 6 and early elementary years
child-led
encourages independence
children take an active part in daily life
very hands on
year round
designated space – making sure that all furniture, materials, toys, and tools are child-sized, uncluttered, and easily accessible
With Montessori Homeschool, learning is made more interesting because the process offers a hands-on approach with materials that encourage the desire to use them. This type of learning helps children retain the information better. The resources are an excellent mix of tactile, auditory, and visual materials and repetition is key.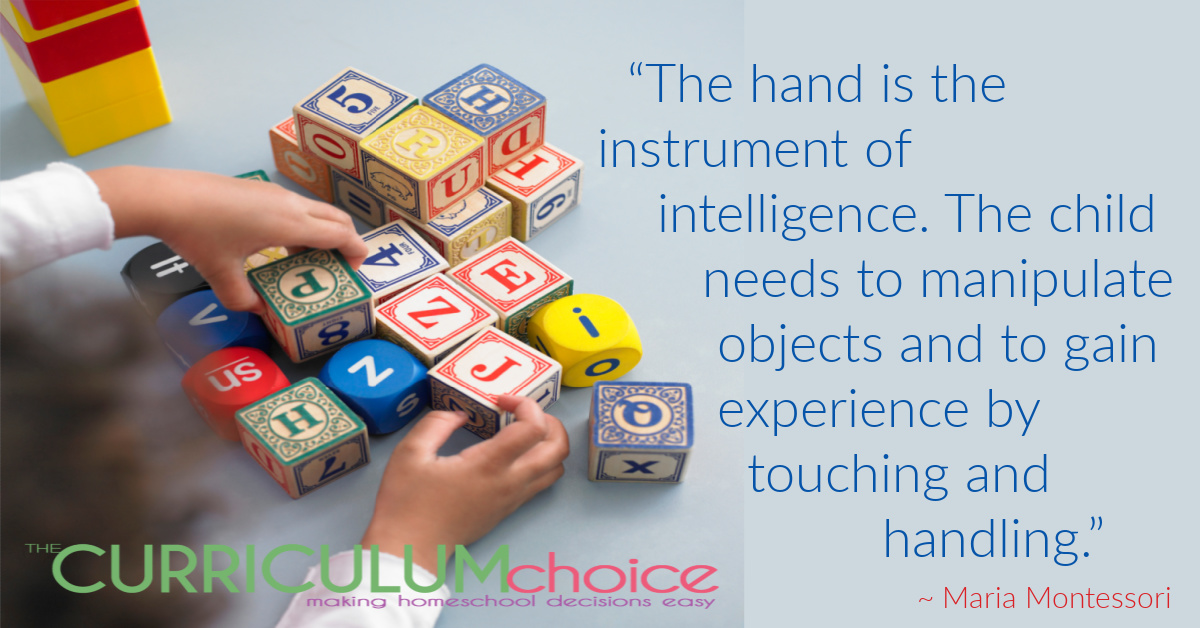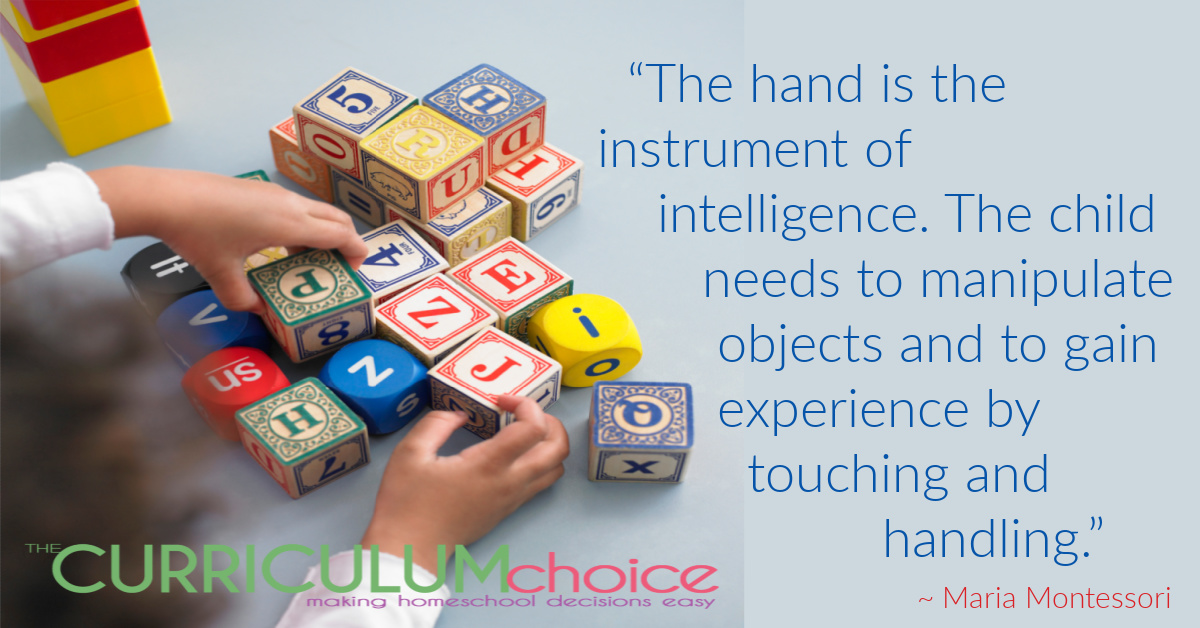 Montessori Homeschool Planning Resources
You really don't need every material a Montessori school has. John Bowman's Montessori at Home eBook has lots of ideas for inexpensive materials or simple alternatives. It is a multi-media pdf file that guides you through the entire process of doing Montessori early learning activities at home. Complete background and how-to chapters are followed by clear directions for over 250 early learning materials and activities.
Living Montessori Now is a website owned and run by Deb, a former Montessori teacher and school owner with a master's degree in early childhood studies. She also homeschooled her kids through high school. It is a HUGE wealth of Montessori resources with things like DIY Montessori Materials, FREE Printables, FREE Montessori Video Lessons, and more.
For a Montessori scope and sequence, check out Free Montessori Scope and Sequence Resources.
The Ultimate Montessori Planner is designed to be flexible and personalized for whichever Montessori situation you find yourself in. Print out the pages you need, organize your notebook in the order that you'd like and voila! It is 68 pages in length and includes so many different components.
Helpful Montessori Books

The Montessori Method – By placing the child at the center, Maria Montessori revolutionized elementary education. In Montessori schools, children are given freedom to develop their own skills at their own pace–and, as a result, they flourish beyond their traditionally-schooled peers. "The Montessori Method" is Dr. Montessori's most complete account of the history, philosophy, and practice of her teaching method. It is an essential work for teachers, parents, and all those interested in unleashing human potential for the betterment of our world.
The Montessori Family – The ultimate step-by step guide for ages 0-5. How to Simply Integrate Unique Educational Principles at Home And Raise The World's Happiest Child (Even If You Haven't Heard of Montessori Before)
The Montessori Toddler – A parent's guide to raising a curious and responsible human being. It's time to change the way we see toddlers. Using the principles developed by the educator Dr. Maria Montessori, Simone Davies shows how to turn life with a "terrible two" into a mutually rich and rewarding time of curiosity, learning, respect, and discovery. With hundreds of practical ideas for every aspect of living with a toddler, here are five principles for feeding your child's natural curiosity, from "Trust in the child" to "Fostering a sense of wonder." Step-by-step ways to cultivate daily routines with ease, like brushing teeth, toilet-training, dealing with siblings, losing the pacifier.
How to Raise An Amazing Child the Montessori Way – A parent's guide to building independence, creativity, and confidence in their children using Montessori learning techniques. Packed with Montessori-based preschool activities and educational games that build confidence and independence through active learning, this authoritative illustrated guide helps raise self-reliant and creative children. Celebrate physical and intellectual milestones from birth to age six with activity checklists, and encourage development through proven child-centered teaching methods.
Montessori Resources
Alison's Montessori has curriculum and materials to accommodate infants all the way up to twelve years of age. They offer overall materials, curriculum and supplements all in one location.
Kid Advance Montessori is a great place to buy tools, furniture and classroom materials.
Montessori By Mom – A monthly Montessori Subscription for ages 3-6. Each month, you receive a box filled with Montessori materials that follow a specific theme. A few examples of a theme would be "Shoots and Sprouts" (understanding the basis for nature and plant growth), "Kings, Queens and Castles" (developing concepts of art, culture, and technology), and "Land, Water, and Air" (the scientific basis of land and water formation).
Montessori for Everyone – created in 2005 by Lori Bourne who is certified in Montessori Elementary (for 6-9 year olds). All the materials are in the form of PDF files or a CD-ROM collection that can either be mailed, emailed or downloaded instantly. The printable resources are intended to be used with the Montessori Method to cover language, phonics and reading, geometry, math, geography, history, botany and zoology, art and music, and astronomy. The materials are fit to accompany all ages that range from two to twelve years of age.
Montessori Services is known for its authentic Montessori materials. Many of the materials are made in the USA with non-toxic materials. If you are looking for physical material sets, Montessori Services is a great place to find authentic materials for practical life, sensorial, mathematics, language, geography and culture, art, music and movement, science, and community.
Multisori – Their mission is to eradicate the achievement gap in education by Making Montessori Mainstream (M3). M3 Curriculum is truly unique in its approach to Montessori homeschooling. It is Montessori aligned with a child-centered approach to learning, designed for homeschooling parents who choose to teach their child(ren) from home or in a pod, and offers ongoing support from parents around the world. 
North American Montessori Center Homeschool Program provides intensive Early Childhood Curriculum (3-6 years) solely for homeschooling. It provides the step by step processes, materials, and templates on CD for three years of learning.
Skiller Learning Montessori At Home provides materials and lessons that are utilized in Montessori schools across the globe, yet it is still highly acclaimed for home use as well. Their research-based curriculum includes flashcards, workbooks, lessons, answer keys, songs and manipulates that are based on the Montessori method. The lessons are already prepared which allows parents who have no Montessori experience to easily lead their children.
Shiller Math – a Montessori based hands on math program for ages preK- 8th grade.
Sonlight Preschool – A Montessori Approach to preschool learning. A fun way of learning and growing. A structure for Mom that feels enjoyable. Time for reading, playing, exploring and more!
HOMESCHOOL METHODS SERIES
Be sure to bookmark or Pin this What do Homeschool Methods Look Like in Real Life Series? and check back each month as we add another method!