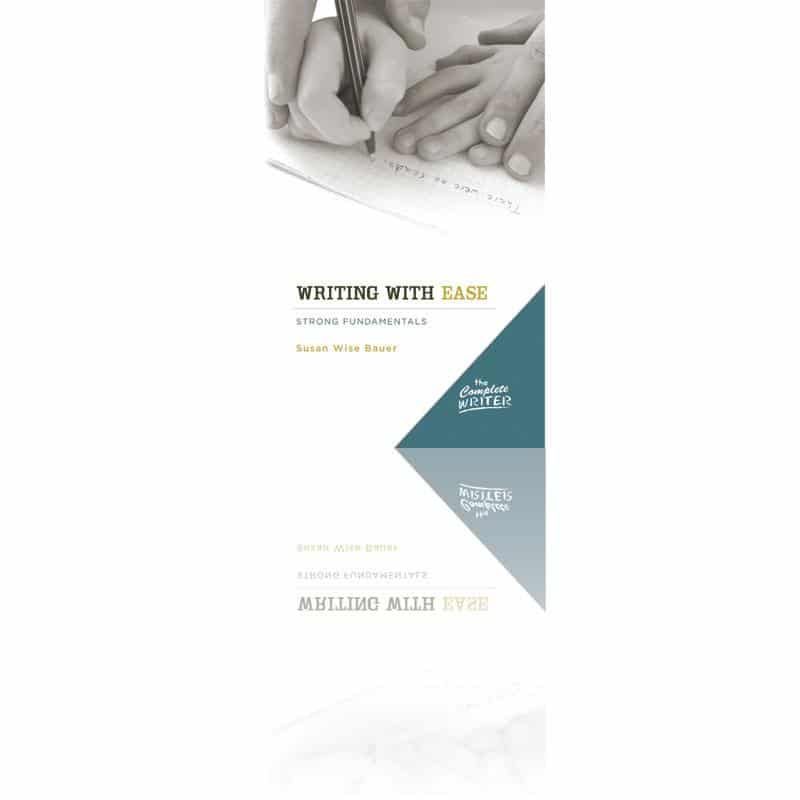 This year we are using Susan Wise Bauer's wonderful new program, The Complete Writer: Writing with Ease.  This curriculum teaches the elementary-aged writer (or struggling older child) how to express themselves on paper.
I find this program simple to implement and enjoyable to teach.  My children look forward to their daily copywork lesson, and they are thriving on the step by step approach.  Easily accomplished in just 10 minutes a day, Writing with Ease lives up to its name!
This curriculum follows the classical model of teaching a child the mechanics and grammar of writing in the early years, as they copy the words and structure of skilled authors.  Their own creative thoughts are dictated to an adult "scribe", separating the writing process into two distinct parts (mechanics and expression).  After children have developed the ability to easily spell and write with proper form, they begin the more difficult process of putting their own thoughts down on paper.
So far, there are three books available in The Complete Writer  series, with a fourth to be released soon.  Books One and Two focus on narration, copywork and dictation, while Books Three and Four are concerned with putting all the steps together.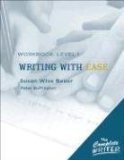 We are using Workbook One.  Each week, Bauer includes two selections from a classic children's book, working lessons in grammar and sentence structure around the chosen passage.  Two copywork options are given for each selection, allowing for varying skill levels.  Narration is slowly introduced, as children begin by answering questions about the selected passage and progress into verbally narrating what they remember.  Bauer carefully and incrementally builds confidence from lesson to lesson.
The program is designed for grades one through four (or for older students needing remediation).  Each workbook covers one year of material.  Plans to continue the series with workbooks for 5th through 12th grades are in the works.
Parents wanting Bauer to paint "the big picture" for them may want to invest in the hardback teacher manual.  This book can be used as a stand-alone if parents feel comfortable choosing brief paragraphs for copywork, dictation and narration from their child's own daily reading.
As a seasoned homeschooler who is trying to economize, I purchased only the workbooks.  They were worth every penny!  There is absolutely no preparation required when using the workbooks, so I was able to hit the ground running from day one.  Workbooks include primary-lined pages in the back with each lesson's copywork sentences already printed on them.  To save even more money, however, I have my children write their sentences in a notebook so they can share one workbook as a non-consumable resource.
You can "see inside" Workbook One here.
I love the way this series makes it simple for me to seamlessly weave together a brief grammar lesson with writing mechanics and writing instruction. The lessons are so brief that my children often complete more than one each day.  Writing with Ease also dovetails very nicely with Bauer's grammar series First Language Lessons for the Well-Trained Mind.
My children have really enjoyed the use of literature in this curriculum.  Some lessons introduce us to exciting new books, while others remind us of old favorites.  In any case, the well-chosen paragraphs whet their appetite for more, and they regularly ask to read the books mentioned in their writing lessons.  As an added bonus, even my preschooler can take part in the narration component.  He listens to the stories and answers questions along with his older brothers.
My reluctant writer recently commented that copywork is now one of his favorite subjects.  I feel the same way!
Written by Molly, who can be found writing and podcasting for homeschool moms at her blogs Countercultural School and Countercultural Mom.