As home educators, we strive to develop traits of independent learners. Tasks cards are a wonderful stepping stone for elementary and middle school students to develop their independent learning skills – providing them with a framework to focus their search and just enough guidance to ensure success.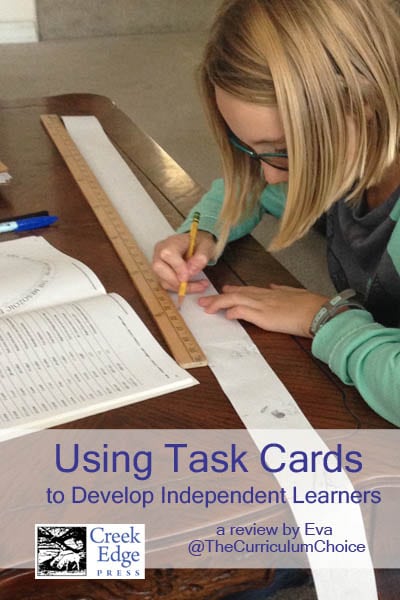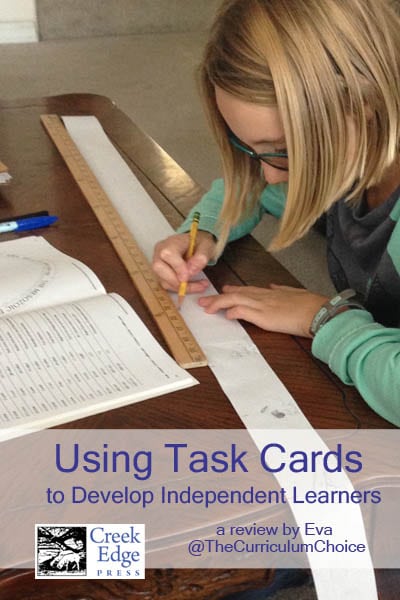 ~Don't miss the Task Cards giveaway at the end!
Task Cards Develop Independent Learners
Task cards are a fantastic way to reinforce lessons, review difficult concepts, or provide extra practice for the struggling student. Task cards are generally open-ended and inquiry based questions that make for a great learning tool and help to create an engaging learning environment.
The task card series by Creek Edge Press was initially written to provide a self-directed, investigative approach to grammar stage science. Over the years, they have added additional sets to cover history, geography, grammar, art, and music.
An example of the activities on a science task card on insects:
Encyclopedia Research: Butterflies and Moths
Further Reading: Butterflies and Moths
Classify: Butterflies and Moths
Make an information booklet of butterflies and moths, include at least five species
Sketch and label the life-cycle of butterflies and moths
Describe the use of the proboscis
Describe migration and give examples of butterflies and moths that migrate
Observe a butterfly or moth in nature, record your observations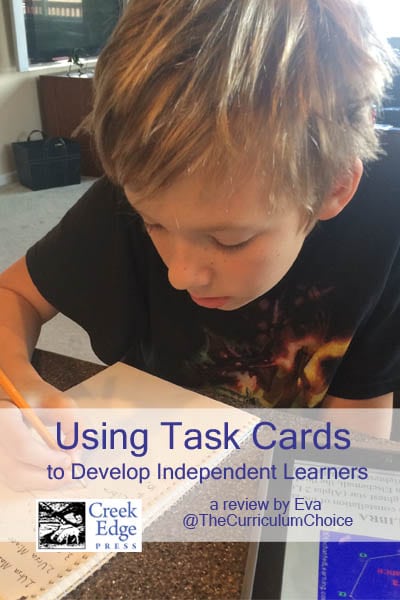 Task Cards Support Many Educational Styles
The Creek Edge Press task cards are pre-printed, non-consumable, and are designed for use by multiple grades and multiple students. Cards can be kept in a recipe box and made accessible to students. The student reads each card, performs the task, and records his/her answer in their science notebook.
They support a variety of educational styles including Classical, Charlotte Mason, and Montessori. This self-directed learning environment builds interests in the learning material by creating eagerness to study within the students.
In this high tech era of instant information, it is easy to forget that there is meaning within the process of discovery. At times, interest will take over and send students in a new direction within the material.
I have enjoyed using  Science Task Cards for many years and have even created my own. I love the open-ended nature of the cards which enable students to go as in depth as they are comfortable as well as to be as creative as they want. My daughter even adds illustrations to the tasks that do not necessary request it.
Now for the Task Cards Giveaway!
Creek Edge Press has generously offered a set of Task Cards to one (1) Curriculum Choice reader. Simply follow the instructions in the Rafflecopter widget below…
a Rafflecopter giveaway

Save
Save
Save
Save