Have you found a homeschool curriculum you and your children absolutely love? One that is a perfect fit for everyone's learning style? A nice match for the age range of your household? That, my friends, is how I feel about Tapestry of Grace.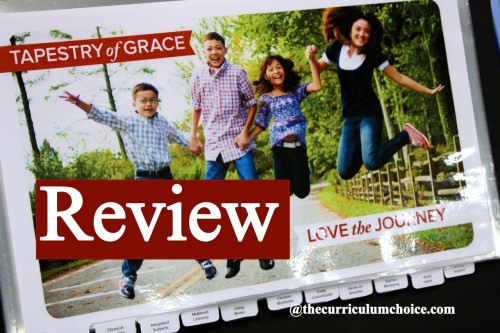 Note: Since I first shared this review, I have the perspective of the years of rich education Tapestry has afforded us. I shared recent updates here at The Curriculum Choice on how we use Tapestry of Grace through the high school years plus the long-range benefits. 
Tapestry of Grace Homeschool Curriculum
I am fresh from representing Tapestry in a booth at my local homeschool convention. The three of us booth hostesses were not selling Tapestry that weekend. We were simply there to help, to answer questions and to share how we use the curriculum in our homes. Three days worth of talking Tapestry with fellow homeschoolers! So, what I am sharing here is not only my family's years of experience with Tapestry but also what I learned were the biggest questions for newcomers to this curriculum.
Those that walked up to the booth, brand new to Tapestry or those who had never heard of it before asked this most often: What is it? Will you explain it?
Tapestry of Grace is a classical approach, Biblically-based, unit study curriculum for the whole family. Tapestry covers eight subjects. Everyone learning together – each child on their own learning and skill level. Here are the subjects Tapestry covers:
History
Writing
Literature
Geography
Fine Arts
Church History
Philosophy
Government
So you need to add: Math, Grammar and Science
Tapestry of Grace is a unit study approach. Four eras or year plans of history. Four units each year. Everyone studying the same topics. The history cycle (from the Tapestry site):
Year 1 covers the Ancient World.
Year 2 covers the Medieval World through the American Revolution.
Year 3 covers the 1800's
Year 4 begins in 1900 and ends with current events.
Weekly plans: Kristen does a wonderful job of describing how the weekly plans are presented in her Review of Tapestry of Grace. She describes each section: the threads, reading assignments, weekly overview, writing assignments, student activity pages, teacher notes and glance into next week.
How Tapestry of Grace Works in Our Homeschool
Here's a peek at how Tapestry works in our home: When we first started with Tapestry of Grace I had a 5th, 4th and 1st grader. Plus a three-year-old and an infant. We spread one year of learning over two years. I love this pace. Especially with little ones under foot and older ones needing to concentrate on independent work. Tapestry gave us "a map for the journey." The following words are from Marcia's Somerville's blog, Love the Journey, several years ago.
This was us before Tapestry: "…using traditional homeschooling curricula, instead of preserving family unity, each child is put into his own little car and travels each day his individual roads. Mom becomes more of a traffic cop trying to keep all the bumper cars on their tracks than the driver of the family van.
After: Using Tapestry, everyone travels together and explores the landscape of Classical Education from a Christian perspective in one family van that mom and dad really do drive."
Everyone learning together. Really? Yes. This year, I had a 7th, 6th and 3rd grader. Plus, of course the preschoolers learning as well. One week the older two had a shared writing assignment. They were to write a radio show. Set in the early 1900s, they worked together on a story of the Wright brothers. They recruited their two younger sisters as additional characters and sound effects technicians. Sixth grader used the radio equipment that was his great-grandfather's. (Do you see?)
Tapestry addresses all our different learning styles:
Hands on projects: I have one child that particularly flourishes when she gets to do a book report on a display board. Woven throughout Tapestry assignments are art and activity projects for individual students as well as for the whole family. The lapbook supplements are wonderful for those that enjoy hands on learning as well.
Auditory learners – can listen to audio books for literature and history studies. Many of these we borrow from the library.
Independent learning – My eldest likes to load up her books and tuck herself off in a corner. There are plenty of opportunities for those that work best on their own – which is the aim for the transition from dialectic (roughly middle school) to rhetoric (high school).
Even learning for mom and dad! Marcia Somerville explains Tapestry this way: Picture your family getting in the family van and heading out on a cross-country trek. There is something on the journey for everyone. For mom, extensive, weekly teacher notes give you all you would ever need for grades K-12 all the years of your homeschooling journey. For dad, a Pop Quiz. This CD is easy to listen to on a work commute, giving an overview and highlights of the learning going on at home.
Explore More Tapestry of Grace
If you are new to Tapestry, their website is a wonderful place to start:
Download a free, three-week trial of Tapestry. Explore Egypt with your family and explore Tapestry of Grace at the same time. This is what we did when considering Tapestry. It helped me, as the teacher, see how the curriculum works. And it got the children all excited!
Marcia Somerville's video explanation of the map of humanities. Hear directly from Tapestry creator and author about the journey of Tapestry of Grace. She regularly posts on her blog specific Tapestry information as well as general homeschool encouragement.
Also on the Tapestry of Grace site, under the Explore Tapestry tab, you can view explanations of the cyclical plans, weekly plans. learning levels, the three big ideas. Pull up a chair and spend some time here.
Learn from fellow Tapestry users:
Tapestry of Grace Questions
But I feel overwhelmed by Tapestry of Grace. How do I make it work? Never have we ever done all of the subjects each week. Tapestry is truly a smorgasbord. When I open that week plan, I zone in on the learning levels for my children and ignore the rest. Even then, depending on the week, we may choose to only tackle the core history assignment. Other weeks, as we are wrapping up a unit, we may concentrate more on the arts and activities, doing assignments and larger projects together as a family.
We never finish up each and every assignment for the week. This curriculum serves you and your needs, matching the season of your life. There is so much to choose from! You don't have to check it all off. Yet, that is also one of the beautiful benefits of Tapestry. You can tailor it by topic for your family, changing it to your children's needs, matching the books you already have on your shelf. Dig deep or skim the surface. Rich learning either way.
Cost: One time investment. When you buy a year or even a unit of Tapestry of Grace you have it to use over and over again. Cycling through with each child. Your youngest ones have the chance to learn at the different levels up to four times.
How do you like your curriculum? Tapestry is available in print or digital form. Or, you can purchase both for each unit. I made the transition from print to digital last year. I found it easy to have everything on my computer to click on and reach – all in one spot. However, my two new Tapestry hostess friends both preferred having the digital version on their computers AND the print version to hold and flip through.
What about all those books? Oh the books we read! Each unit is rich with living books. Buying all the books for each unit is an option. However, I can purchase the 'spine' resource we will be using that year or that unit and reserve the rest at the library. Most of the books are available there. If not the first resource listed, then I usually already have the books listed on the alternate resource page in each week's reading. Or can find them at the library. For years 3 and 4, Story of the World was listed as an alternate resource. Already had that on my shelf!
Bookshelf Central is the spot to load your cart up on books. You can select the books you need for all learning levels the entire year. Or you can fill your cart with just the books you will need for your grammar students for unit one. The online cartoon character, Grace, leads you through the Buying Guide step by step.
Optional Supplements:
Lapbooks: available for each unit, either on disc for you to print. Or pre-printed on colored paper for you and your child to assemble. Some families purchase a lapbook for each child. In our family, we use the lapbook as a review at the end of the unit. Each child picks several topics to work on and research. Click here.
Pop Quiz: Dad can listen on his commute to work. Supper time discussion can be about all the learning going on at home. The children and I have also used Pop Quiz CDs ourselves as an overview – in the car – going from place to place during the week. Click here for more information.
Map Aids: all the maps you need to print for one year in one place. Available in disc form or as an add on to Tapestry DE. Click here.
Unit Celebrations: a celebration brings closure to a unit of study. These can be extensive or simple. Children can dress as a character from the time period they've studied and put on a play. Invite grandparents, friends and neighbors to view display boards, reports and school work. Celebrate all you've learned. Here's an example of a unit study from our Year 4 studies and our Year 2 studies.
Continuing Education: I feel that continuing education and encouragement for mom is important. I look forward to the sessions at homeschool convention each year. As well as just seeing the sheer number of homeschoolers that fill that convention hall! With Tapestry of Grace, I'm learning right along with my children. All the resources I need to teach them at my fingertips. Extensive teacher notes from K all the way through high school.
As one heading into our fourth year (now seventh year in 2014) of Tapestry, let me suggest: Take a summer or holiday break to get to know Tapestry. Take your time navigating their website. Download the free, three-week trial and have fun trying it out with your children. Trying it on is how we all find out if it fits.
In summary: Tapestry brings us all together for learning. As a family we are learning history – HIS Story – beginning with creation and leading to present times. And, when we are all learning together that means less work for mom. I'm not teaching those eight subjects times my five children. I'm teaching them once. Tapestry reaches the needs of all my children and gradually builds independent learners. All it takes is a few steps into the buffet of options available each unit, and the children are off and running on their own.
<pin it!>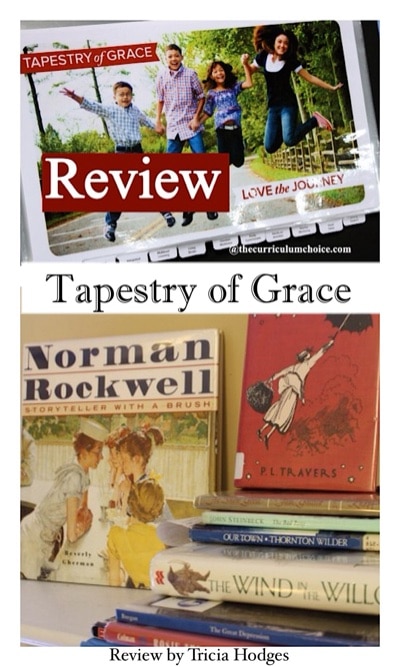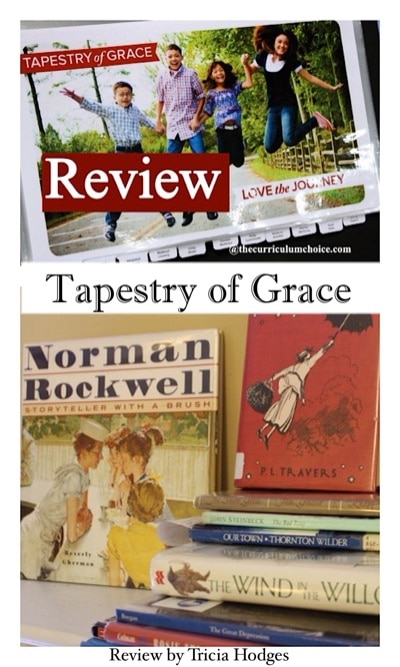 This year, as I officially start one more of my children on the Tapestry road and transition another into high school, I have the confidence and tools I need. I'm looking forward to teaching my kindergartener, 4th, 7th and 8th graders all together. And I'm sure the three-year-old will be joining in often. So, yes, I'd agree with the Tapestry of Grace slogan, Love the Journey.
And, once more I strongly suggest you download a free, three-week trial of Tapestry. See how it works for your family by actually using it. Print it out and hold it in your hand. We did it that one summer and then knew it was for us.
You might also like: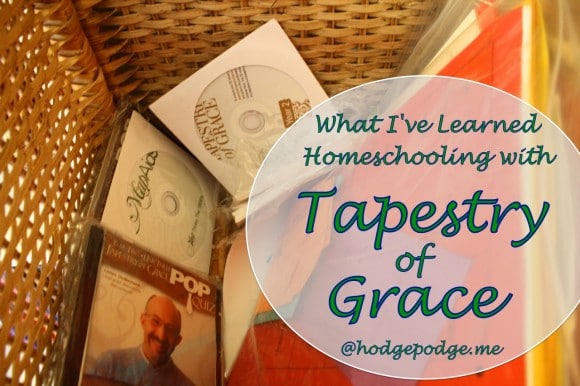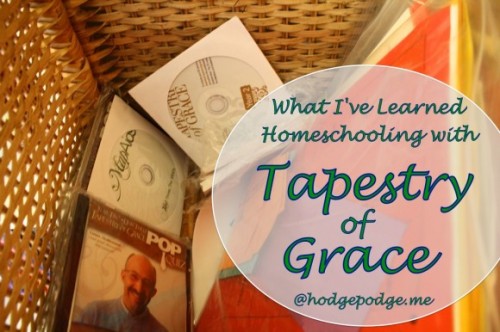 Need even more information on Tapestry of Grace? Since writing this review, we are now into the high school years and have graduated three children! I've learned How to Plan Tapestry of Grace for Multiple Ages and Levels. I invite you to visit Tapestry of Grace at Hodgepodge.
Follow Tricia's board Tapestry of Grace on Pinterest.
How about you? Have you already attended or do you plan to attend a homeschool convention? What questions do you have about Tapestry of Grace?
-originally published June 13, 2011
Homeschooling since 2000, Tricia has five children – including three homeschool graduates. She is author of You ARE an Artist curriculum for all ages, the book, Help I'm Homeschooling! and a series of helpful habits at Your Best Homeschool (formerly Hodgepodge). She and her husband, Steve, are owners of Curriculum Choice.