I have a wonderful reference book I want to share with you! The Story of the Orchestra by Robert Levine is an excellent resource for anyone who wants to introduce their children to classical music.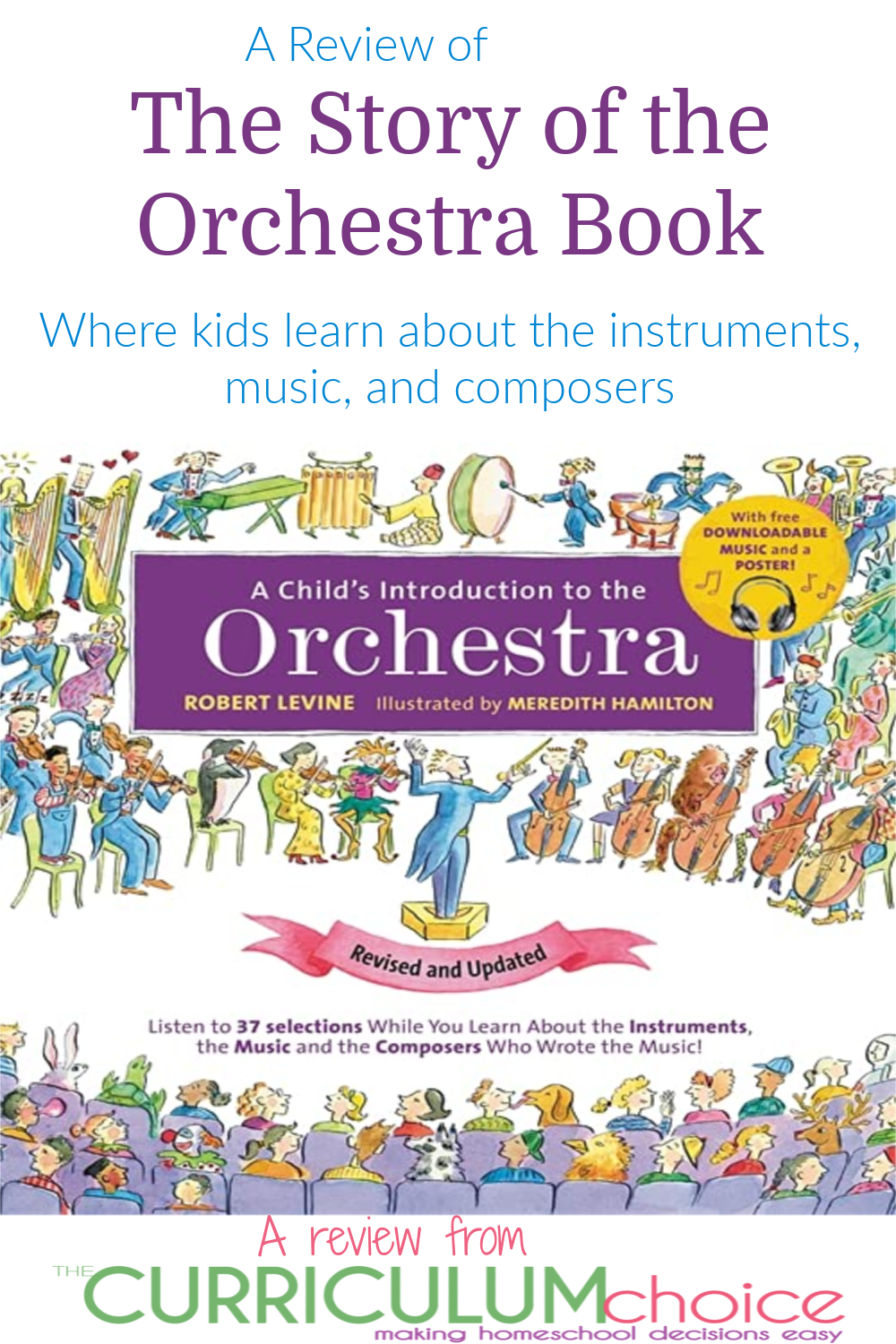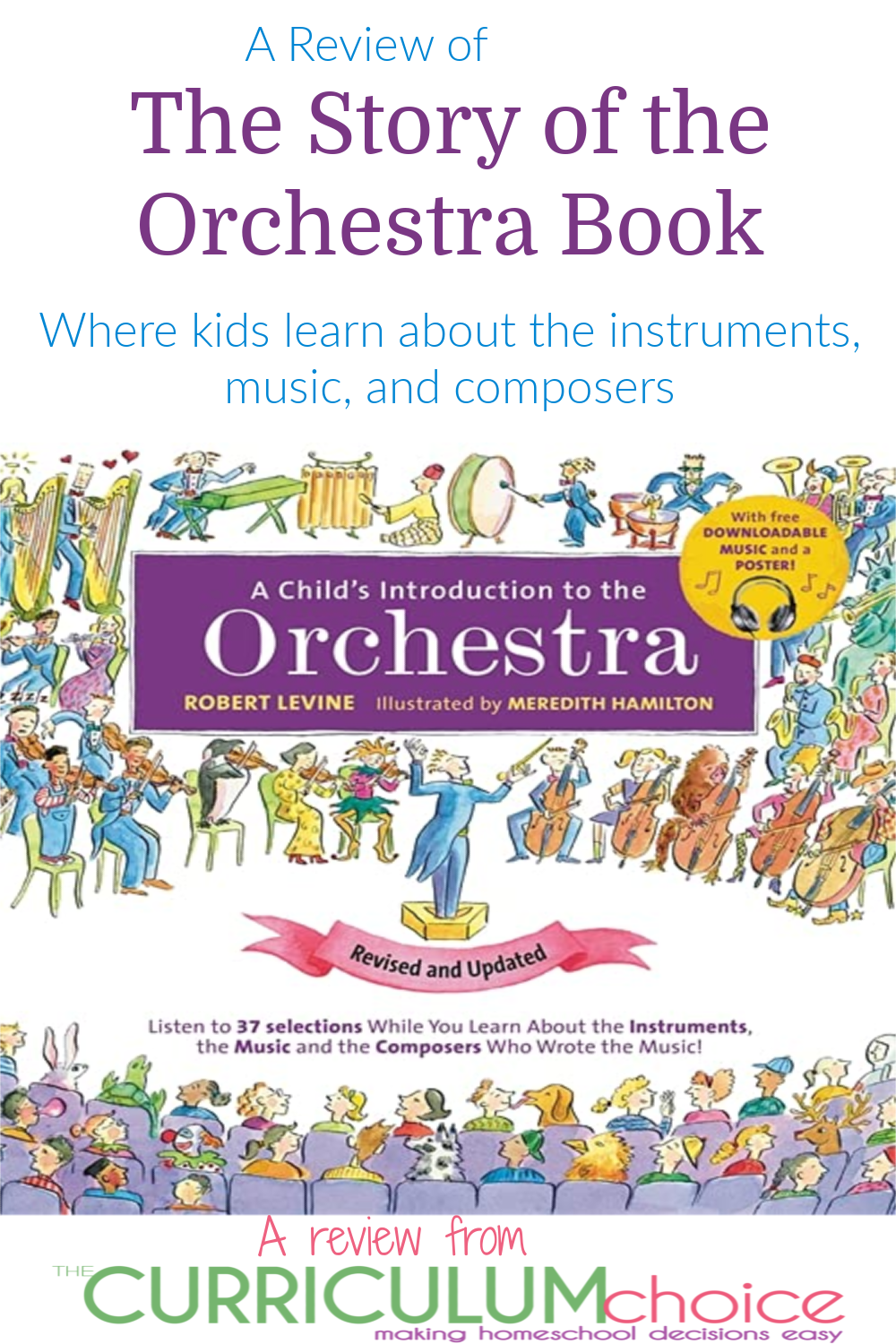 Affiliate links are used on this website. Please see our disclosure policy for more details.
First, let me back up a bit and share how I came across this wonderful book. One of my favorite aspects of a Charlotte Mason education are the lovely extras like fine art and music. Unfortunately, those are also subjects that I have absolutely no background in! I needed a little help in my attempts to enrich my children's education. Luckily I found the guide I needed from Barb, a homeschool mom and fellow Curriculum Choice author.
Barb created the Harmony Fine Arts curriculum (now called You ARE An ARTist Fine Arts) materials to help other homeschoolers incorporate great art and music appreciation. Her curriculum helps me know what and how to introduce them to my children.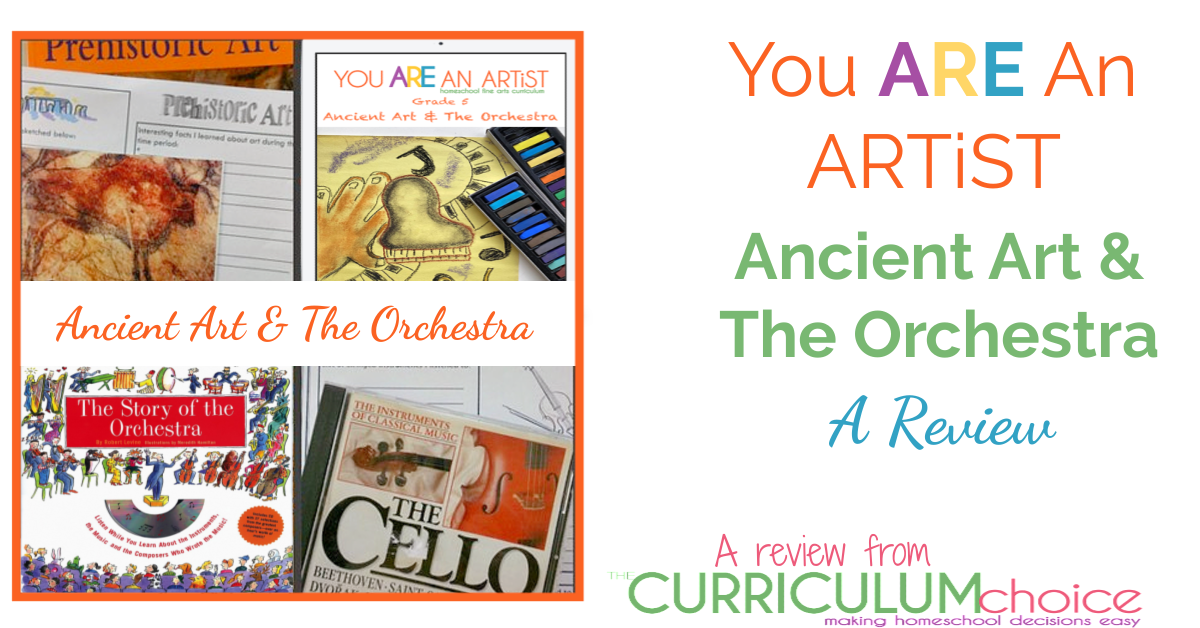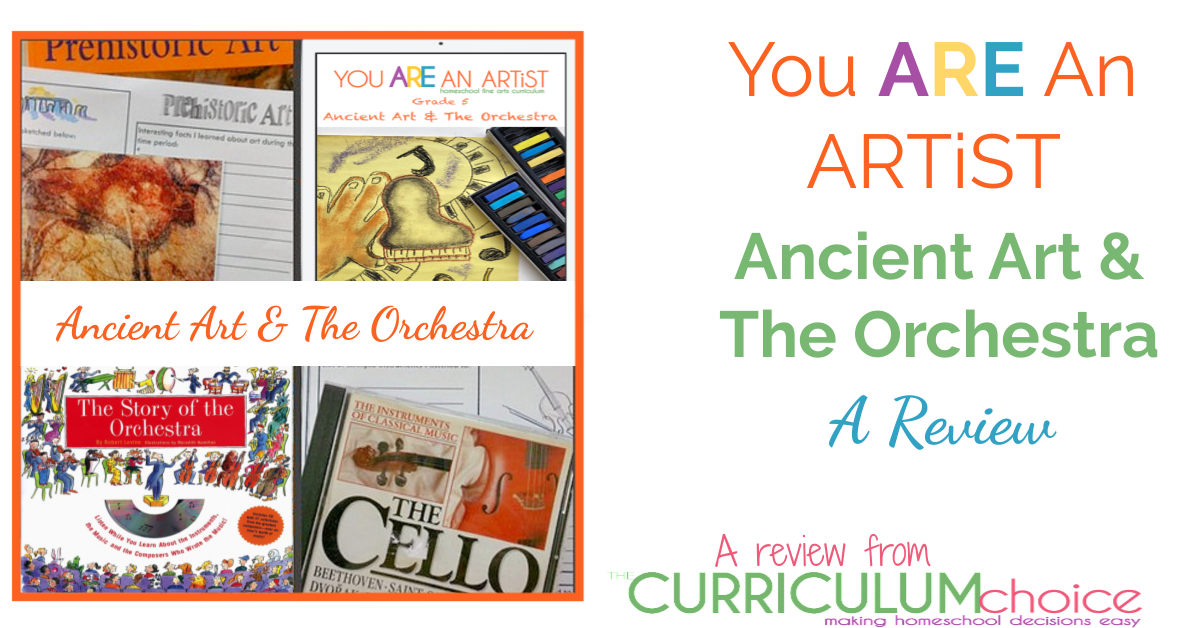 This year (our second with You ARE An ARTist Fine Arts materials) we're using the Grade 5 Ancient Art and the Orchestra plans because they coordinate perfectly with our history studies. (You can see a full review of this here: Ancient Art and The Orchestra, A Homeschool Review.
The Story of the Orchestra
One of the resources Barb listed to use with the Grade 5 curriculum was the book The Story of the Orchestra.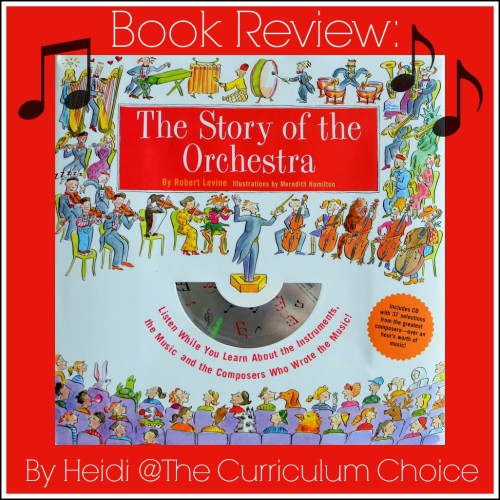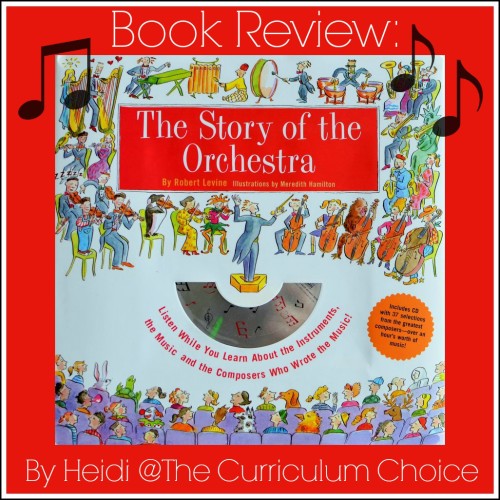 I absolutely love this book! It's become one of my all-time favorite reference books.
With cheery narrator Orchestra Bob as their guide, kids are encouraged to listen, learn, and enjoy as they are introduced to the most powerful works from the greatest composers throughout history. He tells wacky stories about deaf composers and quirky musicians, and explores the inspirations behind monumental pieces. Kids will also learn about each instrument of the orchestra from the cello to the timpani, as well as different musical styles from Baroque to Modern.
What's Inside The Story of the Orchestra
The first section goes over the eras of classical music and introduces famous composers from each era with information about their life and musical style. The second section of the book teaches about the sections of the orchestra and each instrument in the sections.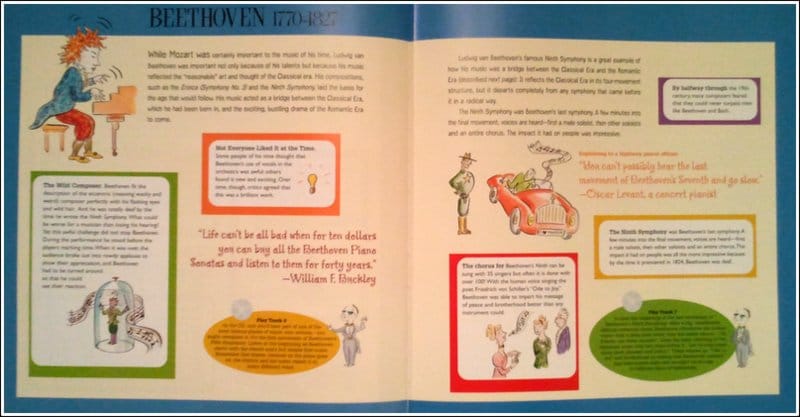 Throughout the book information is presented attractively, with illustrations, short paragraphs, and boxes to set apart different topics.
The best part of this book is the audio CD filled with over an hour of classical music, excerpts from famous music highlighting a composer or instrument. A CD icon instructs you to play a certain track. What is wonderful are the notes filled with helpful information about the musical piece and what to listen for.

I think this book has something to offer for all ages, from the youngest child who can listen to the music and try to pick out a certain instrument or when the music sounds like something else (like horse's hooves), to older children who can take in all the details of the orchestra, instruments, and composers.
The book includes quotations about music from famous people or the composers and musicians themselves. This builds our sense of a community of music appreciators, and helps us see the importance of learning about classical music. Through the selections on the CD we've found music we wanted to listen to in its entirety, like Carnival of the Animals.
It's giving all of us a much more educated listening ear, with leads to a greater appreciation for what we are hearing.
I think this book would be a great addition to any home library. It's not only engaging to look through but provides the real key to music appreciation–the chance to listen to great music!
More Homeschool Fine Arts Resources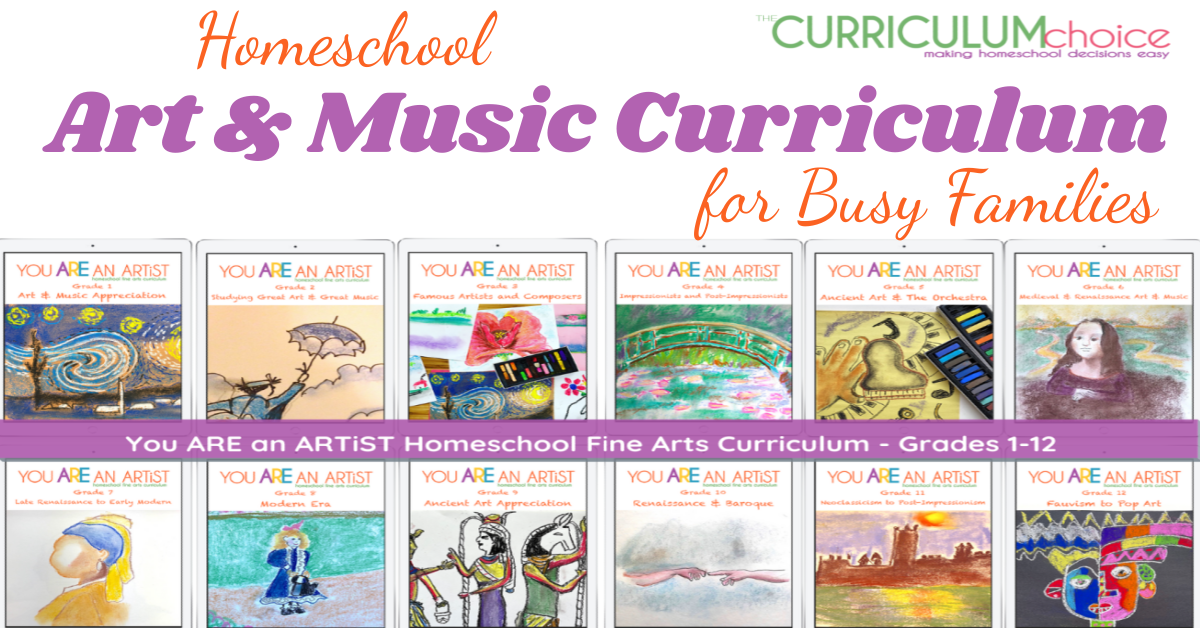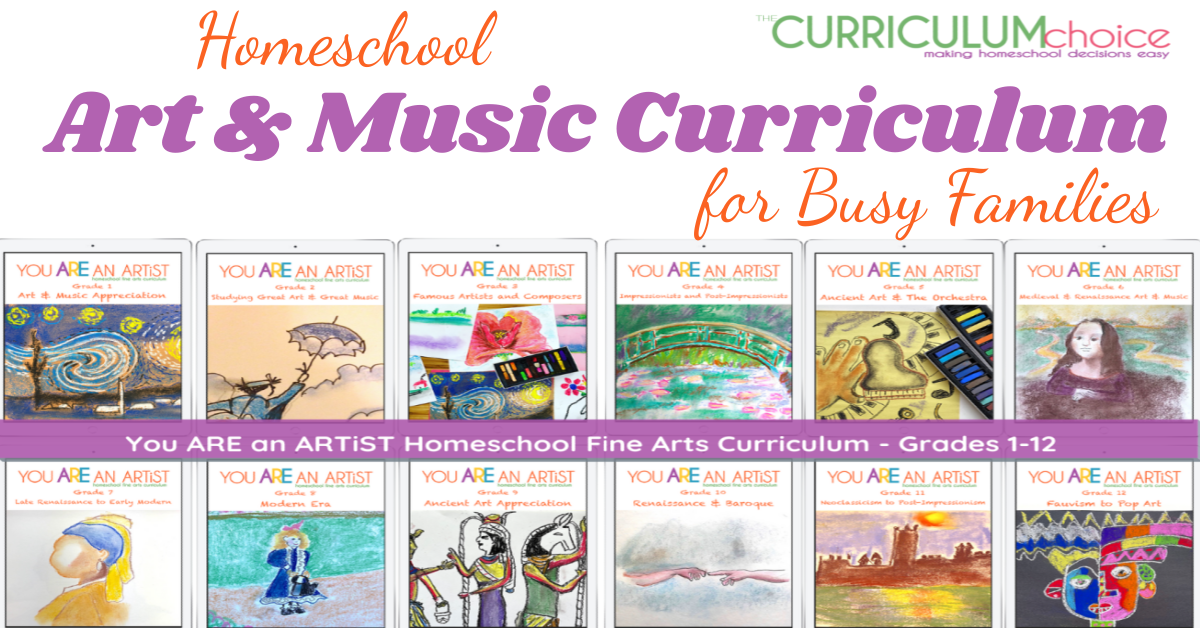 Homeschool Art and Music Curriculum for Busy Families – The Homeschool Art and Music Curriculum from You ARE An ARTiST organized art and music appreciation using a variety of resources so you can simply open the schedule and with little preparation you are off and learning!
You ARE An ARTist Fine Arts Plans for Homeschool Art and Music Appreciation – You ARE An ARTiST Fine Arts Plans for Art & Music Appreciation are grade level (1-12), simple to use, Charlotte Mason style plans for teaching art and music in your homeschool.
Classical Music Start-Up Kit for Homeschool – Vol I & II offer a simple introduction to classical music with listening CDs and accompanying instruction manuals.
Beautiful Feet History of Classical Music Curriculum Review – students will learn about the world of classical music and composition from the Baroque Period to the Modern Period.
Discovering Great Artists Review – a book that makes art appreciation fun and easy. With over 60 artists and projects to choose from!
Artistic Pursuits for Homeschooling High School – ARTistic Pursuits High School Level is a two book art appreciation and art skills course for high schoolers. Each book can be used as a full credit of art for high school.
Everything You Need to Know About You ARE An ARTist Homeschool Art Lessons – simple and easy art for homeschoolers.
~ Originally published January 2014, written by… Heidi homeschools her two children in Maine using an eclectic mix including Charlotte Mason's ideas, quality literature and hands-on learning. She strives to show her children that learning is an exciting, life long adventure. She shares their experiences on her blog, Home Schoolroom.