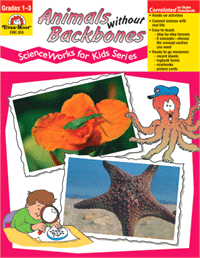 During the early elementary grades in our homeschool, we focused on the three Rs: reading, writing, and arithmetic. We tended to save the other subjects for the summer days. We would do a little science or social studies before heading out to the park. The 3 Rs gave my daughter a solid grounding in basic skills, with something different to look forward to later in the year, like science!
One July, as I searched for something to do in science, I found Evan-Moor's website, a great educational publisher.
With my daughter's need for something on animals, we found two workbooks in the ScienceWorks Series:
Animals Without Backbones – featuring slugs, worms, butterflies and more.
Animals With Backbones – including zebras, owls, kangaroos, and more.
She couldn't wait for the workbooks to arrive! And both of these books from the ScienceWorks Series required minimal prep. Puzzles, mini-books to color and assemble, (very) simple experiments, and cut and paste were used to teach simple science concepts, one page at a time.
Animals Without Backbones presents the following concepts:
Definition of invertebrate
Body characteristics
Where they live
How they find their food
Adaptation
Self defense
Building their homes
Animals With Backbones includes:
Definition of vertebrate
Body characteristics
Hunting and gathering
Adaptation
Self defense
Where they live
All concepts were taught through fun, hands on approaches and always with only one concept at a time. The best part was that my daughter felt like a young scientist, as she learned how to classify animals!
What age is the series designed for? The ScienceWorks Series seems to be more geared toward the 2nd or 3rd grades, than the first graders. But the younger ones could easily join in the fun with their older siblings. Each child could have their own book as these workbooks are all reproducible.
My daughter found many fun and wonderful animals to learn about. These simple books helped my daughter to develop a strong interest in the sciences. She later sought out science activities in our Co-op and has become a very motivated student for her high school science courses!
In my opinion, tapping into your young scientists' interest in the world around him, through fun, hands on learning is the main goal of early elementary science. It needn't be complicated. And Evan-Moor knows how to present elementary Science concepts in a very child-friendly way!
If you are looking for workbooks in Science for the early years, I recommend:
EVAN-MOOR'S ScienceWorks Series for Grades 1 – 3, which are available for a variety of topics.
EVAN-MOOR'S Science Works Series includes workbooks for grades PreK-1, 2-3, and 4-6.
After our animal workbooks, we went on to Exploring Outer Space!
For more information, and a list of all the topics covered in this Series, please go to www.evan-moor.com and please watch for more reviews of the ScienceWorks-Series by this author.
Betsy blogs at BJ's Homeschool about high school and college and all the fun of homeschooling the early years too.  As a veteran homeschooler and the mom of a college student and homeschool grad, Betsy also offers free help to homeschool families,   She is the author of Homeschooling High School with College in Mind.