Don't miss the giveaway at the end!

See The Light  offers a fascinating DVD, God's Runaway, consisting of step by step art lessons while instilling the popular Bible lesson, Jonah.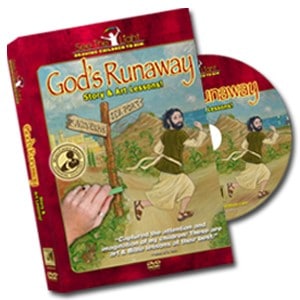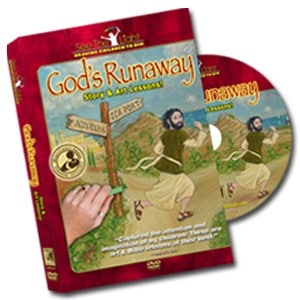 God's Runaway Story and Art lesson consists of 238 minutes of invigorating content while drawing children to our Heavenly Father.
What's Included
The Story of Jonah

told in an 

entertaining way.

Obey – an art lesson teaching the art of lettering. 
Released –  an art lesson teaching the basics of chalk pastels.

Salvation is from the Lord –  

an art lesson

 instructs the basics of mixed media.

Bonus Features
How it Worked for Us
My oldest son, 15, has completed the God's Runaway DVD during nap time in order to not be disturbed by our curious two-year-old.  He highly enjoyed it and learned an enormous amount of basic art techniques.  He loves art, but has never had any formal training, so this was right up his alley.
By completing the Art Set – 1 Year Set and God's Runaway, he has obtained his high school fine arts credit with ease and enjoyment.
We only purchased a few miscellaneous art supplies that were required to complete all of the lessons, but most we already had on hand in our art supply bin.  All of the common supplies were found at Walmart.  However, a black light is recommended, but is not required.
My son was pleased with his finished masterpieces and is planning on giving them to our pastor for his birthday. It was perfect timing because we just finished a series on Jonah during Sunday worship.
My seven and five-year-old sons are planning on completing God's Runaway after the Christmas holiday and I'm sure they will not have any problems following along with the lessons even though the recommended ages are six and up.  They will just have to pause when needed and go at a slower pace.
Buy It
God's Runaway can be purchased on See the Light website for 14.99. You can also visit the See the Light Facebook page.
Win It
I have one copy of God's Runaway DVD, valued at $14.99, to giveaway.
a Rafflecopter giveaway

I received a God's Runaway DVD in exchange for my honest review.  No other compensation was given.
Affiliate links may have been used in this post.