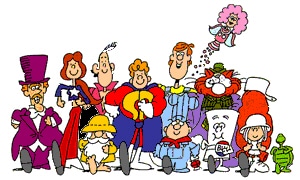 Not everything has to become a formal lesson at our house, but I love being able to sneak in some learning with a helping of fun.  I have seen in my own life that songs I have learned as a child I can still remember to this day.  While this has many applications to homeschooling I only want to talk about one today, called Schoolhouse Rock.
Schoolhouse Rock is series of short musical cartoons that aired originally before I was born during the Saturday morning cartoons beginning in 1973.  Topics covered in the original series include songs for multiplication, grammar, science, American history and lawmaking, and computers.  Later offerings from the makers of Schoolhouse Rock include songs about money and taking care of our earth.
In August of 2002 Disney released a 30th Anniversary DVD set of over 40 Schoolhouse Rock songs.  A few years later we bought the set for our family.  I said it was for homeschool and my husband said it was just for fun.  We were both right! Our children enjoy watching different sections of the DVD.  Each has a favorite song or two.  My 8 year old daughter's current favorites are:
No More Kings – A song about the beginnings of our country and the Revolutionary War.
I'm Just a Bill – A song that boils the legislative process down so that even a child can understand how our countries laws are made.  Here it is on You Tube to watch.  (Like everything else on YouTube, the comments below the video may not be appropriate.  We like to click the handy arrow beside the comment section to close it, or watch the video in full screen.)
I love that my children are easily learning many educational topics without a formal lesson.  The DVDs spark my childrens' interest in topics like conjunctions, multiplcation facts, money and debt, and the branches of the US Government.  We may watch a few songs while waiting for dinner to finish cooking, or have a sing-along as a family for fun.  There are many ways to use the Schoolhouse Rock DVDs.  I am sure we will just happen to pull it out when a child has trouble learning those pesky times tables for another way to reinforce math facts.
The internet abounds with free resources.  Here are a few related to Schoolhouse Rock:
The lyrics to many of the songs.
Ideas from educators of lessons that use Schoolhouse Rock songs.
Many of the songs are available on YouTube with a simple search.  (Remember to close the comments section or watch the videos on full screen to avoid inappropriate material.)
I would love to hear if you have a favorite Schoolhouse Rock song, or any fun ways you can see incorporating Schoolhouse Rock into homeschooling, so please leave a comment!  If you want to learn about some other things we have used in our homeschool read my other Curriculum Choice reviews HERE or visit my blog.
Written by Tristan, mom to 5, homeschooling through unit studies with a side of lapbooks.  You can visit her at her blog, Our Busy Homeschool.