Most of you already know I'm a huge fan of a good book.  Whenever I can use a book to kickstart a lesson, I jump at the chance.  When I saw the book Legends & Leagues had a Workbook to go along with it, I couldn't pass it up!
Legends & Leagues or, Mr. Tardy Goes from Here to There by Ned Bustard introduces you to two funny little men named Mr. Longitude and Mr. Latitude.  They take forever to help poor Mr. Tardy find his destination as they ramble on and on about maps and their importance.  In the end, Mr. Tardy is very thankful for their explanations.  Surprisingly, he even gets to his destination on time despite the roaming conversation of Mr. Longitude and Mr. Latitude.
The book was cute.  I'm not going to say it's on the top of my living literature list, but I don't consider it twaddle either.  The better part for me was the Legends & Leagues Workbook!  It takes concepts from the book and turns them into easy to understand lessons with great map making activities.  My children are hands-on learners who don't prefer to fill in worksheets if they can help it.  This workbook gave them just the balance needed between worksheets and creating their own maps.
Not only are the activities very creative, but I couldn't believe how many mapping skills were covered for the early to mid-elementary crowd.  Topics like:
Strip maps
Map symbols
Using a compass
Hemispheres
Grids
Latitude and longitude
Continents
Geography terms
Landmarks
Time Zones
In 44 pages, there's even a little final exam, a glossary and a memory song with piano notes!  The book isn't absolutely necessary to go along with the workbook, but the book does make a nice addition.  You can purchase both for $19.00.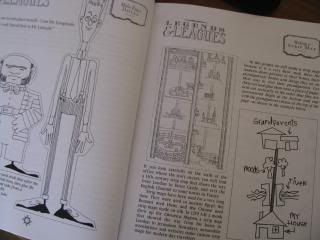 What are your favorite resources for teaching map skills?
-Written by Cindy, eclectically Charlotte Mason mom of three.  You can find her blogging at Our Journey Westward and Shining Dawn Books.