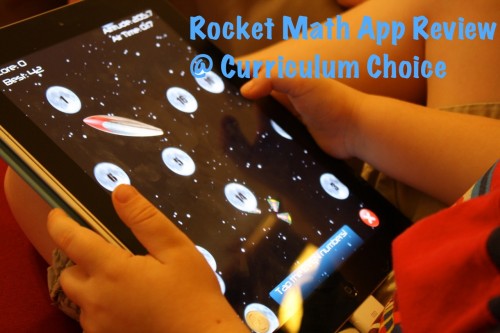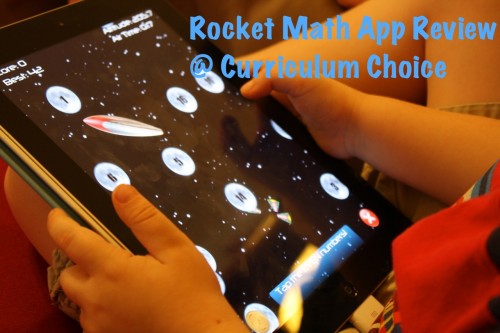 It's always amazing what the four-year-old can find in the iTunes App Store.  This month, in the arithmetic/mathematics category, we have Rocket Math, by Dan Russell-Pinson.
In Rocket Math, you build your own rockets from the ground up. As you build a rocket, you have to earn money for parts by doing math problems.  There are over 90 colorful pieces and parts from which you can build your own unique rocket.  Once your rocket is complete, you can put it on the launch pad and blast off into space.  Tilting the device steers your rocket and a slider controls the thrust.
When your rocket reaches space, the real fun begins!  In space, you begin your mission.  Each mission has touchable objects floating in space, including stars, coins, clocks, 3D shapes and even pizzas!  The mission profile will show up at the top of the screen. It will say something like "Tap the even numbers" or "Tap the equations that equal 5″.  You must tap the objects that fit the mission profile before the rocket re-enters the atmosphere and returns to the ground.  The missions include:
Numbers
Fractions
Decimals
Counting
Telling Time
U.S. Money
Shapes (2D and 3D)
Patterns
Addition
Subtraction
Multiplication
Division
Square Roots
You can also choose a mission based on one of these difficulty levels: beginner, novice, intermediate, advanced, expert and genius.   Excellent scores can earn a bronze, silver or gold medal.  The game remembers your previous high score, so you can compete against yourself.  Since the missions range in difficulty from even/odd numbers all the way to square roots, the whole family will enjoy hours of fun while learning math.
Successfully completing a mission earns you money to spend on rocket improvements. You'll be able to experiment with the different rocket parts to see what works best for launching (and keeping) you out into space. You can also build more than one rocket and switch back and forth between them.
Rocket Math lets you set up different user profiles so everyone in the family can play.
You can purchase Rocket Math in the iTunes store for .99 
Rocket Math is another winner from Dan Russell-Pinson.  It is enjoyed by all, from the  four-year-old all the way up to the 47-year-old.
~Steve keeps busy with five children and a job in information security. He has a second job as principal of the Hodgepodge homeschool and also writes for Habits for a Happy Home and Passionate Purposeful Parenting. You can find more of his technology reviews here at Curriculum Choice.