Disclosure: Affiliate Links Appear in This Post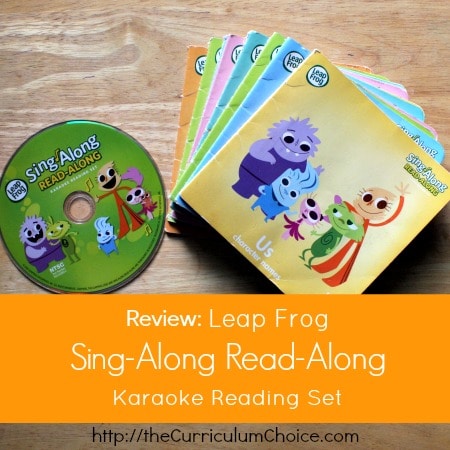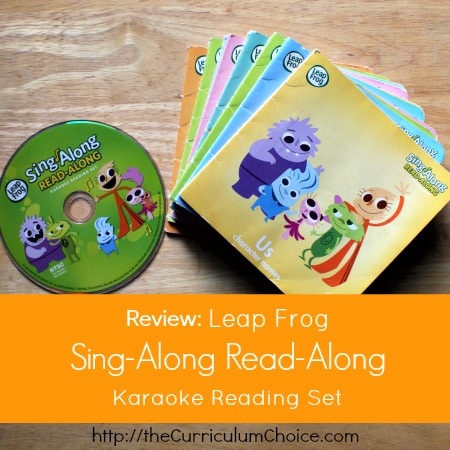 When it comes to learning toys there are a lot of companies creating fun and interesting products, but today I want to share a product (or two!) from one of my absolute favorites, LeapFrog. I love how easy it is to incorporate these toys into a lesson or as a fun concept reinforcement!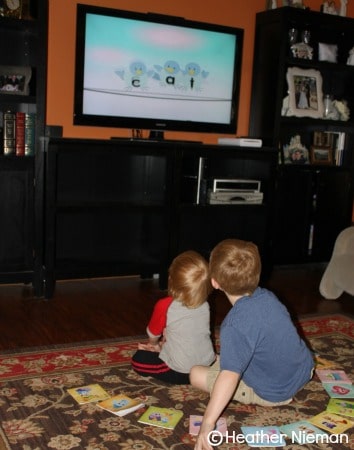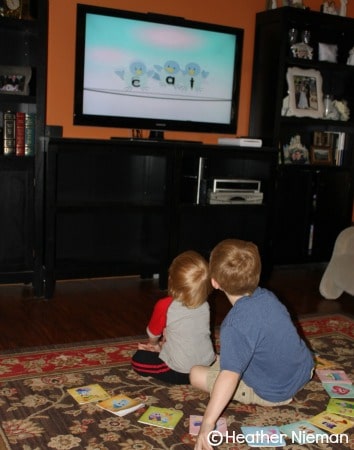 When Billy was two he received LeapFrog's Sing-Along Read-Along Karaoke Reading Set
 and it is definitely a family favorite. The set included a DVD which featured the "Us" Band: Al, Og, Meg, Izzy and Gus singing songs and teaching the short vowel sounds. The 12 songs are in in different styles from rock to funk to hip hop – and some are pretty catchy!!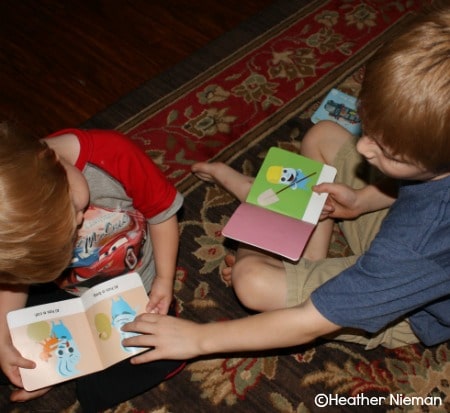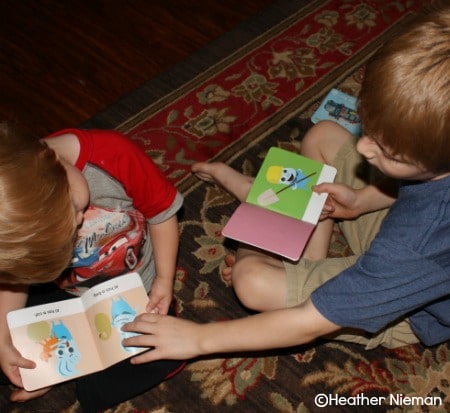 Between each song a different vowel sound is taught and/or reinforced by building words which use that sound. One of the funniest video interludes is when Og, one of our "Us Band" friends, steps out on a stage in full wig and fancy costume and starts to sing the short vowel sound "o" first quietly, then loudly like an opera singer! The boys can't help but "sing" along.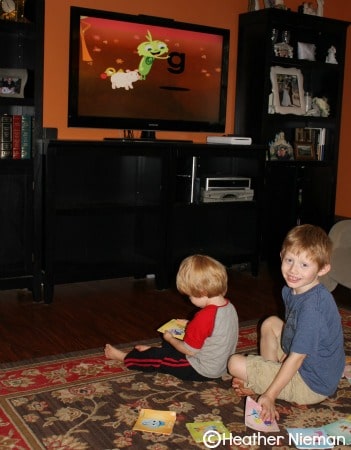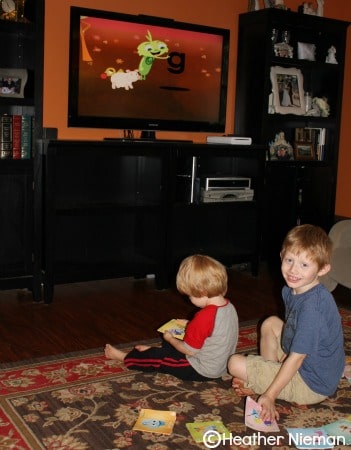 Also included in this set are 12 books which match each of the 12 songs. The boys love looking through the books while they watch the DVD  – as you can see! Ian may not have the matching book, but I love that he wants to try! Billy, even at six, is having fun memorizing the song so that when we're not watching the DVD he can still "sing" his way through the books later!
I saw Sing-Along, Read Along  available at Amazon
 (and eBay, of course), but was very sad to see that it had been discontinued by LeapFrog and therefore was not available in the Leap Frog Store.
HOWEVER…
As I searched through the Leapfrog Store I noticed that the "Sing and Learn with Us" DVD (Regularly $14.98 but on the day I visited it was on sale for just $4.97!) – is the exact same DVD as from the original Sing-Along Read-Along Kit! I was so happy to see the DVD is still available. As a bonus feature, if you pop the disc into your computer, the DVD-ROM Features include printable versions of the books! If you can get this great product for just $4.97 you absolutely should! (It would even be worth it for $14.98 – $4.97 is a STEAL!)
These videos are also available in the "Sing Along Read Along Video App" for only $5 (this is a LeapFrog App and works with LeapPad Ultra, LeapPad2, LeapPad1, LeapsterGS and Leapster Explorer)
You can also get six of the books featuring the "Us" band as part of the new LeapReader™ Junior: Get Ready to Read Bundle which includes the LeapReader™ Junior Scout book pal. As your toddler touches the LeapReader to the page of any of the special board books, they come alive with questions, sound effects and other learning experiences. You can download up to five books onto the LeapReader Junior.
While we have never used the LeapReader system personally, but we HAVE used (and still use) its precursor, the Tag Reading System. Billy loves finding all of the secret sound effects, playing the games and reading along with our Tag books.
We have several other LeapFrog educational toys and I have to say how impressed I am by the quality of these products. They are well designed and have (obviously) lasted many years in our family. They are well-loved too and would be a great addition to your collection of learning toys!
For more cool educational toys you can incorporate into your homeschool this year, check out Leapfrog.com
 ~written by Heather, Homeschooling on Faith and Coffee