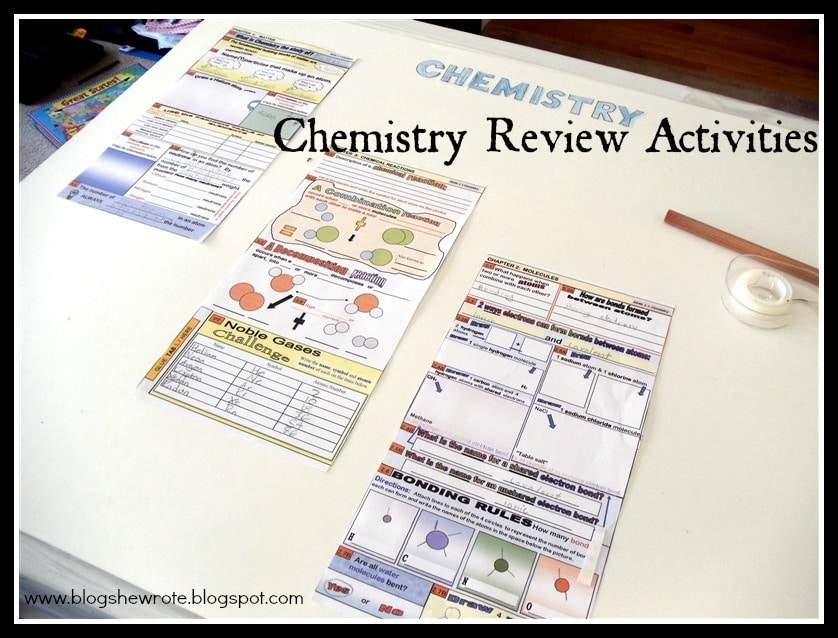 If you had a chance to read my review of Real Science 4 Kids Chemistry Level 1, then you might enjoy this program which goes along with it-  Chemistry Study Folder for Real Science 4 Kids Chemistry Level 1.
For $19.00 you get a bundle of files that includes review worksheets for each chapter. You can also purchase the quizzes for middle school chemistry for $14.00. The review sheets are meant to be cut out and placed on a file folder which has been folded "shutter style". They are are colorful and creative accurately reviewing each of the chapters in the chemistry text. We had trouble fitting the cut outs on a file folder flap so we opted for the poster board instead.
Each quiz is 20 questions long in a recall format (multiple choice, true/false, matching, etc) and has points designated to total 200 points. The point value is curious to me since it is a quiz and each question could be worth just one point. As a homeschooler, I'm not sure the points have as much value- if a quiz is 200 points, then how much would a test be worth if it is to be weighted more heavily? In a classroom environment, that's a lot of emphasis on one quiz.
These materials are designed to help students remember the concepts in Chemistry Level 1. Certainly, the quizzes are thorough and the review materials accurately go along with each of the ten chapters of the chemistry program. It's a great tool at a reasonable cost if you are looking at traditional ways of assessing your student's knowledge. 
Heather W blogs at Blog, She Wrote where you can read about her family's adventures using unit studies with a sprinkling of unschooling and Charlotte Mason style homeschooling. This year they are homeschooling 9th, 7th, 5th, and 2nd grades.