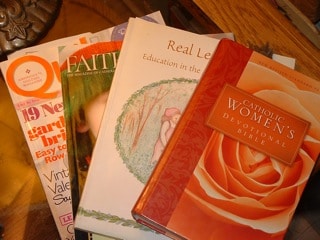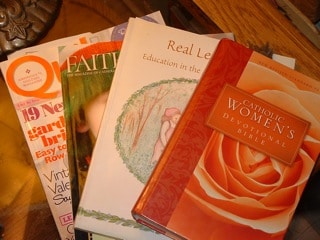 On my nightstand next to my Women's Devotional Bible and the latest issue of my favorite quilt magazine sits a home school how to book I find so full of encouragement and practical advice I refer to it often. Elizabeth Foss' Real Learning: Education in the Heart of A Home shows us how to use living books and real life experiences to teach our children.
If you want your children to love learning as naturally as they breathe, this two hundred page manual will surely inspire you to create an atmosphere of learning and offer you endless practical teaching techniques.
The book is divided into fourteen chapters beginning with a discussion of educators that have influenced Foss, including Charlotte Mason, Edith Stein, Susan Schaeffer MacCauley, Marie Montessori and others. We are told how to teach reading and writing using living books and offered suggestions on teaching narration, dictation and copywork. Math is made meaningful with tips on creating a living math library and using manipulatives. Next up is a chapter on history and science where we are instructed to chose living books, make time lines and write in century books and nature journals.  There are chapters on music, art, sports and teaching children with special needs.  Also included is an integrated unit for Advent and Christmas complete with recipes, and a nine year living book list organized by month and topic for Kindergarten through eighth grade. Catholic Moms  will especially enjoy the carefully selected go along Saint studies in the upper elementary cycles.
Of particular interest to me as of late are the chapters on chores, character development and burnout. I especially enjoy the Words From the Wise section following many chapters where homeschool Moms from around the world share their experiences.
If you know in your heart workbooks and textbooks are not inspiring a love of learning in your children.  If you want to move toward a living books education but you don't know how you can possibly plan and teach different grade levels, keep up with the laundry, cook meals, and still feel like you are providing an age appropriate, challenging education, Elizabeth Foss' Real Learning: Education in the Heart of the Home is a must read.
Susan, who lives in the heart of Dixie with her husband and three school age children, blogs about quilting and homeschooling at Stitchin' Life.