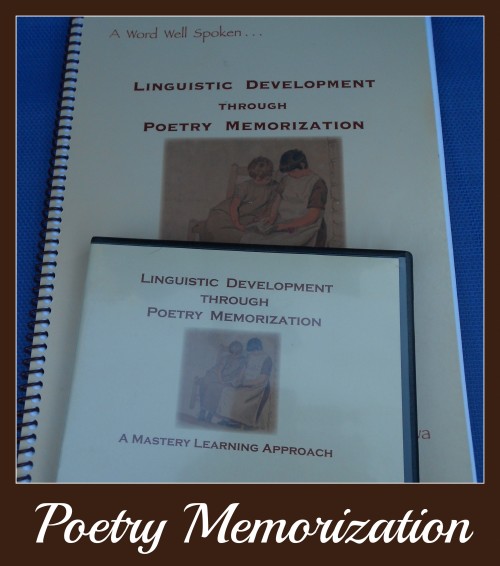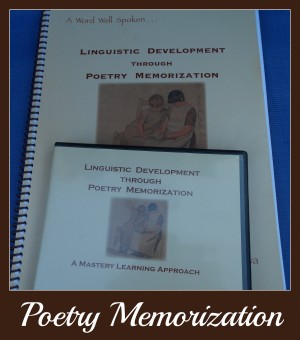 Yes, that is really the title of this review: Linguistic Development through Poetry Memorization. It is not a very catchy title but this compact spiral bound book is a powerful tool in helping our children develop better language skills. The basic idea behind this Andrew Pudewa creation is that children need a foundation for correct and sophisticated speech patterns. Our children are constantly surrounded by slang, sloppy speech, and improper grammar. This program strives to provide food for the ears of our young ones and help them build up their natural ability to memorize.

If you want to view an introductory video on YouTube about this product here is the LINK.
My boys just think this is a fun way to start out our day. We listen to the accompanying CD to hear Mr. Pudewa recite the poems under study. We listen to each poem and then work on memorizing it. Some of the selections are short and some are longer. A few are familiar but many are new to our family. There are serious poems and silly poems. This program emphasizes "mastery learning" or memorizing every word "in its correct place, being able to recite the poems with fluency, speed, pronunciation, and inflection."
There are charts to copy off and use to keep track of your memory work. There are four levels included in this one volume and depending on your child's age and aptitude, this book will carry over from year to year. My boys just started working through this program this school year as high school students and they have almost completed the first level memorized perfectly.
The first few poems are short and will give your child confidence as you begin this program. As you work through the poems, memorizing starts to get a little easier. The plan suggests the "Every Poem Every Day" plan where you recite every poem you know every day until you master all twenty poems. This isn't as time consuming as it sounds. We allow ten minutes per day and we can easily get them all in if we focus.
Some poems that are included in this book:
My Shadow by Robert Louis Stevenson
Who Has Seen the Wind by Christina Rossetti
Jabberwocky by Lewis Carroll
The Charge of the Light Brigade by Alfred Lord Tennyson
The Road Not Taken by Robert Frost
I have found that our work in this book has carried over into our Bible scripture memorization as well. We seem to be quickly working through this year's list of verses. Besides the benefits already mentioned, I see my children really enjoying the ability to recite for fun in front of their siblings, their father, and friends. It is a pleasurable experience to be able to entertain others with funny or lovely poetry. I also see a difference in their writing and vocabulary after using this program even for a short period of time. The patterns and words they are putting into their minds through the poetry memorization process are coming out in their other schoolwork.
I highly recommend purchasing the book and the CD to make your life easier.  We have found that listening to a "professional" recite the poems before we learn them to be beneficial. We can imitate his inflection and pronunciation in our reciting of the poems.
I wish we would have known to start earlier with this valuable product since it has become an important piece of our language course. All ages and abilities can successfully use this program!
Edit to add on 1/8/10
Jimmie commented after I posted this review that at $65 for the program it was a little expensive. Here is what I commented in reply:
Here is how I think:
Two boys and probably three years to get through the entire book. $65 divided by 6 is about $10 per year per child…not so bad when you consider it that way.
Also I really, really enjoy having the CDs so we can listen first and then have them memorize. It is a very Suzuki way to learn. You hear the words in your ear, you say them with your mouth and then as time goes by they are used in their writing. I see it as a way to program great speech and grammar into their minds.
This is so much more than memorization.
I purchased my set from Rainbow Resource and waited until I had a $150 order so I didn't pay shipping. (Plus for those of us in the states, resale is very HIGH for IEW materials.)
I think all of the IEW materials are pricey but looking back over the last four years of using their stuff……priceless.
Written by Barb-Harmony Art mom.  She also blogs at http://harmonyartmom.blogspot.com and her business is found at http://www.harmonyfinearts.com. I would love for you to join us for the Outdoor Hour Challenges: http://handbookofnaturestudy.blogspot.com.