Disclosure: I received a free trial from K – 5 Learning in exchange for my honest review and opinions of their online services. I did not receive compensation for this post. Affiliate links are included.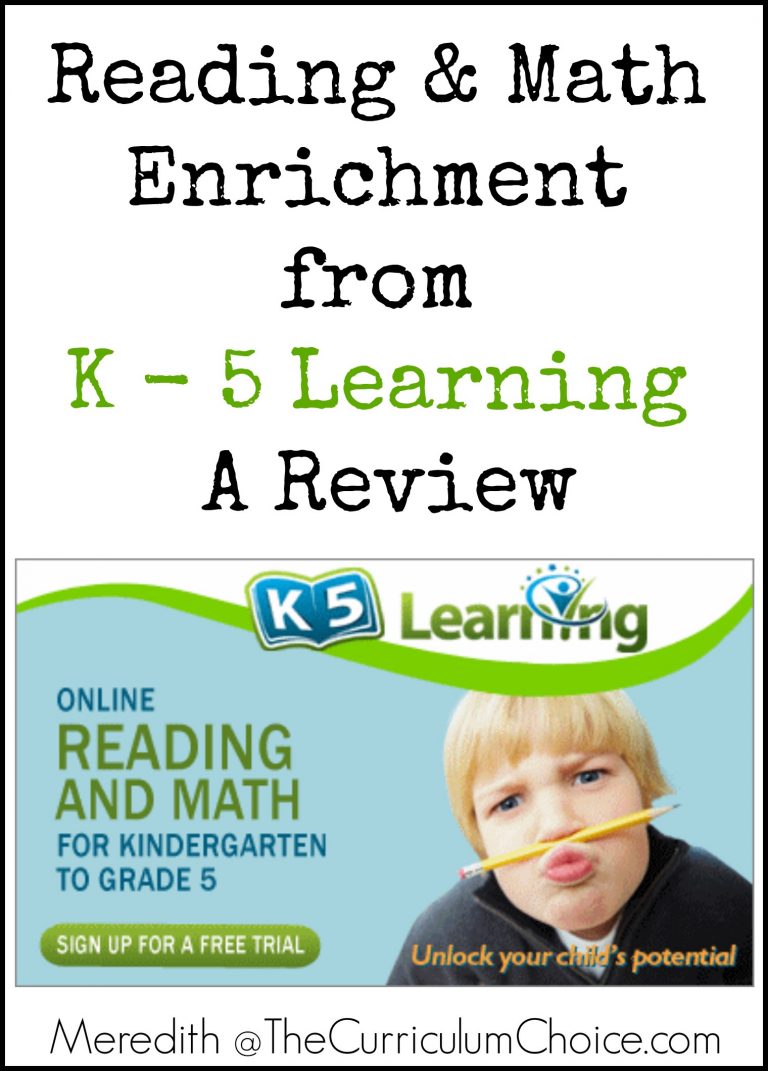 Reading and Math Enrichment from K – 5 Learning
Learn how you can unlock you child's potential for learning math and reading in one great place.
K – 5 Learning  is an online learning center geared to your child's specific needs. It is for children kindergarten to 5th grade and their goal is to assist your child in gaining proficiency in the areas of math, reading and spelling while working at their own pace.
K5 is designed for supplemental home use and can be used for after-school, weekend and summertime study, or in conjunction with a homeschooling program.
Here is a breakdown of what the K5 program includes:
an initial online assessment of each child's math and reading skills
award-winning, curricula based reading and math content
over 3,000 online multimedia activities, personalized for each child based on his or her assessment
a highly structured environment which allows the student to proceed through the lessons in a logical fashion at his own pace
ease of use which allows even four or five-year-olds to work independently
attention to child safety with no external links, advertisements, chat or similar
comprehensive reporting to parents
24/7 availability and no downloads
As you can see, that the first thing they offer is an online assessment of your child to place them correctly within the program. Once that is complete – it just takes a few minutes, you will receive a report showing how your child was evaluated using a specially developed program called "Learning Today Computer Adaptive Tests".
The next step is to start learning!
Within the K5 program they offer –
K5 Reading
K5 Math
K5 Math Facts
K5 Spelling
Over 3000 videos and activities – all personalized and geared specifically to your child's level.
As a home educating parent, I love the fact that I can assist my child in his daily learning and achieve his goals, and K – 5 Learning is just another great way for me to accomplish my task and to help my child learn in a fun and engaging way.
Here is a page showing some of their Sample Lessons.
And while you're there, click around a bit and watch their Introductory Video as it shows how to get started with the program and gives a nice overview of how the interactive lessons work for your child.
Give the  14 day Free Trial a go as well – it's a fun way to see if it's a good fit for the learners in your house!
Gabriel and I really enjoyed using K – 5 Learning to supplement his studies and would love to hear if you give it a try too.
It's an affordable, subscription based service either monthly or yearly, and they offer substantial sibling discounts which is always an added bonus for homeschooling families with multiple children.
They also offer specialized lessons for children with learning disabilities – it's all part of that first assessment process which makes the program so easy to use and to get started right away.
Do you use any online learning programs for your children in Kindergarten to 5th grade?
Save