Wow.  What a curriculum!  Primary Arts of Language: Reading by Jill Pike of Excellence in Writing has put together a fantastic set of materials for teaching reading to your little one.
Using the "blended sound-sight" method of phonics skills and sight words-based education with a playful, game-like approach, children are intended to have fun and progress rapidly at the same time.
There are four stages to the program:
Foundations – Phonics rules and sight words are introduced through games and manipulatives.  This stage is very parent-led with mom or dad teaching how to play the games, use the manipulatives and use time wisely.  Later in the program, your child will become a more independent learner through the intensive training you offer during this stage.
Activity Time – This stage continues in adding new phonics rules and sight words to your child's "arsenal", but also expects independent and partner time to practice the games and manipulatives previously learned.
Discovery – This stage comes after your child has a good grasp of phonetic decoding skills.  Your child is given small stacks of word cards daily and asked to independently work on decoding (reading) the words.  Once decoded, he comes to you to read them aloud.
The Library – In this final stage, you simply provide appropriate books from a list of easy, medium and hard books for your child to read.  He is expected to read the book aloud with you and again on his own at first, until progressing to simply reading on his own or aloud to siblings.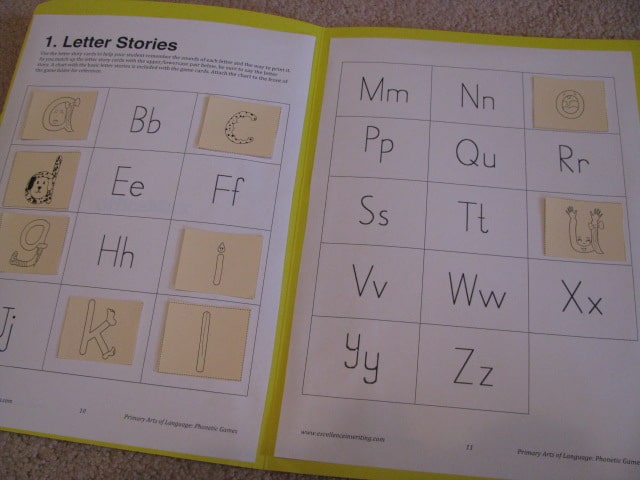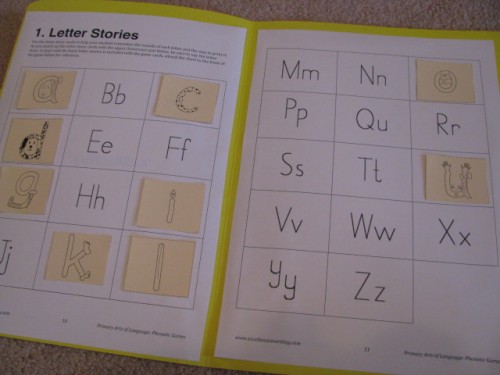 As all of the stages are progressing, there is a general theme of daily activities followed: poetry, journal, phonics and printing/composition.  A poem becomes the "centerpiece" of each lesson with the same poem being used for several days.  During this time your child will develop rich language, comprehension strategies, memorization skills and begin to internalize writing techniques.   Phonics skills are taught and practiced in a variety of ways:
The Phonetic Farm is a full-color folder picturing a farm in which your child adds sticker characters to help remember and organize all the phonics rules he'll learn throughout the program.  (It's super-cute and lots of fun adding the stickers to the folder!)
Phonics Games of all sorts are provided for lessons and independent practice of phonics rules.  You'll find the games printed in the back of the teacher's manual for your to cut, color and paste.  So that putting together all the games isn't overwhelming, you're encouraged to create the games with your child as each is introduced.
The Sight Word Card Game is created by you on index cards and used in various ways suggested through the lessons to increase your child's sight word recognition.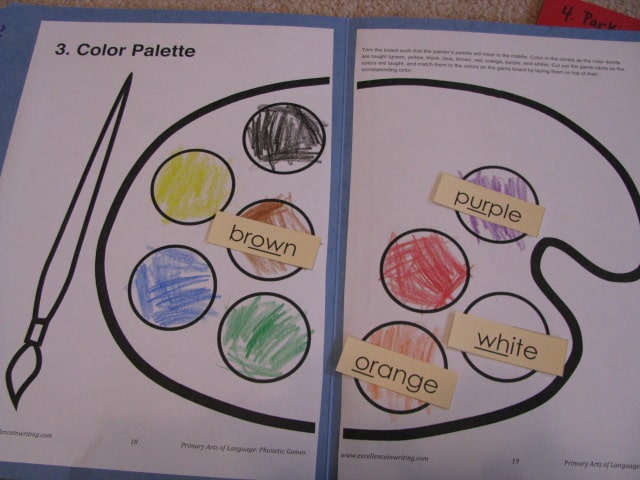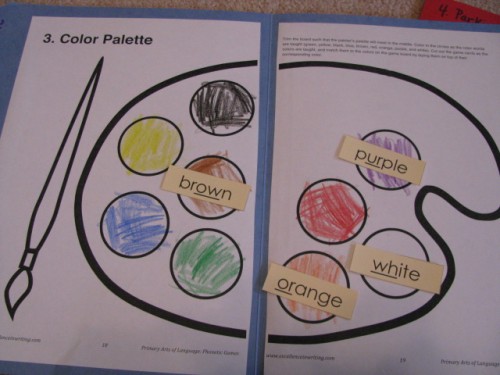 The author has also written The Primary Arts of Language: Writing (which I have also reviewed for you) that should be used concurrently with this curriculum if your child is old enough to learn to print – around five.  She suggests that you use the two programs concurrently even if your child is a little younger, limiting the handwriting expected if necessary.  The journal and printing/composition portions of daily lessons come from the writing curriculum.
You are provided with a Teacher's Manual that includes very clear and concise daily lessons plans for 80 lessons.  It also includes appendixes of a scope and sequence chart, phonogram chart, poems used in the lessons, alphabetical list of words used in readers, homophones list, chart of words in each discovery card pack, and a list of readers to check out or purchase.  The discovery cards are also printed on green card stock in the back of the book for you to cut apart.
A book of Phonetic Games provides you with "game boards" printed on regular paper that you cut, color and paste into folders. Game pieces for each game are printed on card stock.  Again, you must cut and color the pieces, then decide how you will affix the pieces to the game board for use over and over again.  (A baggie or envelope attached to the back of the folders works well.)  You make the games as they are introduced in the lessons, so the construction isn't overwhelming, and in the end you have an arsenal of phonetic games that your child will be expected to practice throughout the program.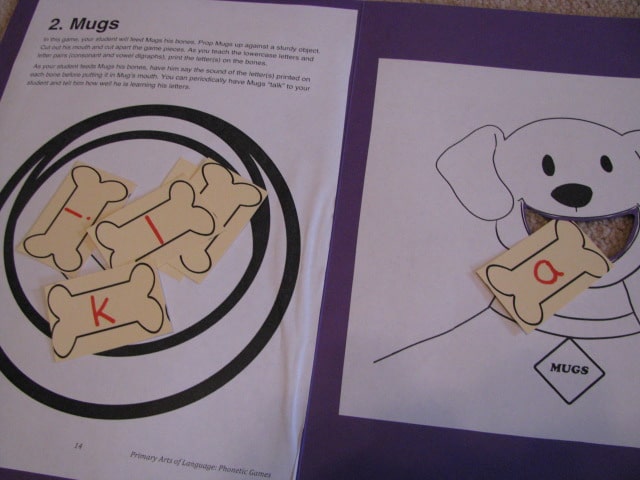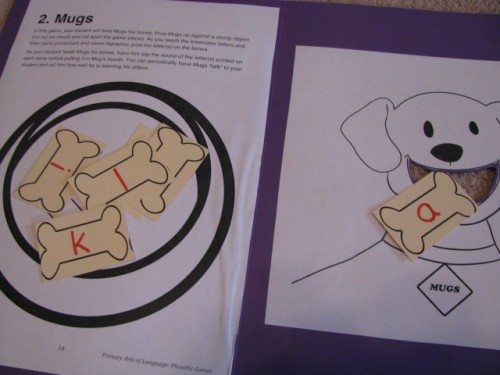 The curriculum set also comes with a DVD-ROM including the author walking you through the program step-by-step as well as many extras like MP3 seminars.  But, the best part is two full PDF books of 200+ student worksheets to supplement the daily lessons, as well as four printable early readers.
I tell ya, even with the extra bit of effort it takes to put together the games and print off the student pages from the DVD-ROM, this curriculum is worth it!  My little guy is in K4 (will be five in a few months) and is responding well so far.  We're taking it slower than her suggested schedule but he's doing great and loving the games!
-Cindy West is an eclectically Charlotte Mason mom of three children in high school, middle school and K4.  You can find her blogging and writing NaturExplorers and other curriculum at Our Journey Westward.
(Cindy was given a free copy of this curriculum for review upon her request.  There are affiliate links included. As always, she shares only her honest opinion.)