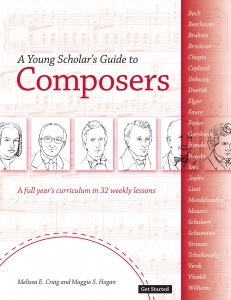 This past year our family was introduced to a study from Bright Ideas Press called A Young Scholar's Guide to Composers. You might already be familiar with Bright Ideas Press if you use their history curriculum, The Mystery of History.
A Young Scholars Guide to Composers is a One-Year Curriculum for Grades 4-8. It is Christian based and Chronological. It is broken down into 32 weekly lessons that cover 26 famous composers and 6 eras of music.
The study begins with an introduction into Ancient Music and Music in the Middle Ages. You then cover music in the Renaissance and then move into the Baroque Period. At that point you begin covering individual composers and their lives. The rest of the book is broken down into periods of history covering The Baroque period, The Classical Period, The Romantic Period, and The Contemporary Period. You learn about famous composers within each of the above periods of history.
The study offers a suggested schedule for your studies which they have broken down into three days a week, but the study is very flexible and can be used easily in any manner that you desire to use it. In fact, we have on a couple of occasions done the study two days in one week and then picked it back up the following week.
If you follow the suggested study in the book it is recommended that on Day 1 you listen to the recommended selections, read the lesson from the book (each lesson runs approximately 1200 words and takes about 15 minutes to read aloud), and fill in the note- taking pages or answer the Student Review Questions. On Day 2 it suggests that you listen to the selections again, fill in the Composer Info Cards (which are included in the back of the book as reproducibles), and color in the timeline. Day 3 suggests that you listen to the selection(s) again and match the composer to his place of birth on a world map. Again, reproducibles are available in the back of the book.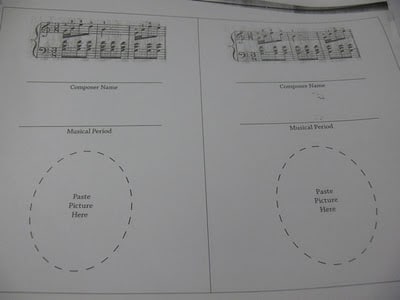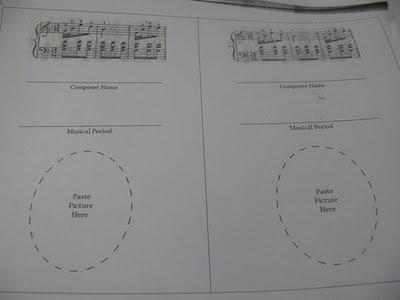 Above is a sample of the reproducible Composer Info Cards that the book offers.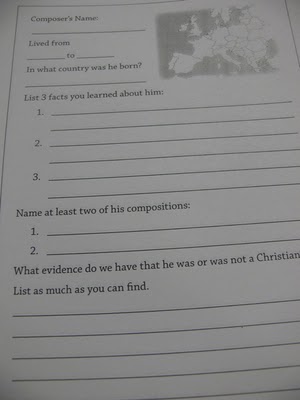 This is the back of the Info Card which your student/child fills out.
This is a sample of the composers faces that you cut out and glue to the front of the Info Cards. These faces are also used on the included timeline in the book. We have used the faces on our own timeline that we already had set up for our schooling.
Our family has very much enjoyed using this study. One of the things that I love about it is that it can easily be geared towards various ages. While it is written for grades 4-8th, even my  younger children have been able to get a lot out of just listening to the various composers. The back of the book includes coloring pages and my younger children have really enjoyed coloring them as they listen to various pieces of music by each composer. One of our very first composers to study was George Frideric Handel.
This is the coloring page that my daughter Ally (7), and Camden (5) worked on while we listened to his works of music and my older kids filled out their composer cards.
As far as the music itself is concerned, towards the back of the book are suggested web addresses where you can listen to selections from the various artists that you will be studying. Most of the addresses are You Tube videos. While some of the website addresses may change over time and some may therefore not be in use anymore, it has been our experience that most have still been active. When I have come across an address that is no longer active it has been easy to simply type in the name of the piece that is suggested in the book and find selections on You Tube to listen too. I have appreciated having recommended selections to pull up and listen to as we have gone through our studies rather than having to do my own search on what to listen too.
Also included in this book are note-taking pages, quizzes, and answer keys.
Just to give you a sample of how our study began, we started out reading about Ancient Music and Music during the Middle Ages on our first week. Our listening suggestions during this week was, the Gregorian Chant, The Salve Regina, and Dies Irae. As we listened to the suggestions we replayed them several times discussing things such as whether we heard harmony or only melody in the music? Is the tune catchy? What type of feelings does it convey? We tried turning the music off and singing the melody back to see if we could. We also tried tapping our feet to the music. On our second week we learned about music during the Renaissance time period. Our suggestions of music for this week were Piffaro and "Summer Is Icumen In". We discussed the same questions regarding this music that we did on week one. On week three we read about the Baroque Period and began our study of composers with Antonio Vivaldi. From that point on, each week contained a new composer to study.
This Composer Study is 298 pages long and is available in paperback book form for $34.95 or as a CD-Rom book for $29.95. You can download sample pages of the study from the Bright Ideas Website. To do so or to purchase the book visit, HERE.
Jennifer is mom to 6 children, 2 boys and 4 girls, ages 14 down to 5. The Unsell family is in their 10th year of homeschooling and are a bit eclectic in their approach to schooling. You can find their family blog at Adventures in Unsell Land.