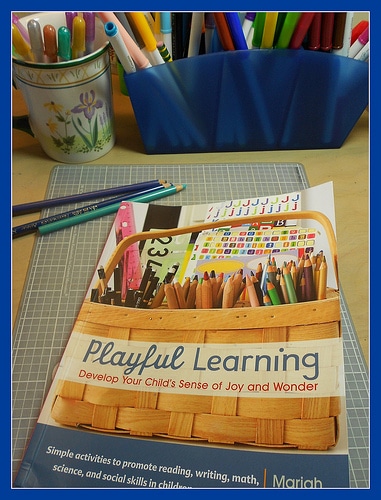 What a treat for the eyes and a delight to the heart! I LOVE this book and any mom who is looking for ways to build on play-based learning, this book is a gem. The book, Playful Learning by Mariah Bruehl, will help you create an atmosphere of learning by building spaces and providing activities that spark creativity and fun. Looking back over my years as a homeschooling mom, I realize the best learning takes place when I could build on my child's interest in a relaxed and enjoyable way. The trick was to be prepared for those moments.
Sometimes it is as easy as creating a learning environment, introducing your child to the space, and then letting them explore.
Playful Learning is the kind of book that can be referred to again and again and you will always find some new idea to spark a creative activity. It is a visually appealing book that outlines areas of your home where you can set the stage for playing and natural learning.  The author stresses the importance of free and unstructured time for children to explore their interests and Playful Learning gives specific ideas for building on your child's natural inclinations to play and learn by organizing play spaces and materials to nurture the interest alongside your child.
"Playful Learning gives us as parents an opportunity to play again! It is wonderful to teach the way we wish we had been taught. I have rediscovered my own awe and wonder of the world."
Do you want to nurture your child's love of writing? Young writers will be encouraged to keep lists and notebooks, write stories and letters, and have a try at bookmaking.
Do you want to build an art area, a child's science "lab", or a cozy reading library? Images and resource lists are included in this book.
Has your child shown an interest in learning geography?  Create maps together and learn more about the world we live in using suggestions in this section of the book.
Is your child a nature lover? Activities illustrated will help your child better connect the the natural world in your own backyard.
Mariah Bruehl will give ideas in pictures and words, making it easier to provide a richer learning experience at home by showing you activities to plan on and offer as you play through your day.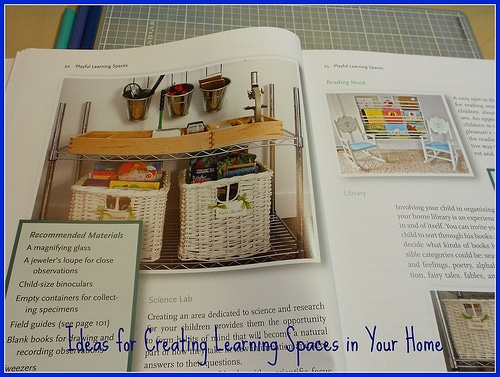 She explains that the key for parents is to stay "one step ahead".  I appreciate that this book assumes you want to identify an interest and then build on it, preparing yourself to offer up the space and ingredients for playful learning at home. She outlines in each main section the stages of learning, how to stay "one step ahead", the process of building on interests, and then more ways to explore with your child. She suggests skimming the book with your child and then refer back to it when they become interested in a particular subject.
The book includes lots of printables in the back of the book as well as from the Playful Learning website. What a great way to get started with your Playful Learning experiences! You may also want to follow Playful Learning on Pinterest where there are many, many wonderful additional ideas for you to implement in your home.

Excellent resource for families with children from ages 4-8 (even older if you extend the ideas). This book will be a perfect supplement to any homeschooling curriculum and can be used with any style of learning. Big thumbs up for this sparkling gem of a book!
Written by Barb-Harmony Art Mom.  I blog at Harmony Art Mom and am the creator of  Harmony Fine Arts. I would love for you to join us for the Outdoor Hour Challenges at the Handbook of Nature Study.