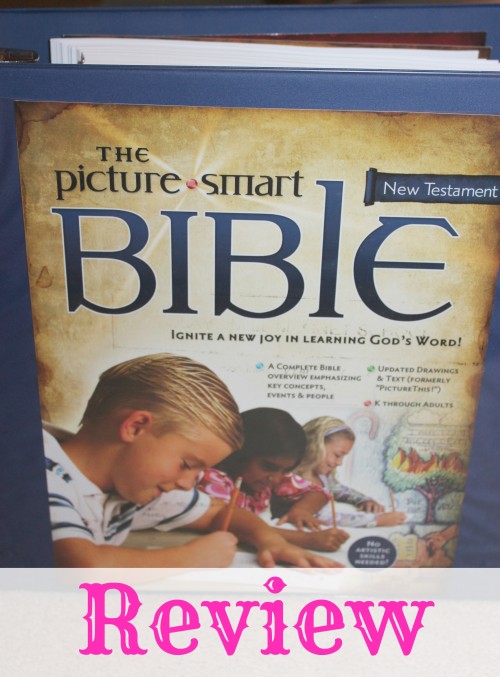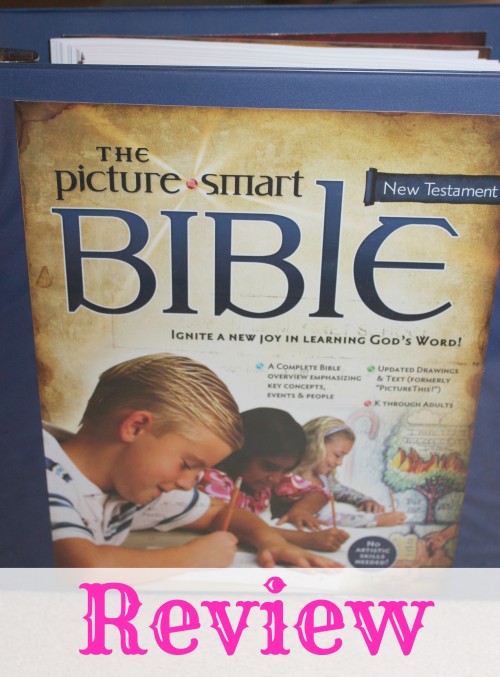 What a SMART Way to PICTURE the Entire Bible!
Do you have a visual learner?  How about an artist?  How about a linguistic learner?  Kinesthetic, maybe?  One who likes to make ordered lists in his or her mind?
Well, parents of all kinds of learners are in luck!  The Picture Smart Bible curriculum meets so many learning styles and works for all ages – even adults.
What is the Picture Smart Bible?
The short answer: The Picture Smart Bible is a coloring book of every single books of the Bible that helps your children see the entire theme and important points of each book from Genesis to Revelation.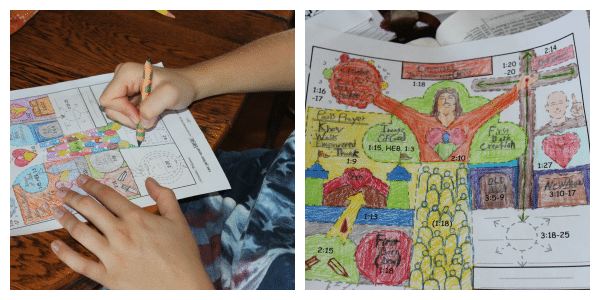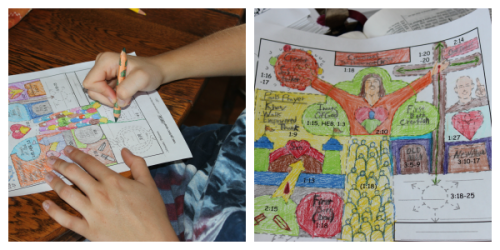 The longer answer:
For each book of the Bible, there is a coloring page on which your children draw, label and color bits and pieces of the book's theme.
The parent has a Bible reading guide with directions about what your children should discuss and complete on their coloring page.
You have the freedom to do as much or little of a lesson as you like in one sitting.
It's non-denominational in nature – just the facts.
It uses the pictures to tie entire books of the Bible together into a beautiful understanding of the book's purpose and main points.
You end up with a personalized notebook that serves as a quick review of the entire Bible.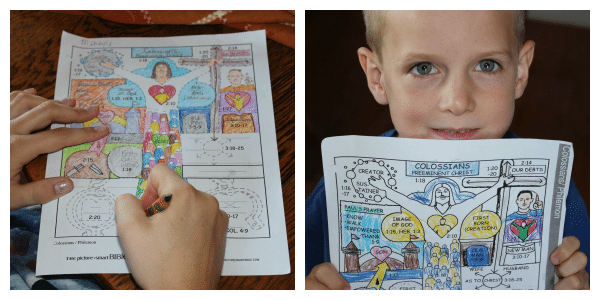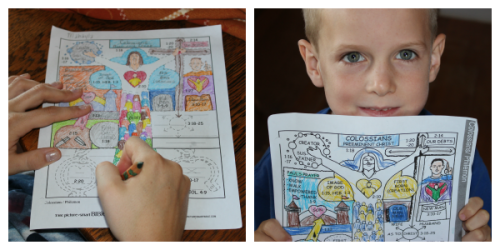 In the teacher's guide, there are tracing pictures with blanks to fill in key words that you use with older children.  Younger children, like my six-year-old, can be given the "answer page" that has all the blanks already filled in.  They simply color the parts you are discussing for the day.  While there is definitely something to be said for actually writing in the key words, little ones still get much understanding from the pictures.
Take a look at this video that gives you a fantastic overview of The Picture Smart Bible!
P.S.  I met Dan Peters, the creator of the program and highlighted in the video, at a homeschool convention a few years ago.  We were booth neighbors – and he was such a neat man!
The Picture Smart Bible curriculum comes in two volumes – Old Testament and New Testament – that can be purchased as a set or one at a time.  The curriculum comes as a PDF download, a printable CD or a hole-punched set of pre-printed pages that you put in a binder.
Can't guess my thoughts?  This is a VERY cool curriculum that can be used with multi-ages and multiple learning styles and IT WORKS!
Cindy received a printed copy of The Picture Smart Bible in exchange for an honest review.  As always, all thoughts are her own.
Find Picture Smart Bible:
Now for the giveaway!
Picture Smart Bible is giving away one CD version to a Curriculum Choice reader! Simply follow the instructions in the rafflecopter widget below:
~Cindy West is an eclectic Charlotte Mason homeschool mom of three from Central KY.  She blogs at Our Journey Westward and writes creative curriculum at Shining Dawn Books.