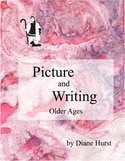 During the school year we concentrate on many different subjects and sometimes writing suffers a bit because we are too busy with other things.  So, now that it is summer, Miss 10 is using Picture and Writing:  Older Ages by Diane Hurst to practice writing.
The concept of this writing program is so simple and effective:  Diane has come up with 36 open-ended ideas.  First the children draw a picture about the prompt, and then they write about the picture.  The top half of each page is a large box to draw in, and underneath are lines to write the story on.  Each page is designed to be clean and non-distracting.
Although Diane does not point this out, her ebook works with a very important concept in teaching language arts:  for most young students it is important to separate the creative story-making process from the mechanics of spelling and penmanship.  In Picture and Writing, children develop the story while they draw the picture.  Afterwards, they focus on the mechanics of writing their ideas down.
Because Miss 10 often dislikes her own pictures (she knows a few artists and is frustrated when she cannot draw as well as they do), Picture and Writing is a unique challenge for her.  I'm hoping it will help her draw more freely and confidently as well as learn to write more, and so far that seems to be working.  I'm not correcting spelling or grammar errors at all because I just want her to learn to enjoy writing.
Although we are using Picture and Writing:  Older Ages as a summer project, it would also work as a weekly writing curriculum for homeschool.  If you add spelling and grammar comments–judiciously, of course–this could be a main part of your language arts program.
Picture and Writing for Older Ages (grades 5-8) by Diane Hurst is available from Gentle Shepherd Press.  A similar ebook is available for younger children as well.
During the school year we use Diane Hurst's lovely typing programs, reviewed here.
Disclosure:  We received a copy of Picture and Writing:  Older Ages from Gentle Shepherd in order to write a review.  No compensation was received and we have expressed our honest opinions.