Oak Meadow English 8 is all about introducing the components of good literature to your middle schooler. As a family, we had been using Oak Meadow curriculum for English and history for many years.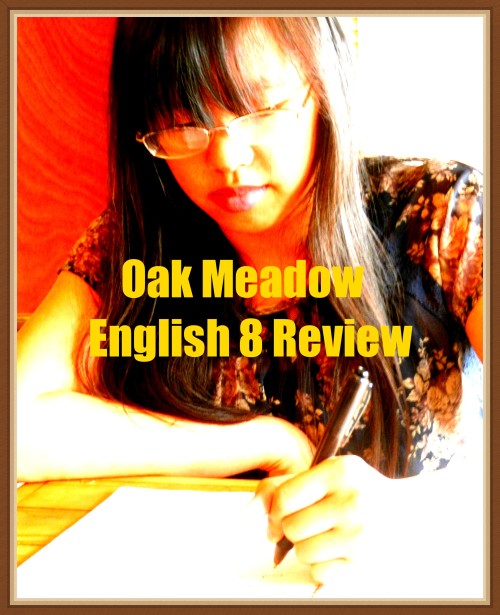 We love how Oak Meadow's focus is on hands on learning and it works to meet the child when she is:  head, hands and heart.  And their approach worked great for my 2e daughter.
Oak Meadow English 8
Through this course, literature became something that my daughter looked forward to each day.
She enjoyed learning about plot, setting, point of view, and characterization. But she when she got to  symbols, and foreshadowing, she was enthralled!
Oak Meadow 8 includes 7 novels, grammar study, writing assignments and more.  
The novels in this course include:
1. The Giver
2. Hitchhiker's Guide to the Galaxy
3.  Lord of the Flies
4.  A Wrinkle in Time
5.  Call of the Wild
6.  Tom Sawyer
7.  The Hobbit
The Lesson Format
This course is broken up into 36 lessons with 4 to 8 lessons per novel. We did one lesson a week, unless it included an essay. Then we gave ourselves two weeks for that. I liked how each novel was broken down into manageable reading assignments.
Each lesson includes:
1.  reading assignments
2.  biography of the author
3.  Vocabulary and spelling
4.  Writing instructions
5.  Paragraph and essay writing
The writing assignments varied from and included comprehension questions, creative writing, and writing an interpretive essay.  I liked how my daughter grew to understand each novel better through her writing projects, which included:
1.   story writing
2.  writing greeting cards
3.  journalism – interviewing, writing ads
4. word games
We picked and chose from these activities based on my daughter's interests.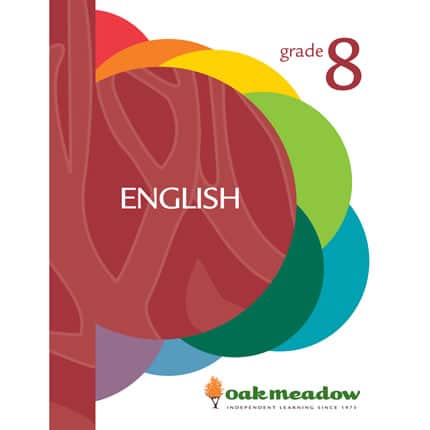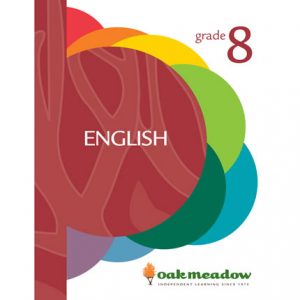 As she worked on her chosen assignments she learned more about plot, character development, and other literary elements, while developing her middle school writing skills. By the time my teen finished this course, she was more than ready for high school English studies!
There are so many ways for our teens to learn about literature and composition!  Mine preferred to learn the components of literature through story writing…….
The Create a Plot Approach
One of my daughter's favorite activities in Oak Meadow 8 was the Create a Plot assignment. She chose to write about a story about group of teens who went on a road trip and helped to locate lost pets on the way.    Through this activity, she learned all about plot, while not even knowing it! It also inspired her to write more short stories, which even led to our making a homemade course in creative writing in later years.
The Didactic Approach
Many teens might prefer a more didactic method for learning about literature.  Oak Meadow 8 offers essay questions to ponder in each lesson.  The Essay Questions encourage young teens to think critically about  their reading.  For example, in the Giver the lesson talked about citizen responsibilities in the community.  Then they were to compare those responsibilities for citizens in the Giver to those in our society! What fun! There are so many options to choose from in this course!
Pick and choose what works best for your middle schooler!
Encouraging Writing Skills with Oak Meadow English 8

Oak Meadow 8 not only offered literature study, but it was also very strong in teaching good writing skills.  I loved how  Oak Meadow 8 encouraged  my daughter to follow the basic steps in writing, including:
1.  Brainstorming
2.  Writing first draft
3.  Making revisions
4.  Editing
5.  Publishing
My daughter did her own editing, after a brief discussion with me. That made all the difference!
We celebrated her writing efforts as a family, by doing read alouds of her writing at dinner. That led to many fun and interesting literature discussions!
In this way, my husband was able to contribute to our English study.  He added his unique viewpoint to our conversations!  This approach helped to build up my young teen's confidence as a writer, getting her ready for more formal writing work next year.
The English Manual
The end of the book includes a helpful English Manual with these four units:
1.  Spelling
2.  Grammar
3.  Sentence studies – types, rules
4.  Composition writing, including developing thesis sentences
SUMMARY  – Oak Meadow English 8

Writing skills are so important in high school studies and this course more than prepared my teen for 9th grade literature and composition.
And the teacher's manual helped out a lot, as it included notes and all the answers to the comprehension and critical thinking questions in this course.
If you are looking for a creative, and complete approach to English for your middle schoolers, my family recommends Oak Meadow 8.
We also strongly suggest purchasing the Oak Meadow 8 Teacher's Manual, which helped us so much in teaching this course.  They can be purchased directly from the Oak Meadow office.
Oak Meadow offers homeschooling curriculum for English and all the other subjects, from K to 12.  For more information, please go to www.oakmeadow.com, and click on homeschool curriculum.
Their high school curricula is great for college bound teens!  When my daughter got into college, she was ready to go with any essays or research writing that was asked of her. And we credit Oak Meadow for that!
– originally published July 2014