Nature study and journaling have always been a major component of our homeschool. Over the years, the kids and I have filled up several nature journals with sketches, photographs, trail maps, and pressed leaves commemorating our outings.
Train your mind to see deeply and with internal curiosity, and the beauty and wonder of the world will open before you. Keeping a journal of your observations, questions, and reflections will enrich your experiences and develop gratitude, reverence, and the skills of a naturalist.  ~ John Muir Laws
The questions the kids have asked while hiking have lead us to further explore a variety of topics including:
Recently, I have discovered an amazing collection of resources for nature study – John Muir Laws. Here you'll find drawing tutorials as well as suggestions for Field Sketching Equipment and Starting Your Own Nature Journal Club. What I love best about this website, however, is the journaling curriculum. Keeping a field journal develops and reinforces the most important science process skills; observation and documentation.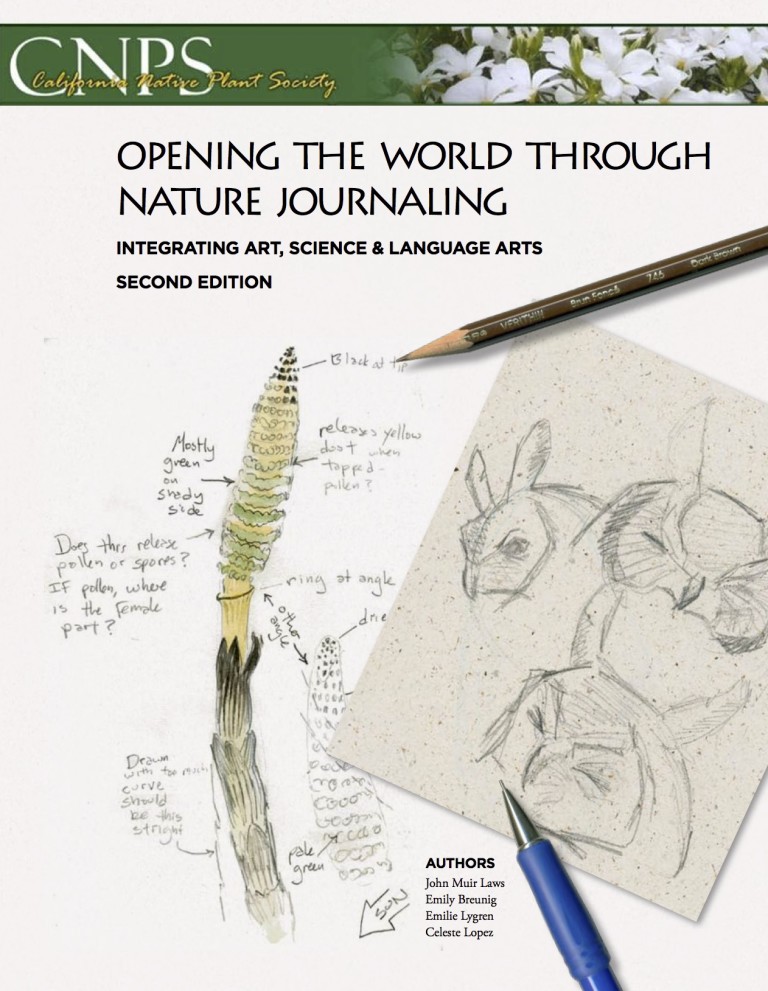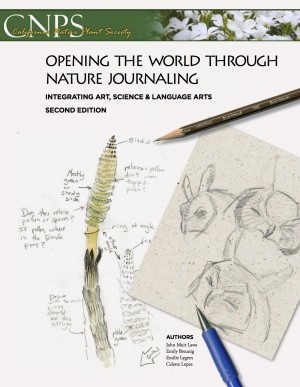 Opening the World through Journaling: Integrating art, science, and language arts is an acclaimed nature study curriculum developed with support from the California Native Plant Society and written by John Muir Laws and Emilie Lygren, Emily Brueunig, and Celeste Lopez.  This wonderful collection of lesson plans and activities is designed to build confidence and teach children to become keen observers of the natural world by drawing and writing about plants and animals in the field.
Some of the activities include putting together a field guide, making treasure maps, and writing poems and stories. Through support from the California Native Plant Society and funding by the JiJi Foundation, it is available for FREE!!
You may download the curriculum here.
While the material is geared primarily towards children age eight and up, it works equally well for teenagers and adults. I am in fact using it as a guide for a nature journaling class I will be teaching this spring at our local community college.
In addition to the nature journaling curriculum and online tutorials, John Muir Laws also has several print publications available for purchase. Though most of these are field guides specific to regions in California, he also has two drawing guides.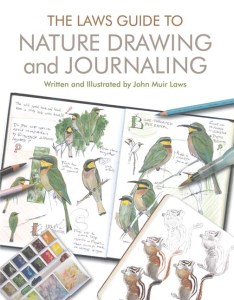 The Laws Guide to Nature Drawing and Journaling is a spectacular how-to guide for becoming a better artist and a more attentive naturalist. It is a colorfully illustrated guide to most everything you might want to learn how to illustrate when observing the natural world. Available in paperback, this 368 page guide is incredible! I can't wait to dive into this in more depth in the coming weeks.