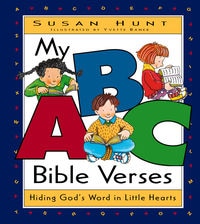 I'm always looking for new and different resources to use for our morning Bible time around the breakfast table. I first heard about My ABC Bible Verses on a Christian radio broadcast and placed it on my wishlist. I recently purchased it and am so glad that I did. We are almost to the end of it now and have been incredibly blessed by it. Not only does this book provide morning devotional material for us, but it is also a valuable tool for memorizing Scripture.
The author, Susan Hunt, has chosen one Bible verse for each letter of the alphabet. Accompanying each verse is a short story that demonstrates how the Scripture is applicable in daily, real life situations that are common to children. Each of these twenty-six stories follows the everyday childhood joys and trials of Missy and Bill, a brother and sister whose parents continually show them how God wants to use His Word to make them more like Jesus.
Here is the layout of each day's reading:
the verse for the day
a short (two or three sentence) explanation of the verse
the story
a "Let's Talk" section with two or three questions you can discuss with your child, which help to cement the truth and application of that day's Scripture
a prompt to say the day's verse three times in order to memorize it
a built-in review of a few of the verses that have already been memorized (This has helped us to retain so much Scripture!)
a "Let's Pray" section that serves as a reminder to ask God for help in applying the day's verse to your life
Although this book is said to be written for children ages three to seven, my nine-year old looks forward to and thoroughly enjoys each day's story, as do his five and seven-year old sisters. When we finish this book, we will have twenty-six Bible verses hidden in our hearts, and we will have learned how to apply these Scriptures in our daily lives.
If you try out My ABC Bible Verses, I pray that you will be as blessed by it as our family has been!
Written by Shannon, who can be found blogging about her family's homeschool adventures at Song of My Heart.