At some point last year I read about Seeds CDS.

Although they received glowing reviews, I thought that at $12.98 apiece they were a bit on the pricey side.
I was wrong.

They are worth every single penny.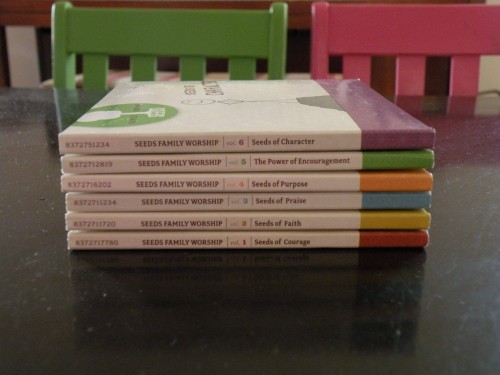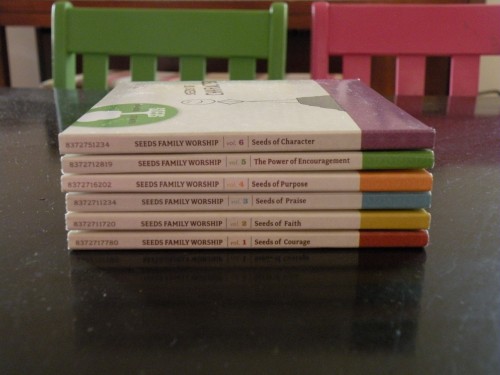 Seeds Family Worship CDs contain delightful, powerful songs created using the words of scripture.

The songs are sung by accomplished musicians, the arrangements are pleasant and memorable, and the music itself is lovely and lively in turn.
The style of the music varies, but is professional.

Some songs have a bit of a country bent, others are more in the realm of soft rock, a jazzy turn marks a few, but all are enjoyable for a wide audience.

In other words, they are not strictly for children.

As the CD jackets proclaim, they are intended for family use—family worship.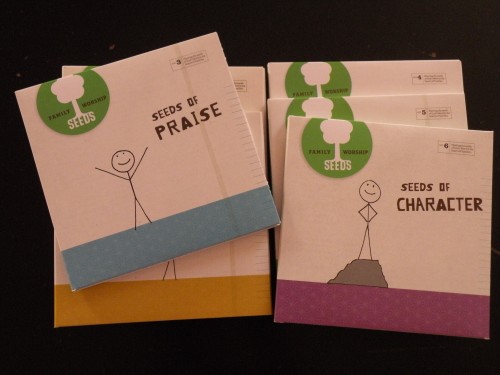 To the element of family worship, add family scripture memorization.

This is scripture memorization at its simplest and most pleasant.

We listen to the CDs in the car.

We sing the scriptures in the house.

It is that easy.
These CDs (and others like them) have the capacity to significantly aid spiritual development in the family setting through worship and memorization.

As the family listens and sings, they worship and memorize, allowing the words of God to enter the mind and heart
.
When scripture becomes part of the mind and heart, it can be woven into the fabric of a life.
Each of the six CDs utilizes scripture that centers on a theme:
●
The Power of Encouragement
Another interesting tidbit about this music is that it is literally made to share.

When you order a CD for your family, they actually send you two copies of it.

One is for your family; one is to share with another family.

This is an easy way to share your love of the Lord and scripture with another family.

The music also lends itself to this process, because it appeals to such a wide audience.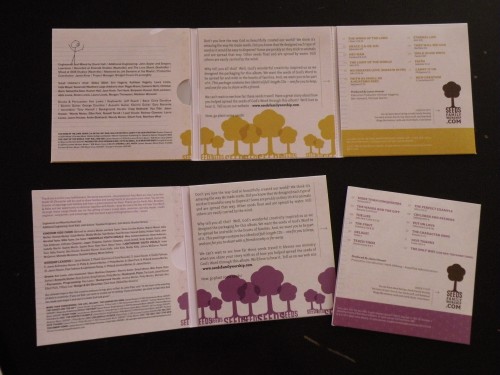 In short, I give the Seeds Family Worship CDs the highest praise that I know of for products marketed to children and families:
These CDs are so well done that I listen to them even when the kids aren't with me.
In the interest of full disclosure:

I purchased these CDs on my own, much to my delight!
Most days find Susan on the couch reading to her children, in the floor "playing" math, and generally in the middle of a good-sized mess.

A love for the Lord, a love for her little ones, and a love of learning have led Susan and the

wonderful man she married to an educational philosophy that is Well-Trained Mind-inspired classical and Charlotte Mason, with a touch of the traditional.