This spring the National Gallery of Canada is hosting an exhibition about the Impressionists; we bought a membership for this exciting event. To prepare, I borrowed Monet and the Impressionists for Kids by Carol Sabbeth from the library.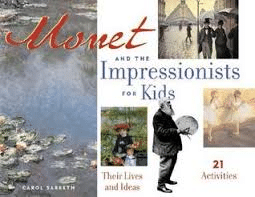 Since I love art myself and can't help sharing it, our kids know about the Impressionists, especially Monet. In the past we used to do Ambleside Online's picture study each week. We have also read many children's art books, including James Mayhew's delightful stories about Katie who climbs into paintings when she visits art galleries with her grandmother, stories like Katie and the Impressionists. Even so, it's always helpful to prepare for trips to busy exhibits.
Monet and the Impressionists for Kids is good for that. It is a brief introduction to the artists themselves, their paintings, and the world of the Impressionists.
Monet and the Impressionists for Kids
This book by Carol Sabbeth discusses Impressionists Claude Monet, Pierre Auguste Renoir, Edgar Degas, Mary Cassatt and Post-Impressionists Paul Cezanne, Paul Gaugin, and Georges Seurat. Sabbeth begins with a historical overview of Paris and the art world in the late 1800s. She presents highlights of each artist's life and discusses the paintings, making connections between the various Impressionists, the past, and the future. Brimful of stunning paintings and details, this book is accessible even to children who cannot read, and is interesting even to adults who understand art. In between, of course, are the teen years when it can be difficult to interest anyone in anything, but Monet and the Impressionists for Kids at least helps somewhat.
The book features 21 activities that range from making a drawing knapsack and painting reflections to crafting a paper water lily, drawing a face, and baking Seurat sugar cookies. Other kinds of activities involve learning to look at pictures, thinking about their stories, as my children learned to do in Emma Serl's Primary Language Lessons and Intermediate Language Lessons, and explaining why one likes or dislikes a painting.
Monet and the Impressionists for Kids begins with an illustrated timeline and ends with a list of armchair travel links to museums and other sites that feature Impressionist art and a thorough glossary.
I enjoyed this book, revisiting familiar paintings and artists. However, I had forgotten what an empty world the Impressionists inhabited. In my somewhat sheltered world as a Christian homeschooler, I had forgotten that for many of these artists Sundays were for art gallery trips, marriage did not mean all that much, and God was irrelevant. All they had, really, was the everyday world they captured so beautifully on canvas. That adds sadness to the book and urgency to connect with others who also are searching for the meaning of life.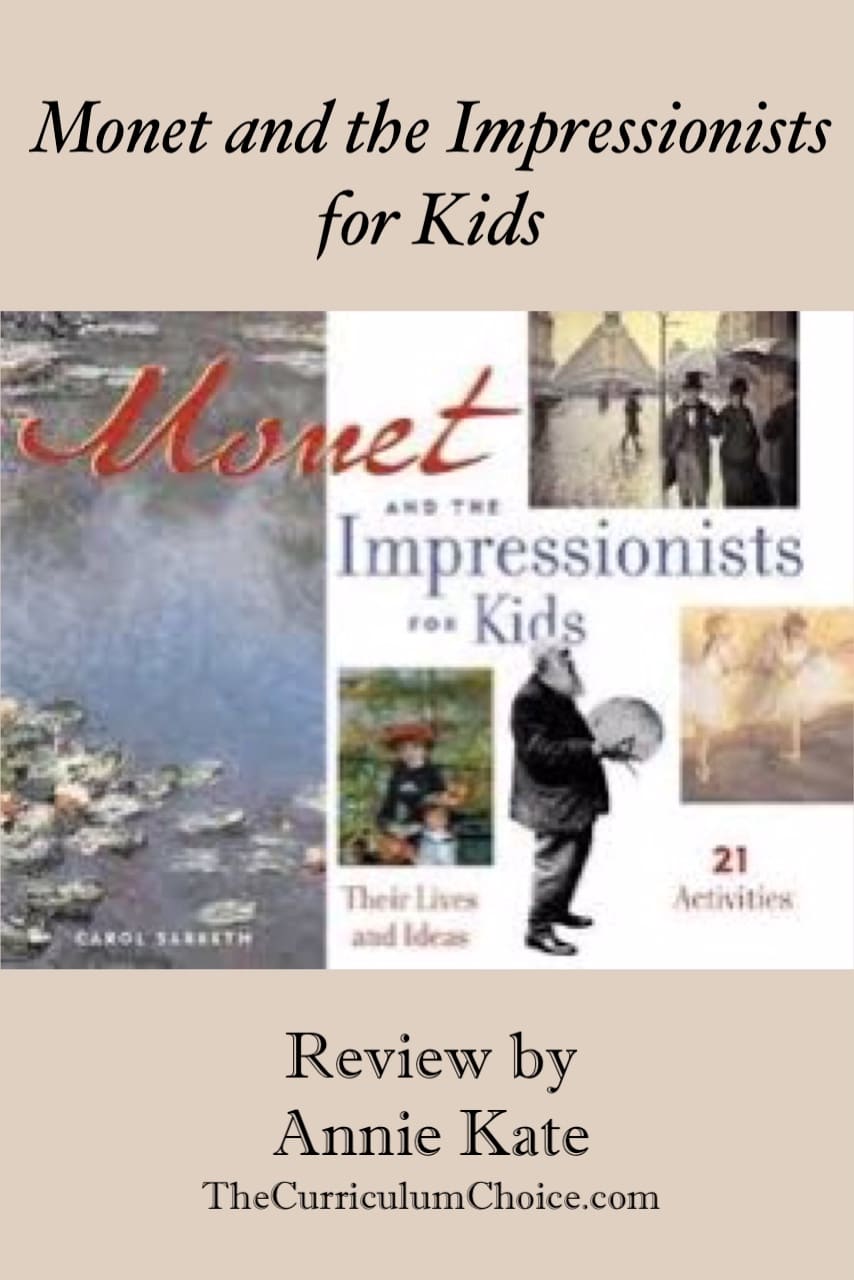 Monet and the Impressionists for Kids is an easily adaptable introduction to the Impressionists and Post-Impressionists for all ages. With the activities it can be used as a curriculum for middle schoolers and it would, with the addition of Charlotte Mason style picture study and some extra reading, also be challenging for teens.