Because we are huge Star Wars fans, our family goes all in for May the Fourth Be With You. Last year we enjoyed a Star Wars morning basket for May the Fourth. What better way to celebrate May the Fourth as a homeschool family than with a Star Wars unit study? May the Fourth Be With Your Homeschool!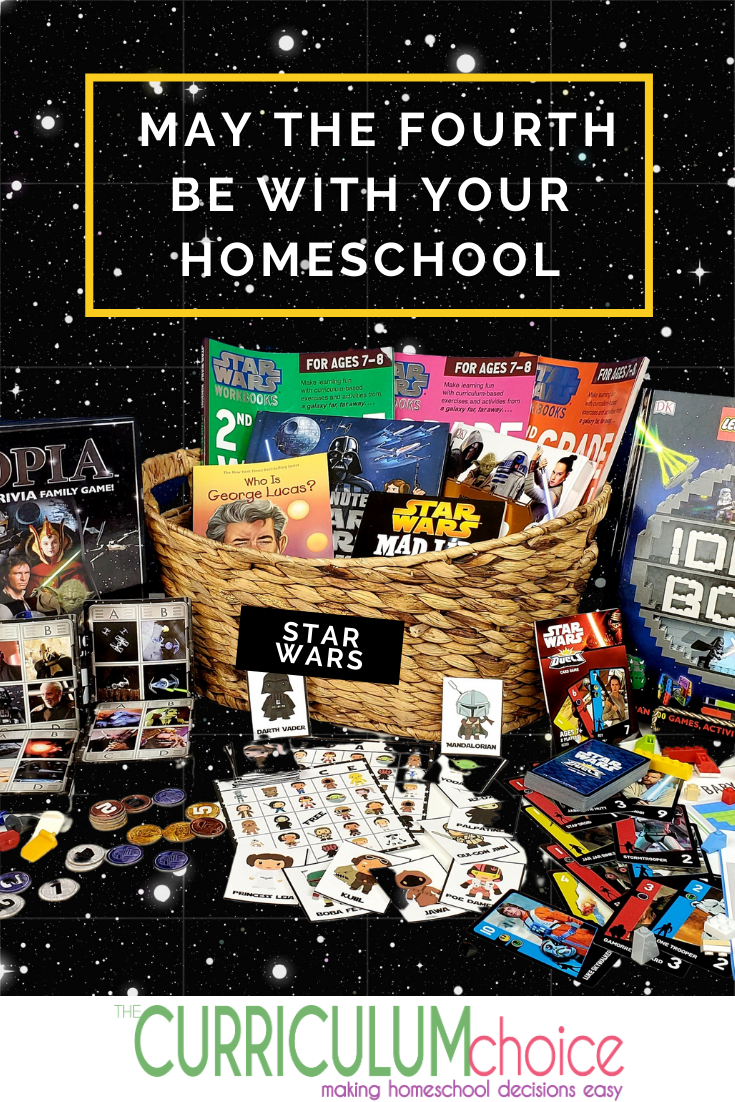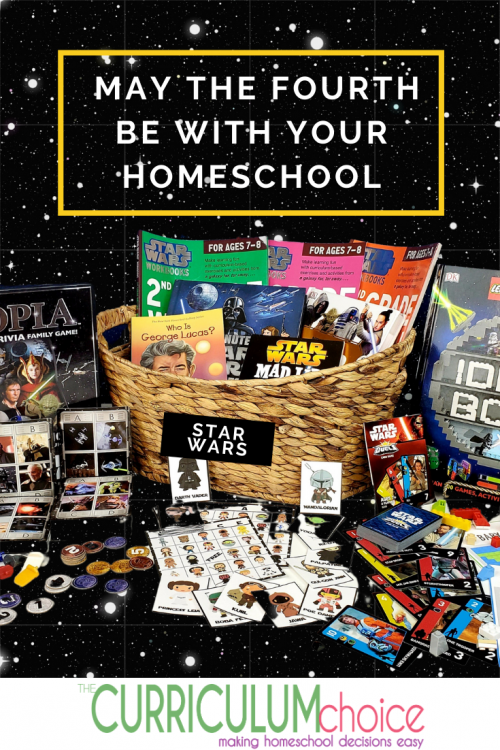 How to Plan Your May the Fourth Be With You Unit Study
Planning a unit study can seem like a daunting task. But, it doesn't have to be. It can be as simple or as elaborate as you'd like. I believe unit studies offer a unique opportunity to instill a love of learning that will last a lifetime. I mean what child wouldn't love learning when you let them learn about something they love like Star Wars?
When I plan a unit study I typically include things like books, games, hands-on activities, and some kind of media such as a movie or YouTube video. By doing this I know that I am covering all the types of learning: auditory, visual, and tactile.
May the Fourth Be With Your Homeschool: Books
The first thing I like to add to any kind of learning is a variety of books. So when I begin planning a unit study I start there. Enjoy reading with these Star Wars themed book sets. There is a set for every level of reader – so anyone can join the fun!
Learn more about the Star Wars characters, star fighter, and more with these stunning visual encyclopedias.
Maybe you know all there is to know about Star Wars. But, what about the man behind it all? Spend some time learning more about George Lucas by reading Who Is George Lucas. You can even extend the learning with the Who Is George Lucas Mini Unit Study.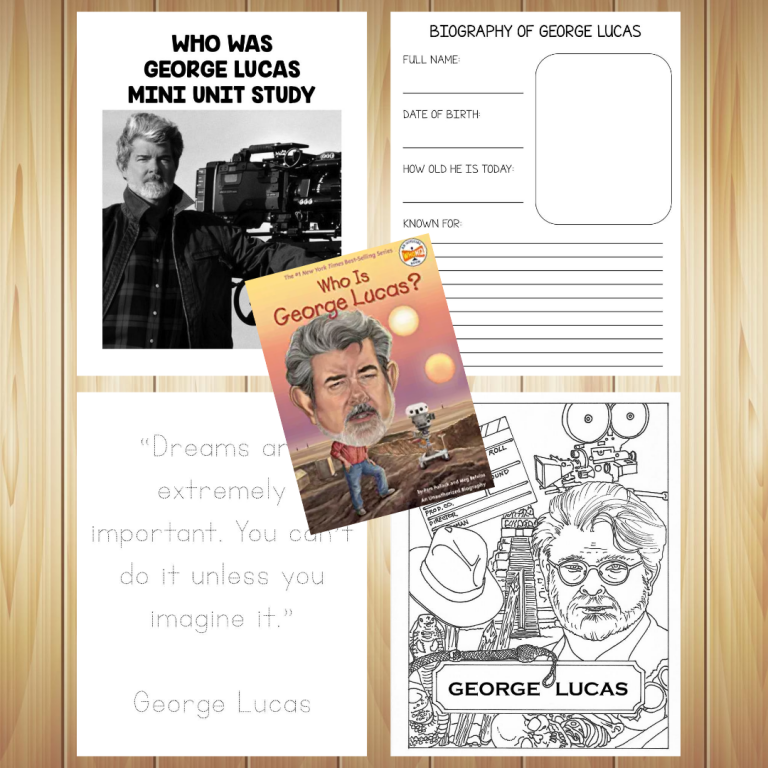 May the Fourth Homeschool: Games
After I have chosen my books for a unit study the next thing I like to add are games. We are huge gameschoolers so games are almost as essential as books to us. The thing I love most about adding games to unit studies is that most of them include some kind of learning opportunity. Here are some of our family's favorite Star Wars games.
May the Fourth Be With Your Homeschool: Activities
Now that you have books and games for your Star Wars homeschool unit study it's time to add some hands-on activities. I like to include things likes engineering, science experiments, art projects, etc.
Don't forget to get all of your art projects from Chalk Pastel You Are an Artist. They currently have 12 free Star Wars inspired art lessons for you to enjoy in your homeschool. There is also an awesome Star Wars Tea Time full of ideas like a SarLacc cake, light saber pretzels and more to complement the Star Wars art lessons.
May the Fourth Be With Your Homeschool: Media
For us media can be anything from a YouTube video to a documentary or just a fun movie that ties in with what we are learning about. Obviously, this one is going to be easy and hard at the same time. While you have more than enough Star Wars media options to choose from the problem is how to choose.
We will personally be having a Star Wars marathon weekend and watching all the movies in chronological order.
If you would like to extend your unit study and incorporate even more learning I highly recommend the Star Wars workbooks by Workman Publishing. They are very thorough and cover reading, writing, and math for preschool – fourth grades.
I hope you have a great time celebrating May the Fourth Be With You in your homeschool!
You might also like: